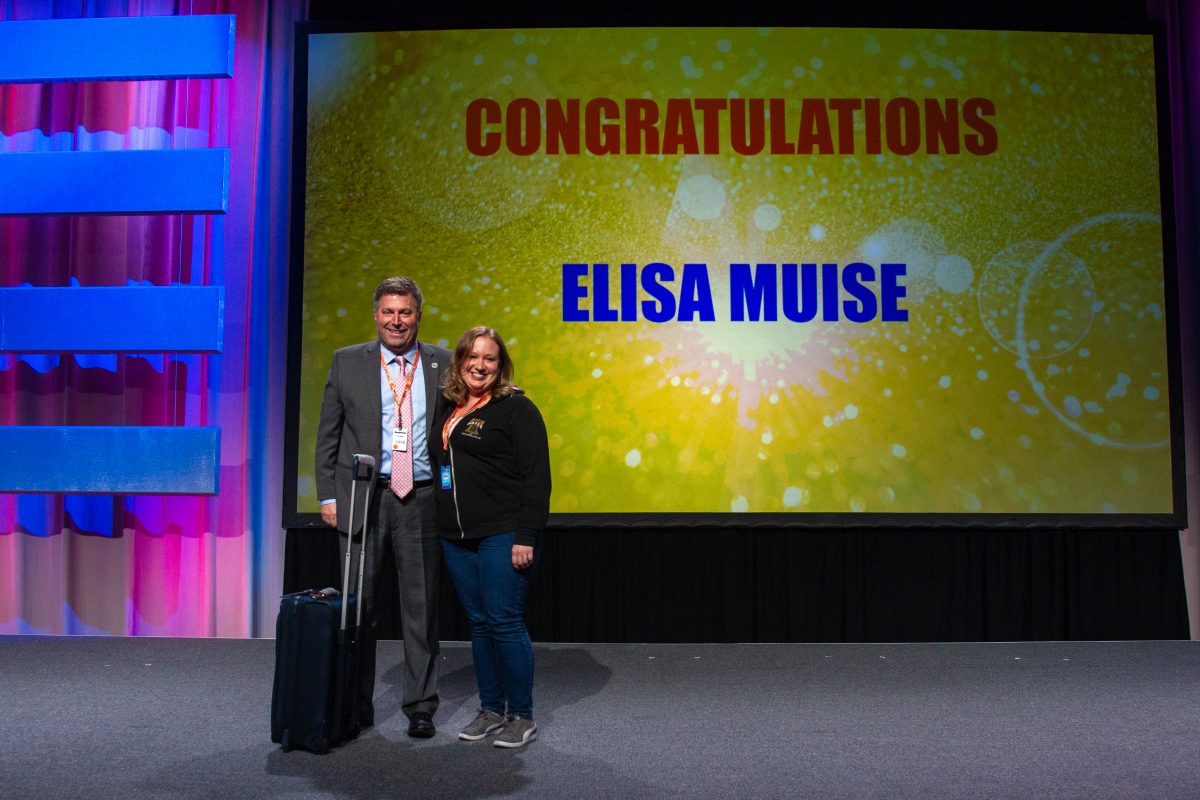 CFS Awards Luncheon
Congratulations to NATCA members who were recognized during the CFS Awards Luncheon for what they do daily to keep the National Airspace System safe:
Recurrent Training Recognition: Elisa Muise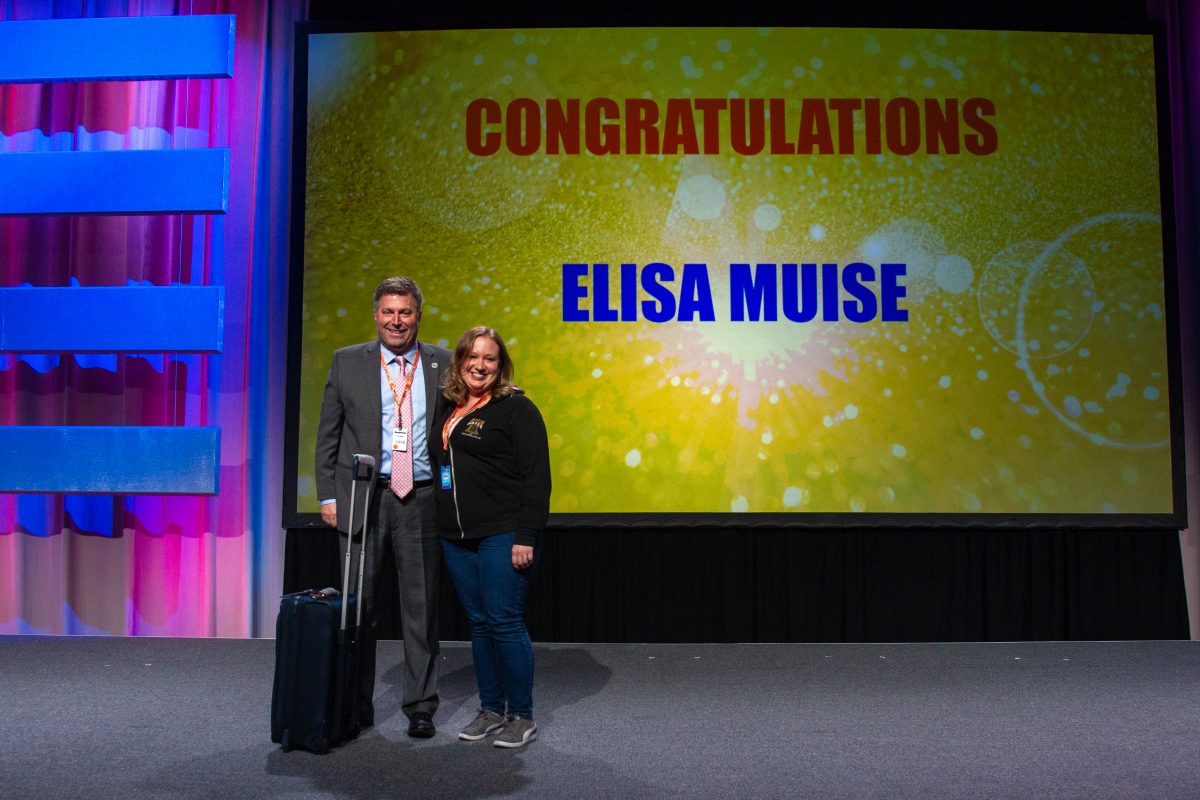 NATCA National Training Rep Tom Adcock recognized Elisa Muise (ZBW) for her work on web-based Recurrent Training from 2012 through June 2018. She began her work as a subject matter expert (SME) and worked the last three years of the project as the NATCA lead.
"Elisa did an amazing job of working as a project SME," Adcock said. "Once Elisa took over the development effort, she kept web-based Recurrent Training development on target by ensuring that the topics selected were delivered so that they were most relevant to the controller working in the field. She has been an integral part of the team and she will be missed!"
"Working on recurrent training was one of my first experiences working with NATCA. I learned some great things, and I thank you for the opportunity," said Elisa.
AOPA Air Safety Institute Flight Assist Commendation Award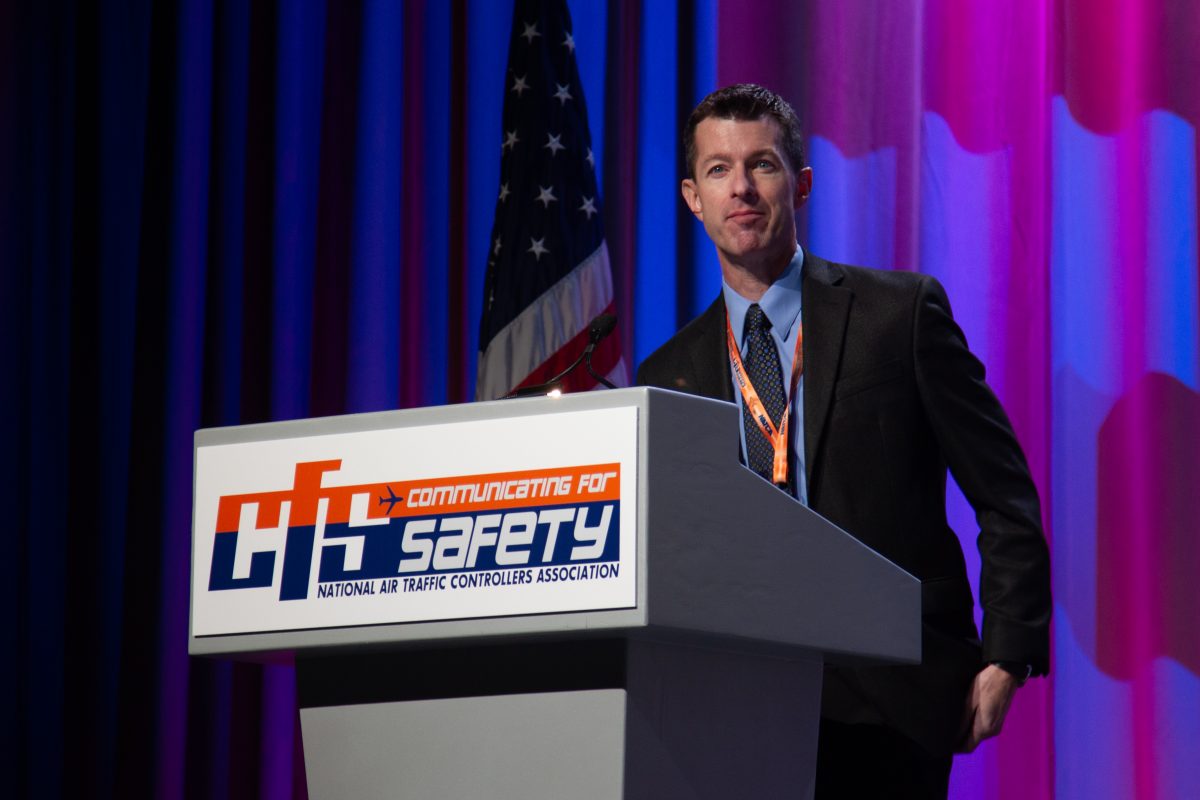 AOPA Education Director Paul Deres
The Aircraft Owners and Pilots Association (AOPA) Air Safety Institute has worked closely with NATCA in developing important safety education tools for thousands of general aviation pilots and controllers through safety videos, online courses, seminars at AOPA events, and more. Ten years ago, AOPA created the AOPA Air Safety Institute Flight Assist Commendation Award to recognize controllers for their exceptional service, situational awareness, and teamwork in helping GA pilots in dire circumstances land safely.
AOPA Education Director Paul Deres honored 13 NATCA members for their outstanding efforts. Congratulations to NATCA members Brian Roth (Chicago TRACON), Jimmy Pepper (Terre Haute ATCT), Joshua McPhee (Spokane ATCT), Victor Sahijram (Charleston, S.C., ATCT), Dan McNeil, Eric Abernethy, and Vijay Kanhai (Central Florida TRACON), Evan Munro (Miami Center), Chris Williams (Nashville ATCT), and Tim Martin, Ruben Lopez, Karen Hagstrom, and Chris Watton (Daytona Beach ATCT).
Raytheon Controller of the Year Award: Aaron Rose

Aaron Rose of Northern California TRACON (NCT) was awarded Raytheon's Controller of the Year Award for 2018. Rose took over as the NATCA Lead Representative on the Terminal Automation Modernization and Replacement (TAMR) project in July 2016. He has continuously worked in a collaborative fashion with all stakeholders to ensure the continued success with the aggressive implementation of the TAMR/STARS implementation waterfall. Rose's commitment to excellence, along with the entire TAMR team, is most deserving of this award.
"If it wasn't for the people in this room, I would never have received this award," said Rose. "It was a lot of work, but the TAMR team is phenomenal, and I want to thank them. This award is for the TAMR team and all the controllers that have gone through the transitions."
Steve Hansen Safety Advocate Award: Bridget Singratanakul

Named for the Chairman of the NATCA National Safety Committee, the Steve Hansen Safety Advocate Award is presented to a NATCA member who has made extraordinary achievements and has worked tirelessly on NATCA's behalf to be a leader in furthering the cause of aviation safety. The award was first given in 2011 to NATCA Safety Committee Chair Steve Hansen, and is presented each year to a NATCA member who has made extraordinary achievements and worked tirelessly on NATCA's behalf to be a leader in furthering aviation safety. While each winner has contributed their skills, dedication, and work ethic in different ways, with varying areas of expertise, there is one thing that ties them all together: they are all passionate about safety and aviation.
NATCA President Paul Rinaldi presented the award at CFS 2018 to NATCA Runway Safety Rep Bridget Singratanakul for her exceptional work in representing the Union in collaborative efforts with the FAA and aviation stakeholders to address the need to improve safety on the runways, taxiways, and surface areas of the National Airspace System. "This is an award I didn't expect to get, but I'm a rep for you and I have a job because of you," said Singratanakul.
National Professionalism Award: Ray "Murl" Peters, Deborah Anderson, and Theresa Boykin
The goal of NATCA's Professional Standards program is to maintain and promote professionalism across all of NATCA's bargaining units. NATCA members achieve this through a commitment to safety and through upholding the public's trust. They work to inspire, motivate, provide personal examples of our professionalism to others, and maintain the highest standard of excellence. They know their actions represent all of their fellow professionals, and work to bring honor and respect to all that they do. The NATCA National Professional Standards Committee (PSC) created the NATCA National Professionalism Award as a means to recognize the actions of those who continually strive to achieve these goals. Congratulations to this year's winners:

Ray 'Murl' Peters (Spokane ATCT, GEG) – "Professionalism starts with coming to work every day with a good attitude. I am truly humbled to receive this recognition—thank you."

Deborah Anderson (Indianapolis Center, ZID) – "I am no more than just a servant, serving the flying public and those around me."

Theresa Boykin (Wilmington, Del., ILG), now at N90 – "Thank you so much for this truly amazing honor. I never thought I would be accepting an award that comes natural to so many people, and so many amazing colleagues like you."

Team Excellence Award: NDIS Team and 3120.4 Rewrite Team

The NATCA Team Excellence Award was created to recognize NATCA teams, workgroups, or committees that exemplify the true collective spirit of working together to achieve greatness. This year's winners:
No-Experience Direct Hire Initial Screen (NDIS) Team members Jim Dyckman (N90), Daniel Foster (D10), Marc Schneider (ZID), Maurice Franklin (PCT), and Leah Montes (SCT). The NDIS workgroup developed a collaborative approach for the FAA and NATCA to address the challenges of placing employees with no prior ATC experience into level 10 and above terminal RADAR facilities.
3120.4 Rewrite Team members Jimmy Lake (HCF), Andreas Sanchez (DFW), and Trevor Thompson (ZJX). The workgroup was established to collaboratively address reviewing, revising, and making recommendations for changes to the national training order (3120.4).
Helping Hearts Award: Pensacola ATCT and Pensacola TRACON

In 2014, NATCA introduced the Helping Hearts Award to recognize facilities with the highest percentage of people trained to administer cardiopulmonary resuscitation (CPR) and to use an Automated External Defibrillator (AED). Sudden cardiac arrest (SCA) continues to be the leading cause of death in the United States, claiming nearly 350,000 lives each year, but the use of AEDs with onsite CPR helps boost the survival rate of SCA victims to 50-75 percent. The NATCA OSHA Committee recognized Pensacola Tower (PNS) and Pensacola TRACON (P31) for having 65 percent of employees trained in 2017.
Beacon of NATCA Award: Las Vegas ATCT, Las Vegas TRACON, Seattle ATCT, Seattle TRACON
The Beacon of NATCA award is given to a facility that rises above and handles an emergency or disaster situation with grace under pressure. It was created to recognize those facilities that go above and beyond to perform the essential and difficult tasks of disaster response. The recipients of this award provide exceptional ATC services. The individuals in these facilities show incredible perseverance and inspire us. They are the beacon that guides us home and the heroes that rise above the chaos to keep the NAS running as safely and efficiently as possible.

The team of NATCA members at Seattle TRACON and Seattle ATCT were honored for the exceptional care, skill, and professionalism they displayed during an incident on Aug. 10 in which a Horizon Air employee stole, flew, and then crashed an aircraft.
The team of NATCA members working at both Las Vegas ATCT (LAS) and Las Vegas TRACON (L30) were honored for keeping air traffic and passengers safe during the evening of Oct. 1, 2017, when the horrific shooting of concert goers at the Route 91 Harvest occurred just a short distance from McCarran International Airport.
Special Recognition: Capt. John Drexler

NATCA National Safety Committee Chair Steve Hansen recognized ALPA's Director for Air Traffic Control Procedures, Capt. John Drexler, for his years of service, collaborating with NATCA, and being the ALPA-NATCA liaison. Upon receiving the award, Drexler told the crowd, "It's been a great honor, and having started with NATCA, I consider this my first home."
Special Recognition: Andy Marosvari

Professional Standards Committee Member Andy Marosvari was recognized by his peers for his leadership and dedication to the Professional Standards Program. "I'll retire with 31.5 years as a controller," he said, "but the last 8.5 years have been the best. I met thousands of people and I hope what we've done makes a long-lasting difference for us as controllers and for the NAS."
Special Recognition: SkyOne Federal Credit Union President/CEO Eileen Rivera

Eileen Rivera, President/CEO of SkyOne Federal Credit Union, Eileen Rivera announced her retirement after 31 years of service at SkyOne, including 26 years as President/CEO. NATCA thanked her at CFS for many years of work helping NATCA members secure their finances, families, and futures with SkyOne services. "I hope my dash at SkyOne was a good one," said Rivera, using a reference made the day before at CFS by keynote speaker Gordon Graham, who talked about the importance of the time we spend in our lives between our birth date and our death date, referring to her time and influence spent with the company.
Special Recognition: Las Vegas ATCT and Las Vegas TRACON
Following the presentation of the Beacon Award, Capt. Brian Townsend, Manager and Technical Pilot for Airspace Optimization at American Airlines, and Capt. Douglas Wood, Professional Standards Chairman at Allied Pilots Association, presented an award of special recognition to the air traffic control teams at both Las Vegas ATCT (LAS) and Las Vegas TRACON (L30) for their quick response and team efforts on the night of Oct. 1, 2017 to safely handle an emergency situation during and after the tragic shooting that took place just a short distance away from LAS on the Las Vegas Strip