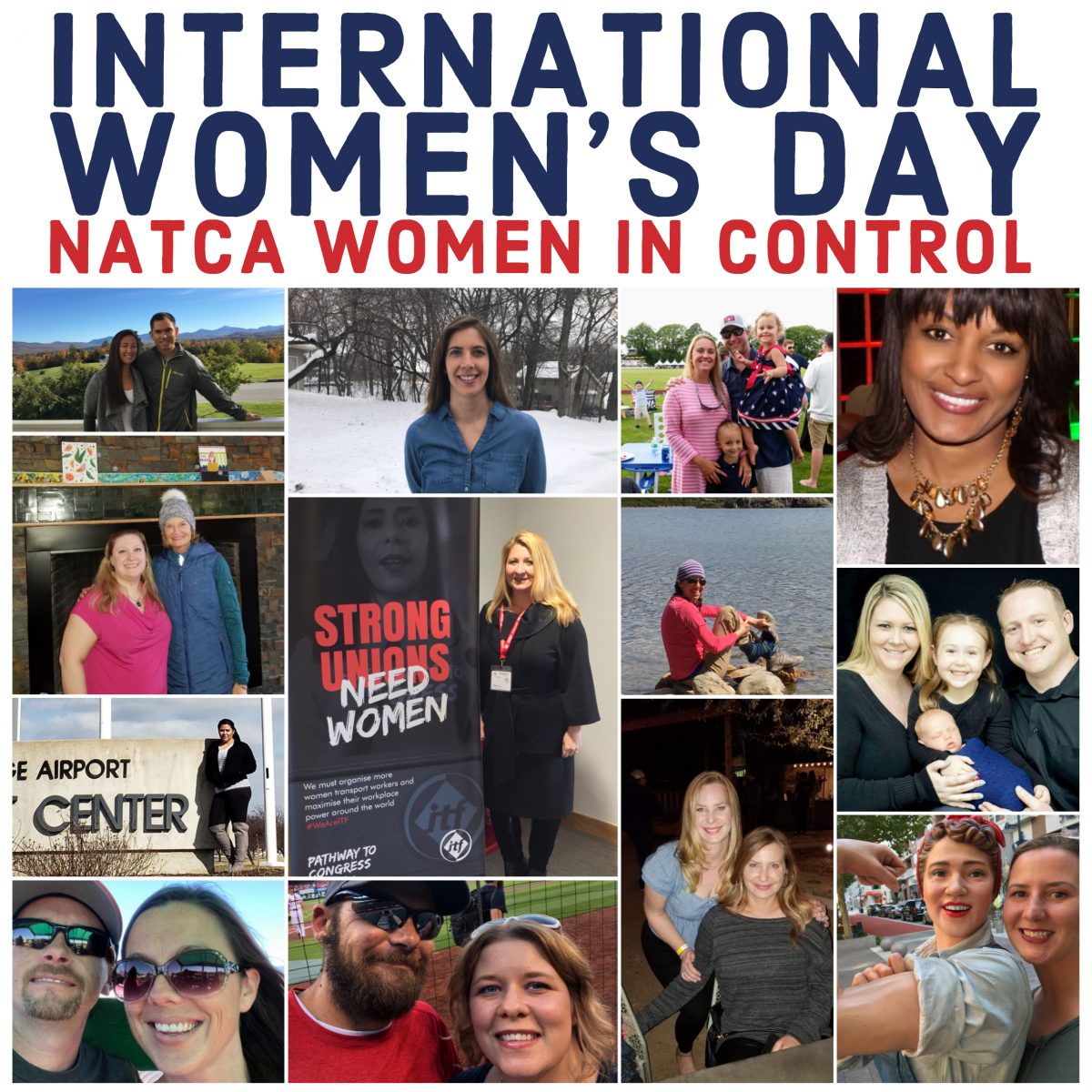 Women's History Month 2019: Q&A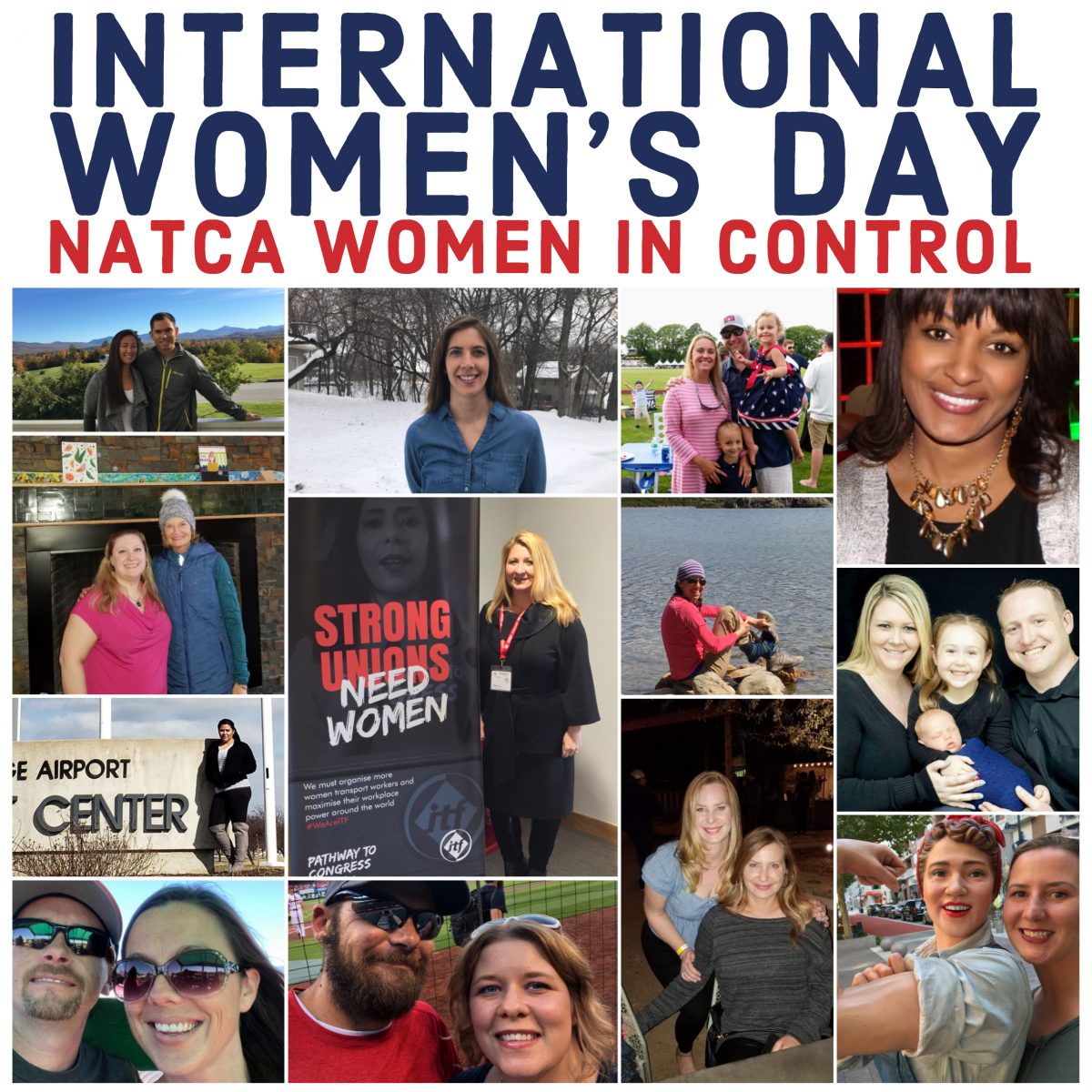 NATCA salutes all women in aviation, and especially today as we celebrate International Women's Day. We want to recognize a few of the many women in our Union that continue to make strides in improving the safety and efficiency of the National Airspace system.
We asked them questions, ranging from their definition of leadership, to their motivation for becoming involved in NATCA, to their favorite pastimes and how they manage multitasking. Here's what they had to say:
What motivated you to become involved in our Union and/or the aviation industry? What do you foresee in your future, in regards to your role in the Union and aviation?
Dawn Forde — Region X, EE1 FacRep
I joined NATCA because to me, NATCA means I am participating with tomorrow's great volunteers and thinkers. I am part of a union organization that makes a difference in the lives of its members. I am part of a union that establishes opportunities for leadership and a strong commitment to solidarity. In the future, I hope to use my education, research, strategic planning, and projection management skills to achieve career advancement and growth for NATCA's goals.
Trish Gilbert — NATCA Executive Vice President
I felt very lucky to have found and been hired into the air traffic control profession. I was immediately motivated to be involved in the Union because NATCA respected the profession and valued the workforce. I did not see the same respect for the profession from management. In fact many saw it as an entry level position instead of the great profession that it is!
Jamie Green — New England Region, Providence ATCT (PVD), and on Feb. 5, the State of the Union guest of Rhode Island Congressman David Cicilline
Being an air traffic controller is a team-oriented job. No one person can do it alone! I joined the Union to reinforce my unity with fellow air traffic controllers. During the government shutdown, which was the longest in history, I chose to embrace the challenge. I was inspired by the spark it created in myself and my colleagues to become assertively active in all aspects of NATCA, especially in legislative issues. As a powerful group, our activism got us through and united NATCA more than I have seen in my career. As for the future, I hope to be involved on the UAS integration team. This will be monumental in aviation history and would be another great honor.
Jerah Kavoosi — Great Lakes Region, Flying Cloud ATCT (FCM) FacRep
When a co-worker asked if I would be interested in running for FacRep, I agreed, without really understanding what it would entail to get involved. Once I experienced how NATCA can affect each member of the facility, from decisions made at the local level, to nationwide changes, I was impressed.
Alyssa Kurenyshev — Great Lakes Region, Chicago-DuPage (DPA) FacRep
The biggest motivator for becoming active within NATCA was that we have a voice and when we want change, we have the ability to make changes happen. I see myself continuing the role of FacRep.
Kristen Laubach — Eastern Region, Philadelphia ATCT (PHL), CISM team member, Article 114 Rep for Airport Capacity Decision Support Tool (ADEST)
Initially, my FacRep asked me to help out with some local union business, but once I saw firsthand what an impact the Union had, it was easy to stay motivated and get more involved. I've been fortunate enough to be part of several NATCA committees including my local executive board and the Philadelphia Convention Committee. Perhaps the most rewarding, is being a part of the NATCA CISM team which I plan to stay with until I retire. After retirement, I'd like to stay involved with the NATCA Charitable Foundation and spend time helping others and giving back to communities.
Kristen Lewandowski — Northwest Mountain Region, Portland TRACON (P80) FacRep
My dad, a retired controller and former FacRep at D21 (Detroit TRACON),motivated me to both become an ATC, and also to be involved with NATCA. He exposed me to the career and taught me the importance of being active and involved in the Union. He has been guiding me and cheering me on in this career since I got to the Academy. As for my future path, I don't really know, but I am excited for the journey.
Dawn McFalls — Alaskan Region, Merrill Field ATCT (MRI), National Legislative Committee Alaskan Region Rep
In high school, I wanted to travel the world. My father chased off the Army recruiter by calling him a used car salesman. I decided to become a flight attendant. We had three family friends who were pilots for Northwest and all three encouraged me to look into air traffic control. I went through the CTI program at UAA (University of Alaska Anchorage). Turned down the job to start a family, then many years later, jumped through a bunch of hoops to get hired under the CTI bid. I really feel like I owe everything to our Union. I don't really have a direction in mind for the where I want to go in the future. I just know I have to be involved somehow so I can give back to NATCA.
Lisa Schaefer — Western Pacific Region, Camarillo ATCT (CMA) FacRep
I was lucky enough to have been able to obtain an internship in the federal tower at NASA Ames Research Center, and was graced with having two significant mentors by the names of Karl Grundmann and Mark Pallone (both previous NATCA RVPs). For my future endeavours, I see myself staying active in NATCA and mentoring and empowering the youth of air traffic control.
Allison Schwaegel — Central Region, St. Louis ATCT (STL) FacRep
My involvement began because I grew up in a NATCA house, so initially I was just learning more about something that I've heard about since I was a little girl, but the more involved I get, the more I realize that integrity is a true core value of this organization. I couldn't imagine not giving back to a system that has worked so hard for me.
Kristin Simms — Western Pacific Region (NWP), Oakland ATCT (OAK) FacRep, NWP Reloaded Rep
I started my career at Monterey Regional Airport (MRY). I have always felt an inherent desire to help others and to strive to create a positive environment. Our local was not very involved in the Union at the time, and I wanted to change that. After working at MRY for one year, I became the local union representative. After attending my first union function, I was immediately hooked. There was so much knowledge to gain and the environment was always that of a helpful and friendly nature. Ten years later, I am in my fourth year as the union representative at Oakland International Airport (OAK). I intend for OAK to be my home facility for the remainder of my career, as I was born and raised in the area. I foresee growing with OAK and remaining active in our local. Being the representative has become a part of me. It has shaped me into a person that I am proud of. I have accomplished things that I never would've dreamt of had I not been given the opportunity to learn and gain the friendships that I have throughout the years. NATCA has become my extended family. As the newly appointed Reloaded representative for my region, I'm learning that the sky is really the limit. I have been given a voice to reach other reps and members that I would not have previously had. I know I am suited to meet the expectations of my leadership and I look forward to many more years of accomplishment and growth.
Stephanie Winder — Northwest Mountain Region, Salt Lake Center (ZLC) FacRep
I saw a need locally and felt like I was the solution to that need.
What advice would you give to any female member who wants to get involved but doesn't know where to start? What advice do you have for women aiming for leadership positions within the Union and in their aviation careers?
Candice Gertonson – Honolulu Control Facility (HCF) FacRep
My advice for women who want to get involved in the Union is to ask questions and be vocal about wanting to get involved in the Union. Attend your facility's general membership meetings and ask if there is anything you can help with, or ask your FacRep. There are so many opportunities within the Union to get involved, such as participation in legislation, running for Secretary/Treasurer, helping to educate others about what our Union is and profession does, and so forth. Whether it's a big job or small job, every bit of contribution helps our Union stay strong. My advice for women aiming for leadership positions within the union is to start getting involved. Do not let the "negative ninnies" discourage you from stepping up. There will always be someone negative throughout your career trying to hold you back. Rise above and surround yourself with people who motivate you, encourage you, and sees your passion to want to do more. Also, reach out for advice from other union leaders who personally motivated you to aim for a leadership position.
Trish Gilbert – Any member wanting to get involved should let their FacRep know. That SHOULD NOT be where they stop, only where they start. They should then ensure they are subscribed to emails that come from NATCA and are following NATCA on social media. There they can see the full scope and depth of the where and what NATCA members are involved in. They should reach out to the people involved in an area they are interested in and ask questions about participating. Last, but very important is they should attend a NATCA event – CFS, Convention and/or NiW – and also consider a NATCA training class and a NATCA 101 webinar.
Jamie Green – The most important thing to do is to get involved with as many professional groups as possible. By doing this, it will help develop a broader understanding of the profession and how the industry operates. Getting involved shouldn't be only about expanding one's personal progression, but also about learning from others' experiences. Be sure to attend local meetings, ask questions, and volunteer for whatever openings are available. No matter how small the job may be, that experience can lead to other opportunities and personal growth.
Jerah Kavoosi – It may seem difficult or uncomfortable talking to others about your goals and career aspirations. You may be concerned that you will not be supported or taken seriously, or you may question your own abilities. I myself have always felt very supported and encouraged by my male associates. Find the person you feel comfortable with, reach out to them and don't quit trying! Don't let the fear of taking that first step inhibit you. Our working careers will pass quickly — you don't want to be haunted by the regret of not giving it a try.
Alyssa Kurenyshev – For any female who doesn't know where to start I would simply start by asking your FacRep if there's a workgroup you can join. For a female who wants to start working towards a leadership position, I would tell them to start signing up for NATCA classes.
Kristen Laubach – There are so many opportunities within the Union. Start by talking to your FacRep and get involved at the local level. From there, more opportunities will present themselves and you will find a project that you are really passionate about.
Kristen Lewandowski – I would tell women looking to take a more active role to recognize your strengths. Often as women we undervalue what we can bring to the table. By acknowledging our unique abilities, we can see more clearly how we can help. That clarity can help you have the confidence to step up and get involved.
Dawn McFalls – I started out by taking a NATCA Academy class. Then, I took another class. Then, I went to NATCA in Washington. Find something you're passionate about and tell your RVP you want to get more involved. I promise, your RVPs are looking for volunteers to get plugged in.
Lisa Schaefer – I would advise to inquire at your facility and query your FacRep about your interests. If you want to aim for leadership positions attend local and regional membership meetings. You should make connections and foster those relationships.
Allison Schwaegel – My advice to increase involvement would be to look at the NATCA Academy classes and see what sounds interesting. Don't be intimidated because you think it will be over your head, NATCA does a wonderful job training and preparing people. If you can't attend a class, run for a local position. Don't listen to the voice in your head that says you might not be ready or someone else may do a better job, do it anyway. I've never taken on a position and felt I was ready for it, but I've always felt like I was willing to give it my best shot. I've leaned on the NATCA support system when I've felt I was in over my head, and they've always come through for me. In short, just go for it!
Kristin Simms – My advice to a female member who would like to get involved would be to stand tall and be brave. Focus on the other strong women that we have within our NATCA leadership. We have amazing role models, and they are paving our way. Having a desire to be involved already sets you high in the eyes of all of our leadership. Find your voice, follow your passions, reach out to others, and take the risk. You'd be surprised what you can accomplish when you educate yourself and take that next step. There is so much untapped talent within our organization. Anyone can step up and be our next great leader.
Stephanie Winder – Get involved. Help in any way possible to find out what you are most passionate about if you don't already know. I've learned that there is something for everyone to help with.
Define a great leader. What are some traits you think great leaders possess?
Dawn Forde – A great leader promotes openness and encourages positive contributions. A great leader is aware of cultural differences, and as people start to feel at ease, this allows loyalty and cohesion to develop. Some of the traits I believe a great leader possess are integrity, vision for the future, commitment, being results-focused, attentiveness, communication, and the ability to inspire.
Candice Gertonson – A great leader is someone who encourages and promotes others to work towards the greater good for all. A great leader recognizes it is impossible for one person to do everything. A great leader enlists the help of many to work towards a goal of wanting to produce a better outcome for everyone. Some traits that great leaders possess are honesty, commitment, passion, and inspiring others to want to do more.
Trish Gilbert – A leader brings people together, cares about results and not getting credit. They are not afraid of taking action, and in fact learn from the past and from mistakes, without blaming others, and they improve upon them. They are not troubled by competition but rather create opportunities for others to follow and participate. Traits include integrity, one who is inspiring, being generous, and motivated.
Jamie Green – A great leader can provide clarity and synthesize lessons of the past with visions of the future. In our industry, tough decisions need to be made in a timely manner. If a leader establishes the greater good as a main objective, it will inspire others to do the same. Also, many of us think of great leaders for only their actions. However, being able to listen and understand a situation is just as important.
Jerah Kavoosi – In my opinion, a great leader acts in a professional manner, builds others up, gives credit where credit is due, is steady, and a good communicator.
Alyssa Kurenyshev – A great leader is someone who is very knowledgeable, strategic, and a great communicator.
Kristen Laubauch – A great leader is one who inspires others to reach beyond what they think they can do. They display honesty, patience, and integrity.
Kristen Lewandowski – A great leader is one who uplifts their troops. Great leaders motivate people to improve, they don't force or cajole people into roles. They help people see their value and in doing so, empower them to want to get active. A great leader owns their own faults, and apologizes sincerely when they make a mistake.
Dawn McFalls – A great leader is someone who leads from the front and by example. A leader doesn't ask their subordinates to do that which they are unwilling to do themselves. A leader should embody honesty, integrity, honor, compassion, fearlessness, and respect. A leader has to be willing to have the difficult conversations as well as the fun conversations.
Lisa Schaefer – I feel that a great leader is brave and can regulate their ego. They can also handle stressful situations well and are able to demonstrate emotional intelligence. A few traits that l think good leaders have are empathy, accountability, and confidence.
Kristin Simms – Leadership is not about power or authority. Leadership is about how you can positively influence those around you. Some of the greatest leaders are those that possess a sense of optimism and confidence. A great leader is an individual that, based on their attitude and awareness, can lead others to want to follow in their footsteps and hear their message. Being able to guide young minds and educate through an honest and empathetic approach are key aspects of being a true leader.
Stephanie Winder – Communicating, listening, and integrity are three qualities that I think great leaders possess. It is important to understand the complexities of issues and have a common direction for solutions. It is vitally important to inform everyone involved and impacted by solutions so that everyone understands why things change and afford them an opportunity to provide input. Having processes in place to change things creates a positive environment and helps people more easily accept change.
What's one leadership lesson you've learned in your role and career?
Dawn Forde – One of the leadership lessons I have learned in my career and roles is my commitment to representing NATCA both inside and outside of our Union. I am consistent in inspiring and maintaining enthusiasm for all that NATCA represents: the values of working together in solidarity. Another lesson I've learned is to never lose sight of NATCA's purpose. I always treat everyone with respect, even those who may be creating problems for me. I have learned to be tough with the problem, not the person. I encourage communication and seek ways to use conflicts constructively.
Candice Gertonson – A lesson I have learned being a FacRep is that it's impossible to make everyone happy. I think it is important to make choices and/or decisions that have the best interests of all members in mind, even if that means some disagree with your solution.
Trish Gilbert – Two things: one, no matter how long you have been in a role, there is always more to learn. Two, no matter how difficult things seem, do not give up, always ask what else can be done – you will get through it and will be stronger on the other side.
Jamie Green – The most important thing I have learned is to speak up. It may seem intimidating to be the minority in a group, but self-confidence goes a long way!
Jerah Kavoosi – Issues can be more complicated once you delve into the details. It is a good reminder not to jump to conclusions. Hold off making judgments until you obtain and study the facts. Your final decision may be much different than what you originally thought.
Alyssa Kurenyshev – The biggest leadership lesson I've learned so far is to listen. I've also learned you don't have to have an answer immediately.
Kristen Laubauch – Don't jump to conclusions and ask lots of questions.
Kristen Lewandowski – You'll never be able to make everyone happy. But if you're honest and do your best, people will generally be more understanding to any missteps you make.
Dawn McFalls – Leadership is about rising above yourself as an individual and working toward the common good. It's not about me!
Lisa Schaefer – That you cannot please everyone. As hard as you try there will always be someone that tries to find fault in your productivity.
Kristin Simms – One thing that I've learned is that humility is key. Mistakes will be made, as I am not perfect. In order to recover and regain ground, admittance that I can't carry the weight of the world on my shoulders is so important. I continue to strive to be better and keep my goals in perspective. I am constantly reminded of how much I care about my role as a leader and it pushes me forward. I opted to become a leader, and it is up to me to make sure I am continually bettering myself for those I stepped up for.
Stephanie Winder – Sometimes you need to take a break and step back; look at a problem from a different angle for a creative solution.
What do you think is the most significant barrier to female leadership?
Dawn Forde – Changing society's views on gender roles. We have come a long way but positions traditionally held by men become labeled "challenging" if they are now held by a woman. When women achieve change through effort and hard work, we become empowered, and that helps to remove some of the barriers that hold us back. One of the biggest barriers that holds women back is the lack of opportunities.
Trish Gilbert – There are still hidden biases (in both men and women) that men can do things better than women. While not prevalent, it still exists unfortunately, especially in male-dominated industries.
Jamie Green – Today's laws and culture support working women unlike any other period in American history. I would say the most significant barrier would be one's self. In my honest opinion, anything is possible!
Jerah Kavoosi – I think that the barrier is us and our own inhibitions.
Alyssa Kurenyshev – I think the most significant barrier is the men to women ratio. Men outnumber women and often those men are already in leadership positions.
Kristen Lewandowski – Fear. As women we're often afraid to step on toes and command respect. Acknowledging that fear allows you to move past it and find your place.
Dawn McFalls – The most significant barrier to female leadership is women being afraid to step forward into the leadership roles. We are just as capable of leading but we are taught from young ages to minimize our accomplishments, not be too boastful, not be too pushy. We need to be bold and fearless. We need to be willing to face the fear of failure. The only way to succeed is to take a risk.
Lisa Schaefer – Gaining respect. I was told a long time ago by my male radar instructor that I would have to work traffic twice as good as the guys if I wanted them to respect me like an equal. I think that perspective plays into any leadership role in aviation because it is a male-dominated industry.
Allison Schwaegel – As a woman it is easy to be dismissed and sometimes you have to be a little more forceful to have your voice heard. Then if you are too forceful with your opinion you will be perceived as over-emotional and that is counter productive too. There is an invisible line that you sometimes have to walk to be an effective communicator.
Kristin Simms – I think women, especially those in a male-dominant environment, have a tendency to second guess themselves. While I do not believe this to be a reflection of where we would like to be as a society, this mindset unfortunately still exists. Also, our Union will inherently have fewer women present solely due to the fact that we have far less women air traffic controllers in general.
Stephanie Winder – My most significant barrier to being a leader was that I think outside the box. This was a barrier because I like to do things the hard way sometimes. I always strive to overachieve and I want things to be perfect. But I've learned that talking with people about issues and brainstorming in small groups has helped me create better, simpler solutions, and resolve things more efficiently.
What woman inspires you and why? Who is your role model, and why?
Candice Gertonson – All working moms inspire me because they continue to excel at both parenting and handling a full-time job. Stay-at-home moms also inspire me because they're so supportive of their significant others and deal with many challenges throughout the day that working parents don't normally encounter. My mom has always been a role model to myself and my siblings. My mom came from a very poor upbringing in South Korea and has worked hard every day since coming to America. My mom displayed the value of hard work and how hard work eventually pays off. She started working for companies sewing dresses from the back of our home. She produced thousands of dresses similar to a factory worker. My mom continued to challenge herself and grow as a sewer by sewing gigantic industrial grade umbrellas for resorts.
Now, my mom has owned an alterations business for almost 15 years with loyal customers that keep her busy. My mom works tirelessly but has always been there for her family. After I became a mom, she helped me understand the guilt of working versus being a stay-at-home mom will always linger. However, being a byproduct of a working mom has shown me there are positive attributes my children see in both parents working. I will never forget the day I told my children, I was thinking of running for FacRep at Honolulu Control Facility. Their reaction of encouragement and the look of pride they had for me was priceless. I hope one day my children can look back and see both my husband and I as role models.
Jamie Green – I can't say that I have had one singular role model. Throughout different stages of my life and career, so many people have inspired me and mentored me. After becoming a mother, my role models are now strong women that have been able to balance their careers and home life.
Jerah Kavoosi – There are so many amazing women I can look up to, but my mom is pretty great. She has known me my entire life 🙂 and taught me perseverance, open-mindedness, and to literally get back on the horse when you fall off (that actually happened…more than once).
Alyssa Kurenyshev – Michelle Obama is my biggest role model. She grew up with all odds stacked against her and fought to be as successful as she is now. In a way, I relate to her, and it reminds me to keep going even when times can be challenging.
Kristen Lewandowski – My own mom is my greatest role model and biggest inspiration. She rose to the rank of Chief Master Sergeant in the Air Force while raising her children. She put herself through nursing school in her 30s, because it was her dream since childhood. She taught me and my siblings that with hard work, dedication, and excellent time management skills you can do anything you set your mind to.
Dawn McFalls – My mom inspires me. She has handled adversities in life with grace and dignity. She was a stay-at-home mom who raised four unruly kids and somehow, still allowed us all to live into adulthood!
Lisa Schaefer – One woman that inspires me was my instructor at SBA Tower/TRACON. She is a devoted wife, has exceptional taste when it comes to her home, and cooks everyday meals like a five-star chef, on top of maintaining a career. Another woman that inspires me is near and dear to my heart. My little sister has grown into an amazing woman. She is on the leadership team for NATCA and somehow balances her union work with motherhood (to include being a stepmother), maintaining a household, a marriage, and one of her biggest jobs putting up with me. My role model is a gentleman named John Boyce. I was lucky enough to have worked with him at SBA, as he was the first FacRep when NATCA became a union. I was enamored that he was brave enough to initiate union business after the strike. I admired the way that he always handled himself and his continued passion to help forward the facility.
Allison Schwaegel – My grandma, Alice Kosydor, inspires me and is my role model. She was a stay-at-home mom who never had a driver's license, only saw the ocean once in her life, and rarely traveled outside of Illinois or Missouri, but she was more worldly than anyone I've ever met. She died in July 2001, but I still think about her everyday.
Kristin Simms – Two women in my profession stand out to me above others as inspirational role models. This will come as no surprise to everyone, but Trish Gilbert has earned the recognition and is widely respected in a world of male dominance. She has the ability to appear fearless and is a true testament as to how intellect and confidence can allow for one to accomplish astronomical things. Second, Trisha Pesiri-Dybvik is not only intelligent and strong, but she has the ability to convey her empathy and be everybody's friend. Finding the right balance of being both kind-hearted and heard on a national level is no easy task. Trisha masters this. These two women are prime examples of what one can accomplish when they set their sights high and take the importance of leadership and selflessness seriously. They are who I channel when I find myself outside of my comfort zone and when I am in need of some encouragement.
Stephanie Winder – My mom, because she is the most successful, put-a-smile-on-your-face, you'll get through this, its ok to cry, you've got this, amazing person I know. She has taught me, mentored me, been there for me, and will support me no matter what, and that kind of commitment has helped me grow into a mini version of her and I am so thankful for that.
We continue to honor the hard-working women of NATCA for Women's History Month. We're pleased to present the second half of our two-part series of questions and answers Of some of NATCA's female leaders. We continue to amplify women's voices to honor the past, inform the present, and inspire the future.
7. Where will we find you at 10 a.m. on a day when you're not scheduled to work?
Dawn Forde — Region X, EE1 FacRep
I have been providing free art classes for the past eight years at my local church and at community events. On days when I am not scheduled to work, I prepare my art lessons. I encourage feedback and suggestions after my classes, and on my days off I read the responses. I started the suggestion box four years ago and it has recognized and encouraged good contributions to my art classes.
Candice Gertonson — Western Pacific Region, Honolulu Control Facility (HCF) FacRep
At 10 a.m. when I am not at work, more often than not I am at one of my kid's games. If we aren't at a game then we, my husband and two sons, are usually at the beach or hanging out as a family.
Jamie Green — New England Region, Providence ATCT (PVD), Legislative Rep for PVD, and on Feb. 5, the State of the Union guest of Rhode Island Congressman David Cicilline
You would definitely find me at the beach in the summer! During the school season, you may find me volunteering at both of my children's schools. I am the Chair of the Parent Advisory Board and I also volunteer at the library.
Jerah Kavoosi — Great Lakes Region, Flying Cloud ATCT (FCM) FacRep
When i am not scheduled to work, i am trying to get a workout in.
Alyssa Kurenyshev — Great Lakes Region, Chicago-DuPage (DPA) FacRep
I am a huge homebody. You will find me with a giant cup of coffee, sewing a new set of PJs, painting a mural, or reading a new book.
Kristen Laubach — Eastern Region, Philadelphia ATCT (PHL), CISM team member, Article 114 Rep for Airport Capacity Decision Support Tool (ADEST)
On my day off, i am outside hiking with my dog or on the Chesapeake Bay paddle boarding.
Kristen Lewandowski — Northwest Mountain Region, Portland TRACON (P80) FacRep
Spending time with my family. I put in many hours outside of my scheduled 40 as a FacRep and in my role with NCF (NATCA Charitable Foundation), but I always make an effort to spend time with my family just enjoying the life we've built. I'll note that I don't always succeed in balancing that time well, but I do always try.
Dawn McFalls — Alaskan Region, Merrill Field ATCT (MRI), National Legislative Committee Alaskan Region Rep
Usually, I'm out and about running errands and tackling my enormous "to do" list. Sometimes that means I'm chaperoning on a field trip. Sometimes it means I'm meal prepping my family's meal plan for that week.
Lisa Schaefer — Western Pacific Region, Camarillo ATCT (CMA) FacRep
I could be at the gym, hiking, grocery shopping, or meal prepping on my day off. It all depends on my 5-year-old's behavior.
Allison Schwaegel — Central Region, St. Louis ATCT (STL) FacRep
I am usually tending to our chickens and goats on my days off. We have a large garden and are also building a small vineyard with eight grapevines. There is always work to be done outside, so it is hard for me to be inside when it's nice outside.
Kristin Simms — Western Pacific Region (NWP), Oakland ATCT (OAK) FacRep, NWP Reloaded Rep
I am a mother of two. I wear many hats, but being a mom is my most important and rewarding role. Along with being a FacRep and my region's Reloaded Rep, I am my daughter's first grade classroom mom and her softball team manager. I find myself writing "thank you" cards for birthday parties or setting up a snack schedule sign-up for a sports team. I volunteer in my daughter's classroom a couple of days a week. The responsibilities of a FacRep never end, so at the same time, I may be sending emails or corresponding with others on any given day. Laundry and day-to-day housework remain a constant. Time spent driving to and from extracurricular activities is only increasing at this point. At times during life's busy grind, I try to set aside a little time to collect myself and maintain my sanity. However, I wouldn't have it any other way.
Stephanie Winder — Northwest Mountain Region, Salt Lake Center (ZLC) FacRep
On my days off, you can find me playing with my kids or in a spin class.
8. How do you balance being a mother and a professional? What have you sacrificed (both personally and professionally) at each stage of your career?
Trish Gilbert — NATCA Executive Vice President — My husband being a full partner was key in balancing parenthood, our air traffic control schedules, and NATCA roles. My family living close and being available were also integral.
Jamie Green — This is definitely the hardest question for me. Finding a balance of contributing to the team with all I have to offer and still being present at as many things as possible for my children will continuously be my biggest challenge. My family support system is the only thing that helps keep the balance. At this stage of my life, missing hockey games for my son, or dance for my daughter, or even just missing dinner, can sometimes seem discouraging. However, when my kids tell me how proud they are of me, I am reassured that I am doing the right thing as their role model.
Jerah Kavoosi — I have a great husband who is very supportive of me and everything NATCA. We are a team raising our kids together and do the best we can with the most important things, and let the rest go.
Kristen Lewandowski — I'm a mom of two awesome teenagers. Balancing my career, my work with NATCA, and family time is something I've battled for years. I've missed school and sporting events along the way. But thankfully, I have an amazing and supportive husband helping me to navigate this journey. He's always been my biggest cheerleader, and I can honestly say that without him, I couldn't have done nearly as many things.
The one thing I've done to help find balance is to always be honest with my kids about whatever may be going on. I think by explaining why I can't be somewhere, I've helped them to understand the reason why. I also involve them in my work whenever possible. They quizzed me through my time in training; they protested with me during the shutdown; and they help me with my work for NATCA Charitable Foundation (NCF).
I also make sure to keep my word when I do promise to be at an event. I hope that by being upfront, I'm teaching them how to navigate those issues when they arise in their lives.
Dawn McFalls — I have struggled with "mom guilt" because I've missed many events with my kids. The hardest thing for me to accept is when I'm going to miss Christmas morning with them, their field trips, and taking them to birthday parties. I had to figure out a way to be present with my kids when I'm not on duty. We plan things when I have time off or on my regular days off (RDO). I've discovered that my kids aren't necessarily focused on the day that a celebration happens; they just want their mom there.
I believe I sacrificed my reputation during the training stage at my first facility because I didn't handle adversity very well. My husband was deployed three days after I arrived at my facility, and child care was sketchy and unreliable in that small town. I was going through the process of getting our oldest child diagnosed, and it turns out he was on the autism spectrum and had other issues. I missed a lot of training opportunities and work days due to a lack of child care and issues with our oldest son and school. It made me defensive and I felt like a failure in every aspect of my life because I thought I couldn't succeed in anything. But having OJTIs (on the job training instructors) who knew my personal struggles made a huge difference. They didn't give up on me and that reminder has kept me going all these years. I owe everything to my brothers and sisters of NATCA. All I can do is be better than I was yesterday and stay focused on the bigger picture.
Lisa Schaefer — I decided to transfer to a facility when my boys were young that allowed me to have earlier shift hours and more holiday leave availability. I felt a draw to be as present as possible. It makes me whole to be able to kiss them goodnight.
Allison Schwaegel — I am a mom of two boys, Nick (age 12) and Jason (age 8). The only way I am able balance all I have going on is with the support I have from my husband, Chris. We have been married for over 15 years and he has supported me through all my crazy plans. We have moved over 300 miles, six different times since we've been married and he's always been supportive. During the shutdown, when we were called back to D.C. every other week, my husband NEVER batted an eye. We missed two paychecks and I was gone almost three of the five weeks we were shut down, and he didn't complain one time.
The time I have missed with my kids as working mom has without a doubt been my biggest sacrifice, but I do feel like they are learning a strong work ethic and the importance in going above and beyond for the betterment of others.
Kristin Simms — Finding the balance between being a mother and being a professional is not an easy road to navigate. Naturally, I have felt at times as if I was not able to manage all my responsibilities equally. I have built a strong support system which has allowed me to strive in all roles. That's not to say that mistakes still weren't made or that things couldn't have been done better. Recognizing my strengths and weaknesses has made me better equipped to properly deal with life and all that I work hard to accomplish. I'll always feel guilty missing that soccer or softball game due to my Saturday morning shift. I'll feel unsupportive for not being able to make it to a retirement party because I was at my daughter's dance recital. I'll regret not making it to the facility on our new controller's first day because I had to take my son to his doctor's appointment. However, I take advantage of the opportunities that I'm given to go above and beyond to make up for my deficiencies. I rely on that being enough for me to remain successful.
Stephanie Winder — I am a mother to Sophie (age 9) and Abigayle (age 5). I spend regular quality time with each of my kids, and take them to NATCA and aviation events so that they better understand what I do at work and how it impacts others. I don't feel like I have had to sacrifice personally or professionally. My better half and I are both very involved with NATCA, and what we do is meaningful and worthwhile.
9. Has there been a time when things didn't go the way you wanted, like a promotion you wanted and didn't get, or a situation that didn't turn out how you had hoped?
Trish Gilbert — I didn't win the first election I ran in. It was for Area Rep in the NEW Specialty at ZHU. I stayed involved and then next election ran for ZHU FacRep and won. I served in that position for three terms.
Jamie Green — Having goals is what drives us to accomplish great things. However, as we all know, life rarely goes exactly as planned. It's been my experience when one door closes, another one opens up. If you had asked me 10 years ago, being a legislative rep would never have been on my radar. By continuing to learn and get involved, I have unexpectedly found a focus that I am passionate about, and is so rewarding.
Kristen Laubach — When something hasn't gone the way I envisioned, I make the best of it and move on with the next plan. In the end everything still comes together and usually it's a better result.
Allison Schwaegel — When I became FacRep I had a lot of plans and a long list of tasks that I wanted to accomplish, but just a month after I took over our staffing dropped significantly and that is where all of my energy went for three years. I am happy that this problem is now fixed, but I will always be a little disappointed that staffing took up so much time and energy.
10. Tell us about a project or accomplishment that you consider to be one of the most significant in your career.
Trish Gilbert — NATCA Executive Vice President
It is an honor to serve as NATCA's Executive Vice President. I am hopeful that serving in this role for four terms has, or will, inspire women active in NATCA to envision themselves in any of the NATCA leadership roles.
Jamie Green — My most recent accomplishment would be attending the State of the Union. I was fortunate enough to attend rolling lobby week at the beginning of the shutdown. I then worked with the Rhode Island delegation which led me to be Rhode Island Congressman David Cicilline's guest of honor. The experience overall was so humbling to see so many people pull together and fight to end the shutdown.
Jerah Kavoosi — Being elected as the NATCA Rep of my facility was the most significant step for me. Once I became Rep, the NATCA world opened up, showing me the amazing people and possibilities available when you get involved.
Alyssa Kurenyshev — I haven't had the opportunity to take on a project just yet, but when one comes knocking at my door, I'll jump on it.
Kristen Laubach — I am most proud of being part of the NATCA Critical Incident Stress Management (CISM) team. Aircraft accidents are not something controllers want to think about, but it's a reality of our jobs. NATCA has done a great job working with the FAA to develop the CISM team and offer this service to the membership.
Dawn McFalls — I am not sure I've accomplished much (worth mentioning) in the short span of my career, only recently getting involved with the National Legislative Committee (NLC). However, I have discovered that I'm really passionate about advocating for aviation safety with our members of Congress, as well as educating our NATCA members on the importance of advocacy. I hope this will be one of my significant contributions to the Union.
Lisa Schaefer — It warms my heart that I've been selected as employee of the year more than once, and it is a peer-based vote. I also feel accomplished to be a role model and a mentor to the people that I work with. It makes me happy that when I am absent from the facility, I am missed.
Allison Schwaegel — Last year we were able to get our target number of controllers raised to a more appropriate number. This has significantly changed the atmosphere of our facility. We were once in a position where we didn't even have enough controllers to cover the basic watch schedule without overtime and now we have several trainees. It is nice to know that when my term as FacRep is over, this problem has been solved.
11. What was the organizational culture like 10 years ago for women and working mothers? Do you feel the Agency and aviation industry make continual efforts towards improving the culture for women?
Trish Gilbert — Ten years ago, the ATC workforce was better staffed so time off was easier to get. Everything else is slightly better now. There is space now for nursing mothers in facilities, albeit all are not ideal. The federal government, as the largest employer in the United States, should make instituting paid parental leave a priority; until then, support for women in the workforce seems hollow.
Jamie Green — The aviation industry was dominated with a male workforce 10 years ago. Our culture is changing and I believe woman have really stepped up. I feel like we have progressed as a society and now jobs are filled by the most qualified candidate without any bias.
Lisa Schaefer — In the past, woman needed to be able to adapt to male behavior. I remember very clearly when I was pregnant with my first son that I worked up until my due date. I essentially gave birth on my "weekend." When I called the facility to tell them that I wouldn't be returning for a while they panicked and couldn't believe that I wouldn't be back for eight weeks — as if I hadn't been walking around work pregnant for nine months! I was the first woman at my facility to go out on maternity leave and they had no idea how to handle it. I feel there have been some improvements made, like establishing nursing areas, but overall there is still room to grow.
Kristin Simms — I believe that we have taken great steps forward, but we still have a lot of room for improvement. For example, we do not have a paid maternity leave program. Compared to other countries, our government trails far behind in regards to expectations that mothers with newborns return to work with limited time off after giving birth. We may have the allowance in our contract to take a fair amount of time off, but the unwillingness of our government to appropriately pay mothers during that time does not allow all mothers to exercise their contractual right.
As far as improving women's involvement within our organization, I have seen our leadership reach out to many women that have potential. These leaders use their own skill sets and help break down the barriers that women see and face daily.
Stephanie Winder — Things are definitely better for working mothers now than 10 years ago. There are nursing rooms at facilities that need them. On-site childcare facilities are finally getting renovations and attention that they haven't received since initial construction. Federal subsidy programs are available to assist with the costs associated with affordable quality child care. Flexible spending accounts (FSA) are now easily available for dependent care through payroll deduction.
12. Are there challenges facing female controllers that are unique from those faced by their male peers?
Jerah Kavoosi — There are continued challenges associated with breastfeeding while working full-time. I can't speak for my counterparts and make it a habit not to generalize, but I do believe that a mix of the genders actually helps create a more well-balanced facility and industry.
Alyssa Kurenyshev — One challenge I've noticed is sometimes the pilots don't take females as seriously. There is less room for uncertainty in our voice than men. I really think this just boils down to society thinking women aren't as aggressive and stern as men.
Dawn McFalls –– Our challenges as women are different. There are additional distractions that happen during pregnancy that men don't have to endure. There are comfort issues that happen (trying to get comfortable sitting, having swollen feet, walking upstairs to the tower, etc.), as well as a sudden onset of biological urges that occur, while being pregnant. There are numerous complications that can arise during the pregnancy. After the baby is born, there's a chance that postpartum depression can occur. It affects one in eight women, and in our line of work, we have to be willing to talk about it. I had my babies before I embarked on this career, but I suffered needlessly from it. Postpartum depression is not the same as clinical depression, and we need to have honest conversations and reduce the stigma that surrounds it.
Lisa Schaefer — I believe that all controllers face similar challenges. To segregate the challenges into male and female categories wouldn't be just.
Allison Schwaegel –– Speaking only from an air traffic background, I think voice quality is a bigger problem with women than men. This goes back to a balancing act of appearing timid or shrill. Also, when I have to be stern or act authoritative on frequency pilots are quick to chime in with comments like 'she told you,' or things of that nature. I don't know that this happens as frequently with men.
Stephanie Winder — Being the minority in most every situation can be intimidating. I want to be part of the solution and continue to provide innovative ideas and strategies to the NAS, so it's important to speak up and let your voice, thoughts, and opinions be included in the conversation.
13. What can be done to make aviation safety professions more interesting to younger women?
Jamie Green — In an effort to appeal to the next generation of aviators, getting out and educating the community should be our main focus. So few women are aware of the amazing aviation careers available.
Jerah Kavoosi — We must spread the word that aviation safety professions are available and encourage participation. If young girls and women are exposed to the possibilities in the aviation industry, their passion and excitement will be sparked. It takes all of us to encourage the next generation of controllers and aviation enthusiasts.
Alyssa Kurenyshev — I think continued outreach at local high schools would be great. I've done a couple of events of Lewis University and it's surprising to know how many young females don't know what we do. The second you run the simulators and start talking, their eyes light up.
Kristen Laubach — Getting girls involved at a young age is a great way to get them more interested in aviation. Two years ago, I started working with Big Brothers Big Sisters Independence Region in Philadelphia. We organized controllers, airlines, corporate flight departments, and fire and rescue squads to come together and host an aviation event. Its a chance for "bigs and littles" to get behind the scenes and see what is involved in making an airport run. This year will be our third year hosting the event.
Dawn McFalls — We should participate in Career Days at schools because early outreach is a must. Getting young girls interested in our field is really easy to do. I had the privilege to work in the tower simulator at our local Girls in Aviation Day last year, and I honestly believe that was their favorite part of the day. I continue to describe our job as "poetry in motion," and it's truly beautiful to behold.
Lisa Schaefer — Exposure and encouragement are important in promoting the profession. Essentially you are either interested in it or your not.
Allison Schwaegel — Outreach! We need women out there educating the public about aviation. This not only teaches our young girls that people like them belong in this world, it also teaches our young boys that girls belong in the same type of professions that they do.
Stephanie Winder — Women in Aviation, Professional Women Controllers (PWC), and NATCA do a great job educating and getting information out about STEM programs and opportunities in local communities. I think these organizations and the events they participate in help raise awareness about the opportunities available in aviation.