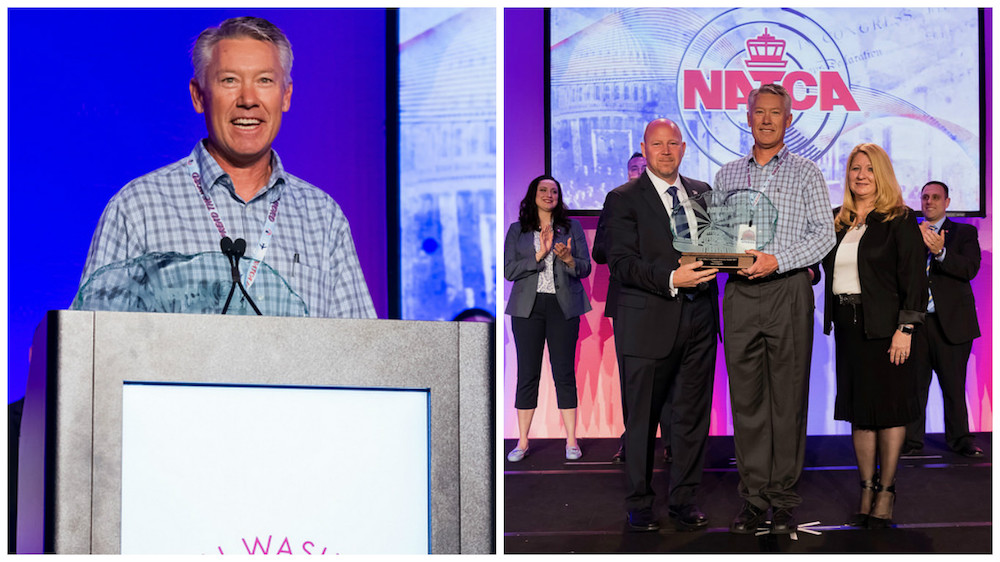 2017: Noel Kingston
Veteran NATCAvist and Arizona state legislative coordinator Noel Kingston of Prescott Tower (PRC) was honored with the Trish Gilbert Legislative Activism Award at NATCA in Washington (NiW) in May 2017.
"Noel has worked hundreds of hours on campaigns and getting members to volunteer their time," NATCA President Paul Rinaldi said. "He has walked miles around Capitol Hill and spent countless hours in Congressional offices delivering NATCA's message. He embodies our collective spirit."
In 2009, NATCA established the National Legislative Activism Award to be presented at NiW. The following year, the award was renamed for one of NATCA's most effective activists, Trish Gilbert.
Gilbert set the standard and defined what it means to be a legislative activist in this Union. In her spirit, the award now honors the incredible work ethic, drive to take NATCA from good to great, and inspiration to others of NATCA's most dedicated activists.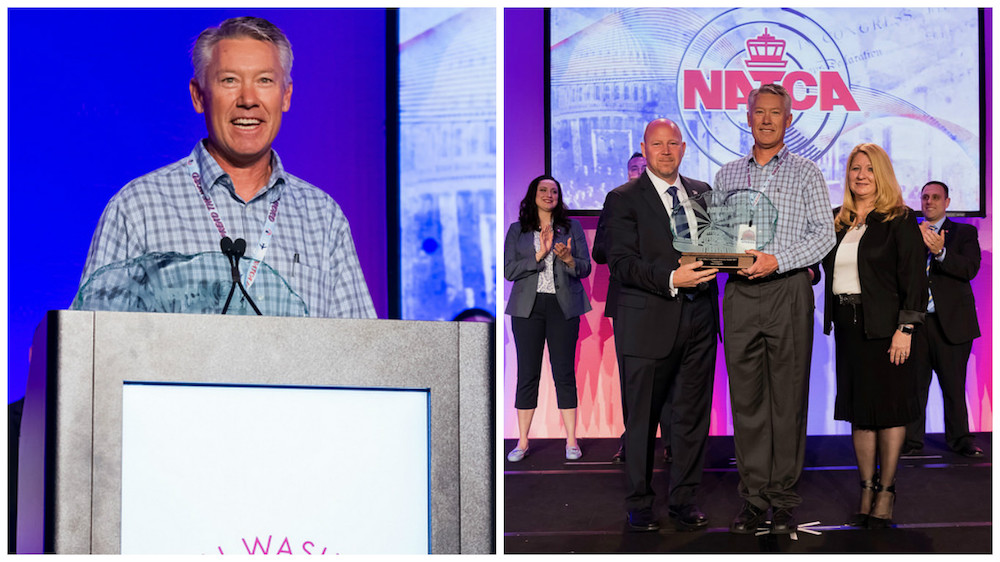 Rinaldi and Gilbert present Kingston (center) with the Trish Gilbert Legislative Activism Award as members of the National Legislative Committee look on.
"I'm very proud of the time I've spent with all of you," said Kingston, who will be retiring soon. "But I'm sad because I love the legislative activism."
Kingston joins the distinguished ranks of previous winners of the award, including National Legislative Committee Chairman Steve Weidner (2016), Jason Arnold (2015), Toby Hauck (2014), Mitch Herrick (2013), Betsy Beaumont and AnnMarie Taggio (2012), Brody McCray (2011), Mark Griffin (2010), and Linda Miller (2009).
Winners of this award were activists who were inspired by NATCA's legislative vision and stepped up to do extraordinary work. They all shared a passion to serve the Union through their legislative efforts, which is what makes our Union so effective. Past winners were recognized for:
Organizing a drive to register voters,
Establishing relationships within their state to defeat a bad facility consolidation during the White Book, and