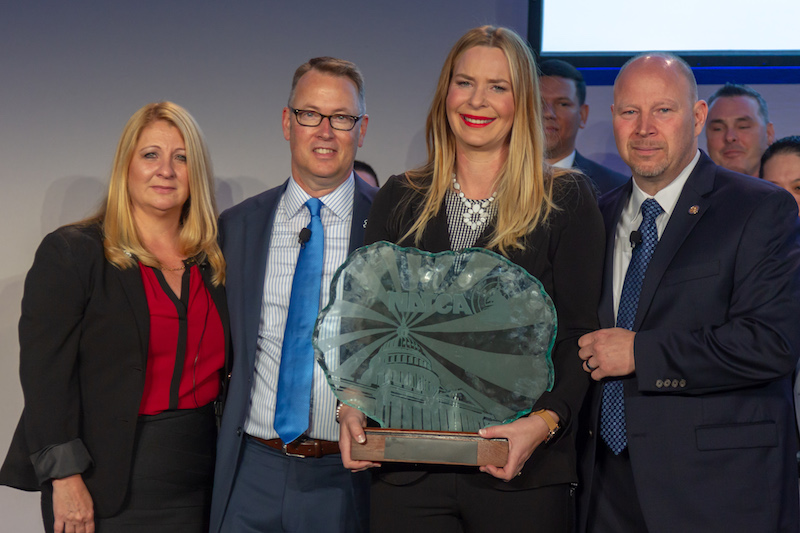 2018: Trisha Pesiri-Dybvik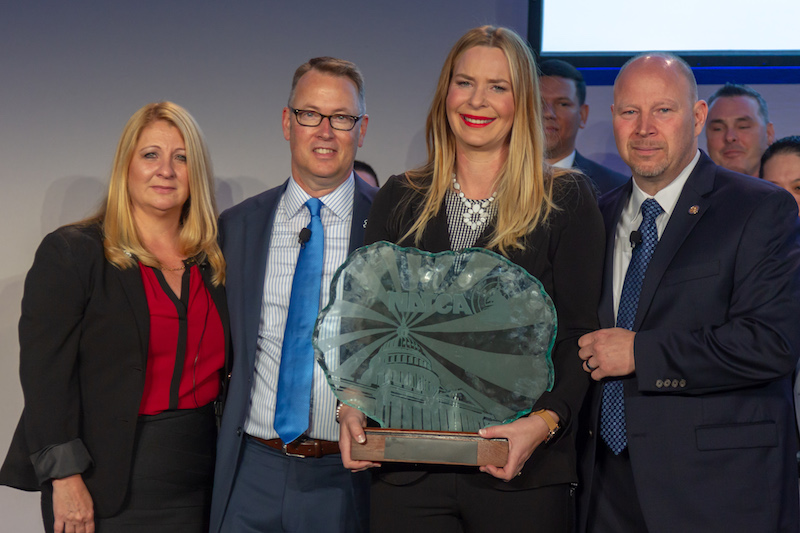 From left to right: Executive Vice President Trish Gilbert, National Legislative Committee (NLC) Chair Steve Weidner,
Western Pacific Region Representative to the NLC Trisha Pesiri-Dybvik, and President Paul Rinaldi.
Santa Barbara ATCT (SBA) member Trisha Pesiri-Dybvik recalls her father, Paul Pesiri, always encouraging her from a young age to be legislatively active. If you want to make a difference, he told her, get active and get involved. "Write your member of Congress," he added.
"That was the running joke in my home. If I wanted to lobby against cleaning my room, or doing my chores, he would say, "Hey, write your member of Congress,'" Pesiri-Dybvik said. "Now, I spend my time in my adult life writing members of Congress."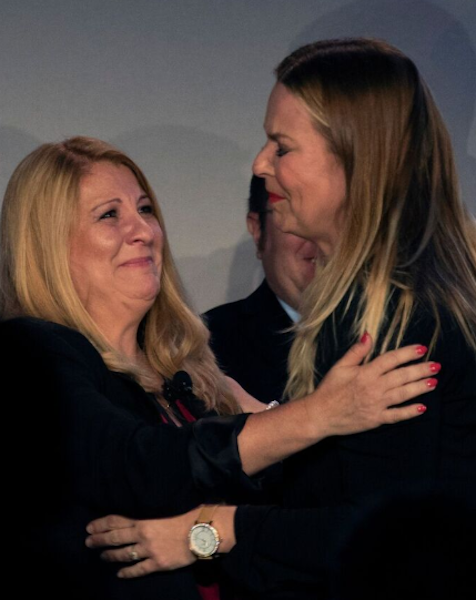 On Monday, May 21, 2018, during the first day of NATCA in Washington, Pesiri-Dybvik was honored for her NATCAvist passion and devotion to the Union and its legislative efforts. She was presented with the Trish Gilbert Legislative Activism Award.
In 2009, NATCA established the National Legislative Activism, to be presented each year at NATCA in Washington. The following year, the award was renamed for one of NATCA's most effective activists, current Executive Vice President and former National Legislative Committee (NLC) Chair Trish Gilbert.
Pesiri-Dybvik, the Western Pacific Region (NWP) representative on the NLC since 2011, said combining a lifelong love of both aviation and legislative work has driven her to devote her time and energy to her activism. She expressed deep admiration for the NATCA Government Affairs staff and the NLC for the work they have done on Capitol Hill and in home districts.
"I know that no matter what I give back to NATCA, it will never be as much as NATCA gives to me," she said. "This committee works so hard. They are passionate and dedicated. I love them with all my heart. They are my family. I am so proud to represent the Western Pacific Region."
Pesiri-Dybvik, in accepting the award, looked out in front of her to her fellow members of the Western Pacific Region, seated in the front left of the room, and it spurred some fond memories of both the event – which she has attended each year since 2009 – and of watching Gilbert up on stage.
"I remember my first NATCA in Washington like it was yesterday," she said. "I was with my region and there were these round tables and I was looking up at the stage and admiring the work done by the NLC at the time. I remember seeing Trish up there and I was so inspired by the work she was doing. To now receive an award named after her and her dedication to our Union really is a highlight of my career and an honor of a lifetime. I am very grateful for that."
NATCA President Paul Rinaldi, in introducing Pesiri-Dybvik, said he first met her in Oklahoma City at a NATCA Meet and Greet event in 2007. She was an FAA Academy student who was concerned about the White Book and issues like no per diem for Academy students, he said.
"She was very concerned about changing careers and going into an air traffic controller career, and she said it didn't seem like we were well paid and well respected. There was hostility of management toward us and us toward management," Rinaldi said. "I told her, 'Don't worry. We're gonna fix it because we have to fix it.'"
A year later, Rinaldi saw Pesiri-Dybvik again at a NWP meeting and this time, he said, she had a positive attitude and was sure she had in fact made the right career move. He invited her to return to Oklahoma City, this time to speak to Academy students.
"I just watched this young activist passionately speak about our passion and our career," Rinaldi said. "I knew we had a diamond here for sure.
"She is so well-deserving of this award. She has earned the reputation as a NATCA go-to leader."
Pesiri-Dybvik thanked her family and her fellow NLC members for their love and support.
"This award represents every single one of us in this room," she said. "It's Incredible. I cannot wait to hit the Hill with every single one of you and I thank you with all of my heart."
Previous winners of the Trish Gilbert Legislative Activism Award:
2017: Noel Kingston
2016: Steve Weidner
2015: Jason Arnold
2014: Toby Hauck
2013: Mitch Herrick
2012: Betsy Beaumont and AnnMarie Sullivan
2011: Brody McCray
2010: Mark Griffin
2009: Linda McCray