NATCA Charitable "Goes Green" on Earth Day to Encourage Philanthropy & Volunteerism

In honor of Earth Day, the NATCA Charitable Foundation (NCF) is announcing a new effort to encourage volunteerism and philanthropy that will make a difference to the environment and help NATCA members give back to their communities. To support this and NCF's other important charitable work, the Foundation will be selling "NATCA Goes Green" T-shirts and reusable shopping bags. In addition, NCF is announcing a new grant program, where NATCA members may apply for their local to receive one of five $1,000 NCF "Going Green" grants toward an an environmentally-focused charity in their community.
Jen Malloy from Cleveland Center initiated this effort. She stated, "For years, I have been wanting to see NATCA continue to make a big impact, while creating a smaller footprint. Years ago, we started such efforts with reusable cups at CFS. In 2019, I want to encourage our Union to grow their efforts. Together, I know we can channel NATCA giving and volunteerism towards many deserving community organizations doing great work to improve the environment and improve the communities where NATCA members live and work. This program is one way we can demonstrate how each day we can choose to better our future as a Union and for our families to be more sustainable and respectful."
NCF President Corrie Conrad added, "The NATCA Charitable Foundation is really excited about this program. It demonstrates NATCA members' commitment to volunteerism and supporting vital local charities. And it's great that we can focus fundraising and some of our giving to green initiatives. We hope that many NATCA members will buy these shirts and grocery bags and submit proposals for grants to support green activities in their communities."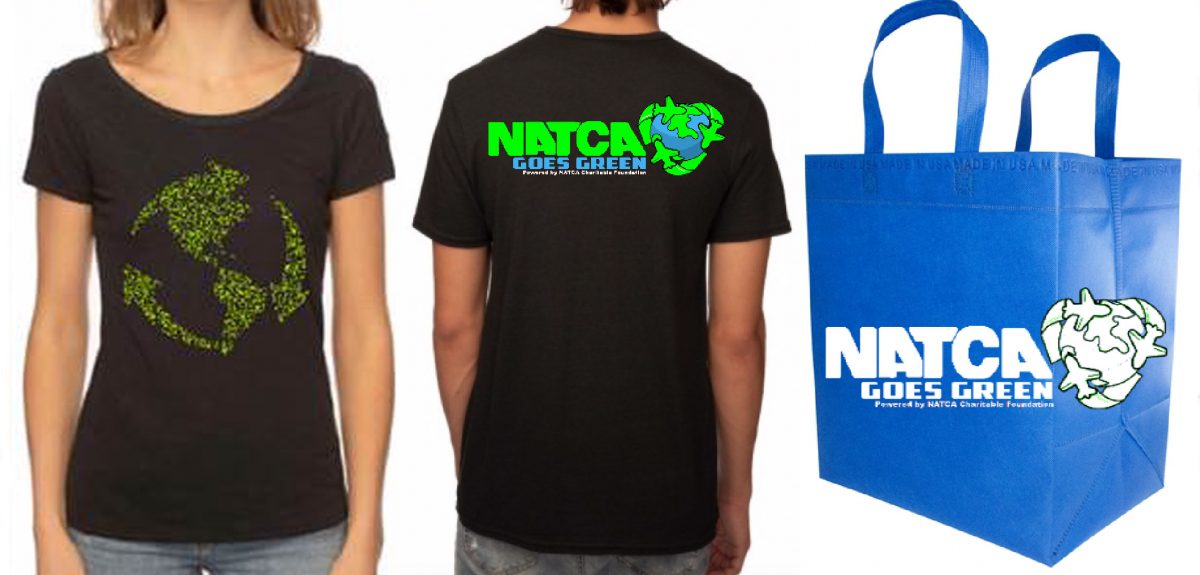 These shirts and bags are made from recycled materials and printed with environmentally friendly inks and dyes. The "NATCA Goes Green" shirt design was created by NATCA member Patrick Carter (Dallas-Fort Worth TRACON, D10). Shirts cost $25, which includes a $10.00 donation to NCF. The reusable shopping bags cost $5.00 and include a $3.00 donation to NCF. You can order these shirts and bags here:
NATCA Goes Green T-shirt
NATCA Goes Green Women's Scoop Neck T-shirt
NATCA Goes Green Reusable Grocery Bags
Shirt and bag orders must be received by May 22. The shirts and bags will be produced and shipped after that order deadline.
NCF will select five recipients of these grants, based on a number of criteria. Members who apply should describe the following:
What is the charity that you want to support? NCF generally favors local organizations over national groups. NCF can only make donations to registered 501(c)(3) charities.
Please describe the work that your selected charity does in the community. Explain how the group's efforts will improve the larger environment and have a positive effect on your community.
In addition to any NCF grant you might receive, describe if you and your local plan to raise any additional support for this charity locally.
Winning grant applications should include a plan for members to volunteer with that organization. Describe how members from your local will volunteer to support this group. Ideally this volunteer activity isn't a one-time thing.
Applications for these NCF grants can be submitted by using this online form. Applications are due to NCF by May 22, 2019. The NCF Board will select the top five grants by June 15, 2019. In addition to NCF notifying the winning applicants, NATCA will announce the winning applications in its social media and publications.