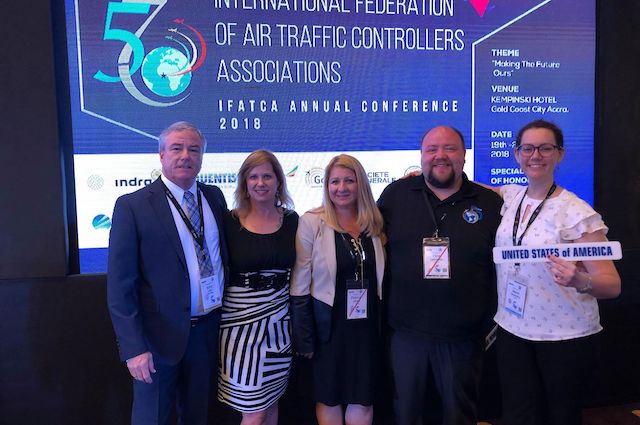 NATCA Joins International Aviation Safety Colleagues from IFATCA
Rulings Contradict International Standards of Safety Culture
WASHINGTON – The National Air Traffic Controllers Association (NATCA) issued this statement today as it joined its international aviation safety professional colleagues from the International Federation of Air Traffic Controllers' Associations (IFATCA) and the European Cockpit Association (ECA) in expressing extreme disappointment about the recent conviction for operational incidents of a third air traffic controller in Switzerland in just the past few months. No one was injured in any of the events, nor was there any damage sustained to any aircraft or to ground infrastructure.
"Switzerland remains one of the few nations that has chosen to deviate from internationally accepted standards of safety culture when it comes to using safety reports to trigger criminal prosecution. NATCA joins IFATCA and the 38,000 pilots represented by ECA in urgently calling upon Switzerland to align with international standards other states' laws incorporating just culture principles into its legal system in order to provide for a balanced approach between safety and the administration of justice.
"The implementation of a safety culture that continually strives to improve safety within the air traffic control system and the larger aviation industry, with collaborative safety programs, results in a safer system. These results have been demonstrated thousands of times over during the past decade here in the United States. NATCA and the Federal Aviation Administration (FAA) have a very successful voluntary, non-punitive reporting program for controllers and supervisors to proactively improve safety by identifying safety concerns we may have otherwise not known about. This program, called the Air Traffic Safety Action Program (ATSAP), has grown into the largest and most successful voluntary reporting program of its kind with over 165,000 reports filed since being deployed nationwide in 2010, an average of 17,000 per year. NATCA and the FAA also participate in multiple safety programs and initiatives that include government and aviation industry stakeholders, which serve as conduits for the sharing of critical safety information and the identification of safety trends.
"The aviation safety professionals who make up the frontline air traffic controller workforce are key to understanding safety issues in the National Airspace System (NAS). A punitive culture leads to withholding of information that, if disclosed, could help make the system safer. It only takes one incident or accident to occur because of a safety issue that was not previously raised or discussed for there to be a tragedy. This is why a safety culture that encourages reporting of safety issues in an effort to constantly improve safety is critically important. Over a decade ago, a robust safety culture replaced the former destructive punitive culture in the U.S. and ushered in an era where voluntary, non-punitive, confidential safety reporting programs give the U.S. National Airspace System (NAS) the best opportunity to improve safety and prevent problems from becoming disasters.
"In addition, local safety councils are in place at a majority of FAA facilities. These councils include at least one NATCA representative and one management representative and are forums for facility personnel to identify and mitigate safety issues at the local level. Together, we have moved away from the blame culture and embracing the just culture and the learning culture. Our hope for Switzerland and the other nations that deviate from these principles and international standards is that they can learn from the positive examples of a safety culture in order to improve their own systems."
MORE INFORMATION: Doug Church, Deputy Director of Public Affairs; 301-346-8245, dchurch@natcadc.org.
# # #
The National Air Traffic Controllers Association (NATCA) is a labor union and aviation safety organization in the United States that represents nearly 20,000 highly skilled air traffic controllers, engineers, and other aviation safety-related professionals. NATCA was certified in 1987 by the Federal Labor Relations Authority to be the exclusive bargaining representative for air traffic controllers employed by the Federal Aviation Administration. Today, NATCA is one of the strongest labor unions in the federal sector and represents a range of aviation safety professionals in 15 FAA bargaining units, 4 Department of Defense air traffic facilities, and 102 federal contract towers. These air traffic controllers and other aviation safety professionals make vital contributions to the U.S. economy and make modern life possible by coordinating the safe, orderly, and expeditious movement of nearly one billion aviation passengers and millions of tons of freight within the National Airspace System each year. NATCA is headquartered in Washington, D.C., and is affiliated with the AFL-CIO.