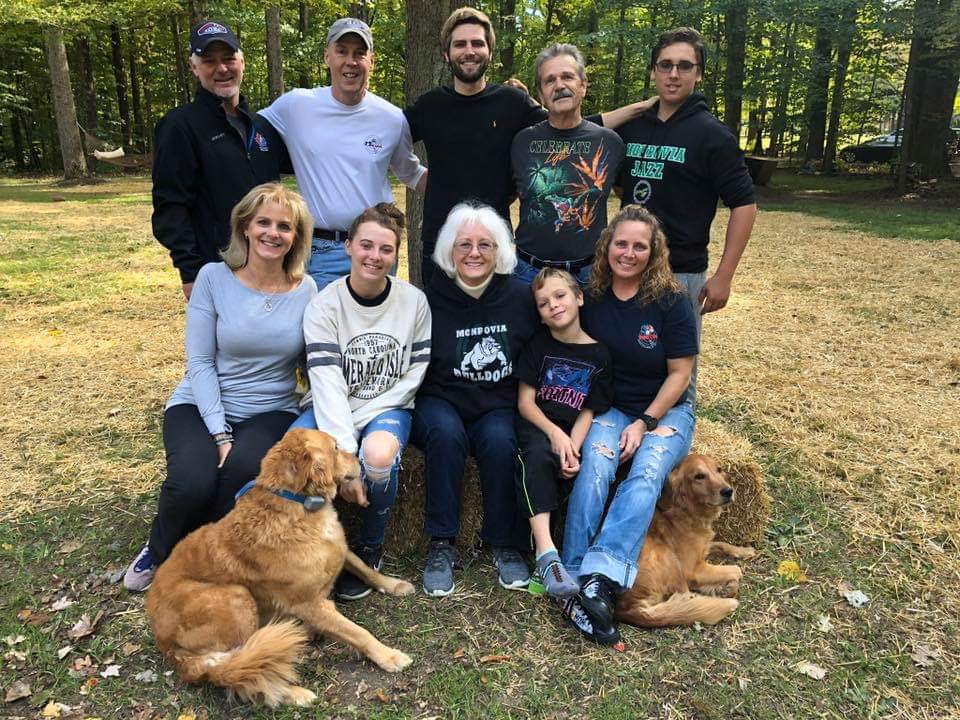 Member Highlight- Michelle Trudeau, ZID NGL Safety Representative
Tell us about your background:
I grew up in Miami, Florida with my mother, my step-dad, and my brother. Much of my family served in the military and my dad worked in the FAA at ZMA. He was hired into the FAA as a USAF Veteran. When I was 14 years old, ZMA had an open house. My dad brought me there and that's when I discovered the "wow" factor of Air Traffic Control. I graduated Miami Killian Sr High School, where I marched in the Marching Cougar Band, and I enlisted in the US Air Force. I served five years at Reese AFB, TX, a year in Korea, and a year and a half at Tyndall AFB, where I met my husband. We both went on to serve in the DOD at Cheyenne, WY before being picked up by the FAA. We both have worked as controllers and traffic management specialists at ZID our whole career and my husband recently retired. We have built a nice little family adding two dogs and three kids to our abode. They all keep us very busy! We live in a small farm town 25 miles southwest of Indianapolis in Monrovia, IN where we are involved in the community.
What do you like to do for fun?
I'm an all-around kind of person. I like to do all kinds of things like snow skiing, water skiing, racquetball, softball, soccer, DJ, play music, and dance but if I had one thing that I loved the most, it would be SCUBA diving. I'm an Island girl at heart and I love everything about the ocean. My mother grew up in the USVI and I always said I was supposed to have lived her life! Now that we have kids, we travel a lot less and my new goal is to get my kids certified so that we can plan family dive vacations. Unfortunately, COVID has delayed those plans. While I'm not at work, I serve as the President on my two teenagers' Marching Band Boosters Organization. We are getting ramped up for a new kind of season and it has been very interesting. During much of the fall and winter, if I'm not at work, we're busy building props, washing uniforms, organizing fundraisers, and traveling with the marching band pushing equipment on and off the field at every contest. We are very proud of our kids and their dedication to the band. My daughter is the Drum Major and my son is on the Drumline.
How/Why did you get involved with NATCA?
When we first got to ZID, we joined NATCA. Our representatives gave a great introduction and it was not a question to us if or why we should join. We had a lot to learn, but right away we saw value in NATCA. It was not very long before things were a bit stirred up and we were entering the white book time frame. I remember a speech by John Carr and another by Paul Rinaldi at our member meetings and we were very inspired. From then on, we became involved in NATCA.
Why is NATCA important to you:?
I've learned throughout my time at ZID how important collaboration is and how successful an operation can be with good working relationships. The union has taught me that. I was fortunate enough to work closely with and learn a lot from NATCA Collaboration Lead, Tom Thompson and FAA Collaboration Lead, Tammy Burroughs. Every communication and organizational skill I have has come from NATCA. Through the white book and now, I have seen first hand how NATCA leadership works hard to fight for what is right. I stand behind them one hundred percent because they are fighting for the membership as a whole. Their interests are ours. Even as we begin to transition into retirement, my husband and I are members of RNAV, where we will continue to serve our NATCA brothers and sisters for years to come.
What positions have you held that led you to where you are? What things are you working on?
I became interested in Safety after one of the first SRM classes, back in 2008, which is when ZID's Best Practices Team was formed. I was part of that team and later became the Lead. In 2011, PFS was formed and I transitioned to the Local Safety Council where I helped draft our ZID LSC scoping document and became the Lead from 2013 until 2019. In this position, I learned a lot from working with the managers in all of the support positions. I had a very good working relationship with our Local Facility Representatives and our ATMs during that time.
In 2018, I was selected by Drew MacQueen to serve as the Regional Safety Representative. We worked very well together to outline what safety looks like for the Great Lakes Region and what steps we're going to take to improve it. My focus, generally, has been getting facilities compliant in their Partnership for Safety obligations. It's challenging to keep track of 57 facilities as one Rep. and it is important for each facility to work their issues locally, to the extent possible. I also serve on the CFS Planning Committee and on the ATSAP Analyst team as a CISP Representative. I work with Republic Airlines and Lift, their pilot training program. Both are located here, in Indianapolis. I have built a solid relationship with Republic from my time on the LSC developing training videos for student pilots and controllers. I have been very fortunate to have the opportunities to learn every aspect of safety in the NAS from every different angle. I truly believe that every single day is a training day. I was able to take advantage of the online classes offered by NATCA during reduced staffing, while not at work. If I'm not learning something new, I'm digging deeper into what I think can be improved. It is important to stay engaged and like with most things in life, it is important to be the change you want to see.