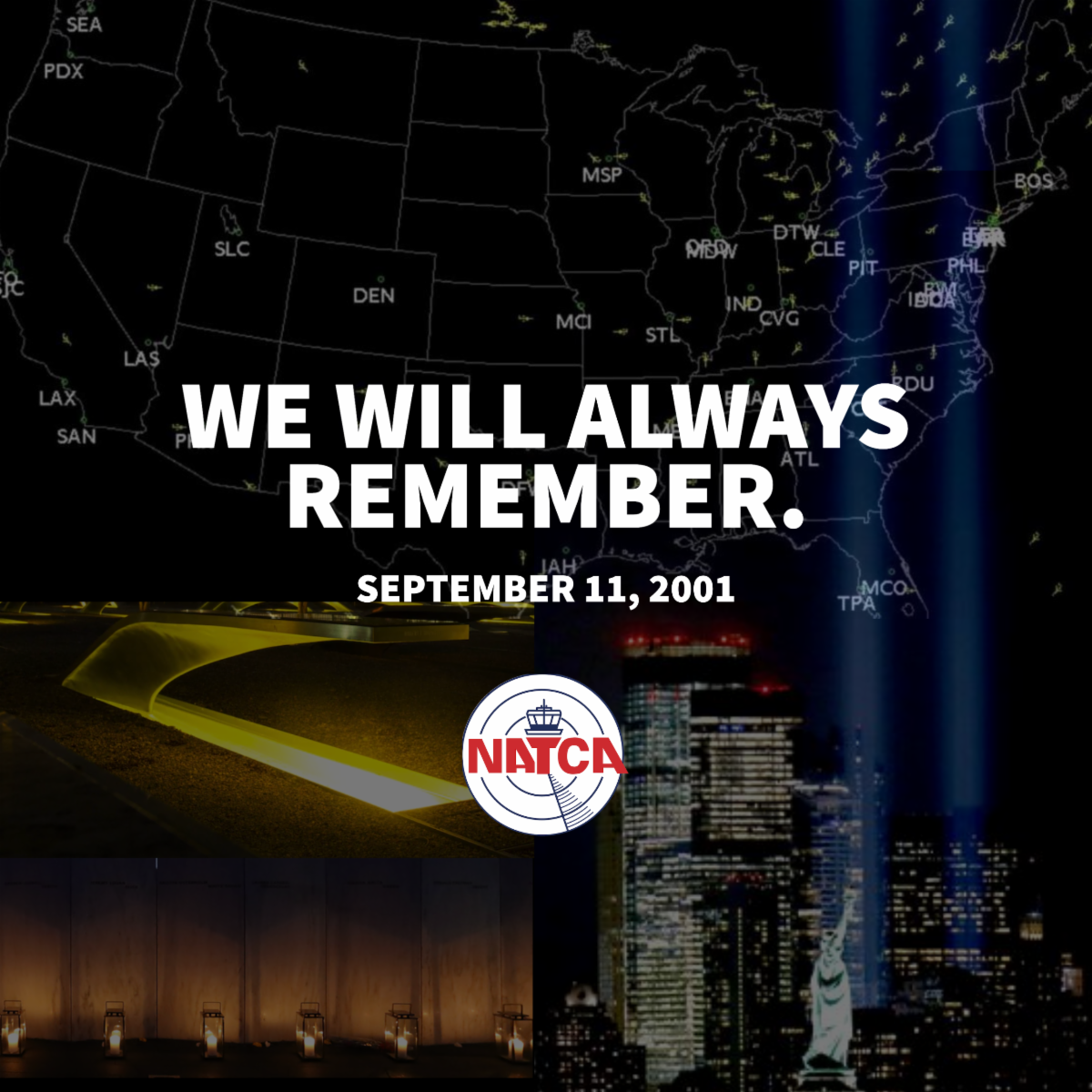 Honoring the Work of NATCA Members on 9/11
Nineteen years later, the scope and the gravity of what NATCA members did in service to their country during the morning of Sept. 11, 2001 remains as vivid to them as ever. In a new collection of written accounts of their shifts that day, many members express that their pride at what they accomplished, and the heartbreak and horror at what they witnessed, will never be forgotten.

On the anniversary of those terrible attacks, our Union honors our members' service on that fateful day.

When terrorists attacked the United States with hijacked aircraft, and the order went out to land every aircraft at the nearest airport, controllers guided 700 aircraft to land in the first four minutes, 2,800 in the first hour, and over 4,500 within the first three hours. Over a million passengers landed without incident. "The landing of those aircraft stands as the single greatest feat in all of ATC history," NATCA President Emeritus John Carr said.

Said Boston Center (ZBW) member Kevin Bianchi: "I have always been very proud of our great profession and professionals; never as much as I witnessed on that day."

By early afternoon EDT, the skies were cleared (click here to view the time lapse video of the Sept. 11 airspace closure) and controllers had their first opportunity to think about what had occurred, and their emotions took hold. They checked on family members. Retired member Mark DiPalmo, who worked at New York Center (ZNY) on 9/11, discovered that nobody could get a hold of his brother, Brian, a New York City firefighter.

"He was to be on duty until 9 a.m. that morning," DiPalmo said. "Some initial reports said as many as 500 firefighters had perished in the World Trade Center towers' collapse. I would later find out that my brother had been relieved that morning and was not injured but was back in Manhattan helping with rescue efforts. The crew that relieved him at his firehouse that morning was not that fortunate; seven of them had perished when the South Tower collapsed."

The day was particularly difficult for retired Newark ATCT (EWR) member Michael Reilly. His hospitalized father was given the terrible news that his condition was terminal. Reilly visited with him before heading into work in the afternoon, a drive from Teaneck, N.J., that is not far normally, but on this day it took three hours.

"As the night went on and the airspace was closed except for military and rescue, we operated under blackout conditions with a dark runway," Reilly said. "I was informed a Coast Guard C-130 was inbound and I turned on the lights until the plane landed. The sad part was the plane was dropping off 10,000 body bags."

Retired ZNY member Daniel Bohleber grew up in Brooklyn, across the East River from lower Manhattan. "I watched them build the towers," he said. "The ribbon-cutting ceremony was on my 21st birthday, April 4, 1973."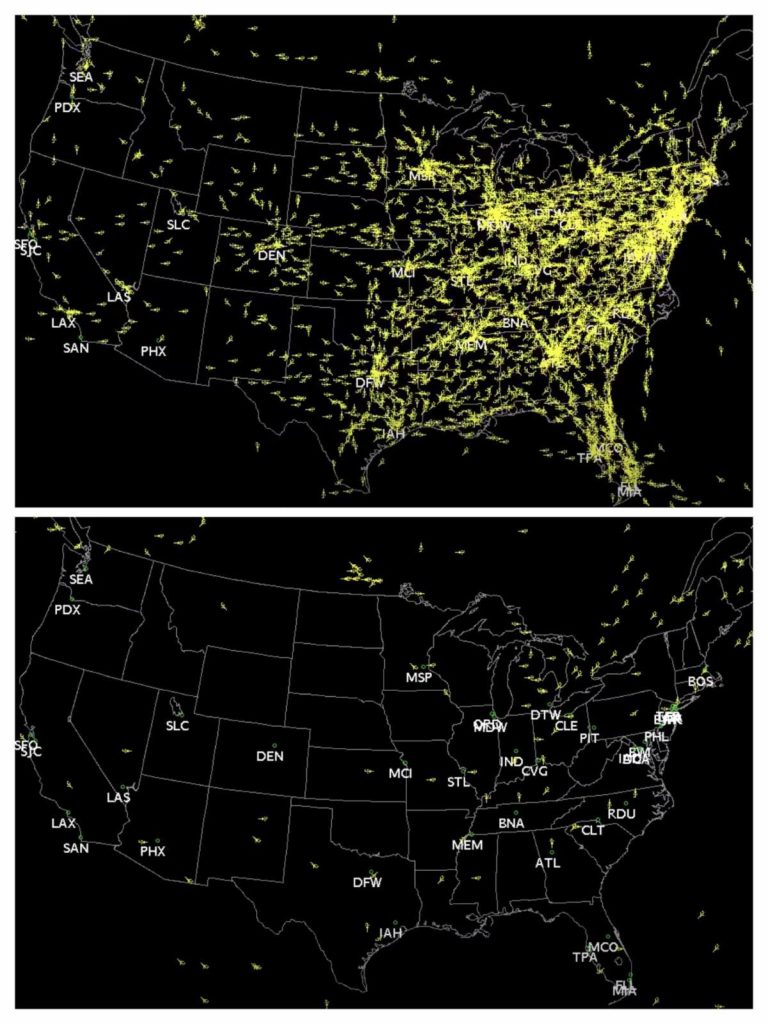 Twenty-eight years later, on 9/11, Bohleber was working the Atlantic Sector, being asked by a supervisor to pull up a primary target being tracked by Area B and keep an eye on it because it was headed his way. That was American Airlines Flight 11, north of the city along the Hudson River.

"A little while later, we lost the target," Bohleber said. "Since he might have gone down low we figured we might have lost it in the clutter around the city. Just then I saw the supervisor put his phone down and came over to us and informed us his wife, who was at home watching the news, told him a plane just hit the World Trade Center. I told him, 'well that's about where I lost the target.'"

Bohleber's younger brother, James, was working the airspace where United Airlines Flight 175 was being tracked.
At nearby New York TRACON (N90), member Don Krivohlavy was working with a trainee just before 9 a.m. when ZNY called to report the approaching target that was UAL175. A supervisor said it was probably a hijacking. Krivohlavy and about 3-4 other controllers tracked the target on their scopes. "When we saw him, he was at 24,000 feet, coming from the west and he started descending," he said.

He kept working his other flights and issuing the traffic that was the descending target. "It doesn't click then that something tragic is going to happen," he said. "You're watching and you're going through your working day. You're trained to deal with the situation and keep working." Krivohlavy watched as the target disappeared over Manhattan just moments before a co-worker came into the control room to report what he had just seen on TV, UAL175 hitting the South Tower of the World Trade Center.

At facilities around the country, members' shifts that day were also filled with their own tension, unique circumstances, and challenges, but also the sense of the shared responsibility they all had to the unprecedented shutdown of the National Airspace System.

Retired member Sam Hyte recalls one particularly sad story from working at Memphis Center (ZME). A couple of hours after all planes were grounded, except for military flights, Hyte says Nashville ATCT (BNA) called for a release of a lifeguard flight to Omaha, Neb., with a heart on board. Hyte called the Command Center to ask for a release of the aircraft, but the request was rejected.

"I relayed the info back to BNA Tower and about an hour later they were able to get one of their National Guard C130s to fly the heart there," Hyte said. "So I called the Command Center back and asked for a release on the C130 but they still said no. They were just not letting anyone fly that day. The patient never did get that heart that day and I heard that the patient ended up passing away. Those terrorists got one more life that day."

Even with the skies cleared, the day was not over at ZBW where they were informed that a fast-moving unidentified aircraft was heading toward Nashua, N.H. Fearing that the facility was a target, employees were directed to evacuate and meet at a nearby hotel.

"A caravan of controllers jumped in their cars, drove down the street, and spent an hour at the Holiday Inn, calling our families to check in and debriefing each other about what just happened," ZBW Member Jeff Aulbach said. "Reality hit when we received the 'all clear' and drove back to ZBW to find a Nashua Police Department officer guarding the gate with an M-16 in hand. We were at war. The eerie feeling of walking back into an empty control room to resume our duties of watching a sky devoid of aircraft except for combat ready F-16s has stayed with me since that day."

After the airspace was cleared, the rest of the shift was quiet, says retired Washington Dulles ATCT (IAD) member Terry Walsh, with only the occasional military or law enforcement aircraft in the air.

"When I came down from the tower, sometime around noon, I found that some evening watch controllers had already started arriving," Walsh said. "Nobody had called them. They just wanted to help. True sisters and brothers."

The next day, on Wednesday, Sept. 12, Krivohlavy was off and visited a favorite fishing spot where he used to watch the arrivals into New York-Kennedy (JFK) all day long. But not on that day. There were no planes in the sky, just plumes of smoke from Manhattan.

"That's when it sunk in," Krivohlavy said. "I could not believe what I went through the day before. You're trained to deal with a hijack, or a medical emergency, but now you see the result of what had happened. It takes a while to have it sink in and realize that the Manhattan skyline will never be the same."
NATCA Will Roll Out Historical Archive Next Year
As part of this 19th anniversary, NATCA is announcing an effort to create an archive of accounts from current and retired members who were working that day and who were affected by the attacks. As we get further away from that tragic day, this archive will be a vital way to recount the important role that controllers played in protecting our nation from possible further attacks. We plan to roll this archive out publicly a year from now on the 20th anniversary of September 11. We invite anyone interested in sharing a statement describing their experiences 19 years ago to send their email accounts to publicaffairs@natcadc.org.
NBC News, 2002: The Air Traffic Controllers of 9/11
NBC News aired an hour-long feature on Sept. 11, 2002, hosted by Tom Brokaw, about the story of the air traffic controllers who worked on 9/11 and witnessed the horror that was unfolding in their airspace. NATCA members from facilities in the Boston, New York, Washington, and Cleveland areas were included. Watch the story here.