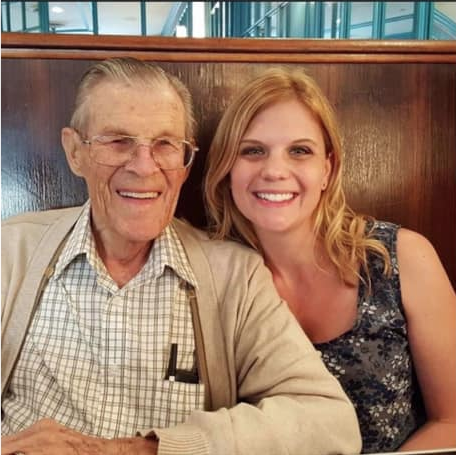 An Airline Pilot and a Controller from ZBW Discover an Important Shared Connection
A retiring airline pilot had a serendipitous exchange with Boston Center (ZBW) member Ashleigh Goldberg (pictured above) on Wednesday, Aug. 19.
Delta Captain Paul Holmes (pictured at bottom) was piloting his Boeing 777 home from Germany – the final flight of his career – when he entered Goldberg's airspace. She had been expecting the flight, as she had been asked to wish him well. During the friendly exchange, Goldberg asked Holmes where he spent his career. That's when things got interesting.

Holmes recounted that he spent some time in Hawaii, flew the 747 out of Minneapolis, and spent a few years in Detroit. It had been a great career, he said. Goldberg mentioned that her grandfather (pictured above with member Ashleigh Goldberg) had retired from the 747 out of Minneapolis about 40 years ago.

"What's his name?" Holmes asked.

"William Hochbrunn," Goldberg responded.

"Bill Hochbrunn was your grandfather?" asked Holmes.
First Officer Jeff Espenship (pictured left) recounts the connection. "She said his name and I saw Paul's jaw drop and eyes light up," he said. 

Hochbrunn actually hired Holmes as a pilot at Northwest Airlines 40 years ago. Hochbrunn also gave the welcome speech to Holmes's new hire class the month before he retired. Holmes told Goldberg how honored he was to be talking to the granddaughter of the man who hired him and that it must have been fate that was ending his airline flying career speaking on the radio to his granddaughter. It had truly come full circle.

Goldberg said that while listening to Holmes talk about her grandfather, she was shaking.

"My grandpa literally gave his life to Northwest Airlines," she said. "It was his passion. He was an amazing family man, but Northwest was one of his children. He loved that airline." 

She also said she will always remember the radio encounter with Holmes, adding, "It was just exciting and disbelief and, honestly, a twist of fate in such an amazing way!"

Click here to listen to the audio recording between Goldberg and Capt. Holmes.