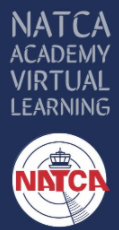 NATCA Virtual Academy Series: Safety
Due to the coronavirus pandemic, like many organizations, NATCA has had to rethink getting information to its members, canceling in-person classes and events, and transitioning to virtual courses for the time being. While some of these courses are not new, the pandemic has brought with it the ability for NATCA to offer new and popular courses to many more members. NATCA's Chrissy Padgett explains how our Union wants to share these courses with you.

What have been the positive aspects of transitioning this course to virtual learning? What have been some of the challenges? Chrissy Padgett: The positive aspects of transitioning these courses to virtual learning is that we're able to reach a much broader audience. Members that were previously limited by travel restrictions or had issues getting off the schedule to attend the training in person can now join online from their home. 

Some of the challenges of the virtual learning has been the personal interaction or lack thereof. We knew that would be a hurdle going in so we try to do everything we can to keep the interaction and engagement that has made all of our in-person classes so successful. I know the virtual classes that I've been a part of, whether it was as an instructor or a participant, have really made an effort to maintain that personal interaction even staying on for discussions until the last participant logs off.  

Why is it important for NATCA members to participate in these courses?
Padgett: It's so important for NATCA members to participate in the virtual learning because this is such a unique opportunity where pretty much every aspect of NATCA is being offered as an online class. All members should be taking advantage of this chance to learn more about our Union and what interests them. 

What is the benefit members gain from taking these courses?Padgett: The benefits that members gain from taking these courses is learning more about what NATCA is doing on their behalf and on behalf of their profession and how they can get involved. Members can also gain a better understanding of the roles that they play in their union and ways they can help improve our Union.
Safety Advocacy Training
This week we will focus on the Safety Air Traffic Safety Action Program (ATSAP) webinar with Atlanta Center (ZTL) member and instructor Cher Oxenburg. She was asked to help in the development of the Safety Advocacy Training about two and a half years ago and it was a natural progression for her to begin teaching the course after that. Her favorite part of teaching NATCA courses is the interaction and feedback from members. "I take the feedback and revise my teaching tactics and the course, but the interaction is also helpful in my role as voluntary safety reporting rep," she says.
How was the material for this course conceived? Who contributed to developing the course?
Cher Oxenburg: This course was developed by taking parts of the Safety Reporting module from NATCA's two-day Safety Advocacy Training and adapting it to work for a virtual, condensed course. Steve Hansen, Chrissy Padgett, Erin Murdock, Anthony Hughes, Nathan Vinson, and myself contributed to the development of this course.
If members only take away one thing from this course, what would you want them to remember? What's most important?
Oxenburg: If members only remember one thing from this course, it would be the importance of filing ATSAP reports. Not only does it frequently meet a controller's requirement for reporting, it also helps mitigate risks in the National Airspace System (NAS). 
For members who enjoyed learning the content of this course, what course would you recommend they delve into next?
Oxenburg: For members who enjoyed this course, I would recommend taking the NATCA Partnership for Safety course next. It shows one way in which ATSAP data is used.
Oxenburg adds that one of the challenges during this time is trying to keep members engaged and the class interactive in the virtual environment. "But, by being active in NATCA, members get a better understanding of the intricate part NATCA plays in keeping the NAS safe."