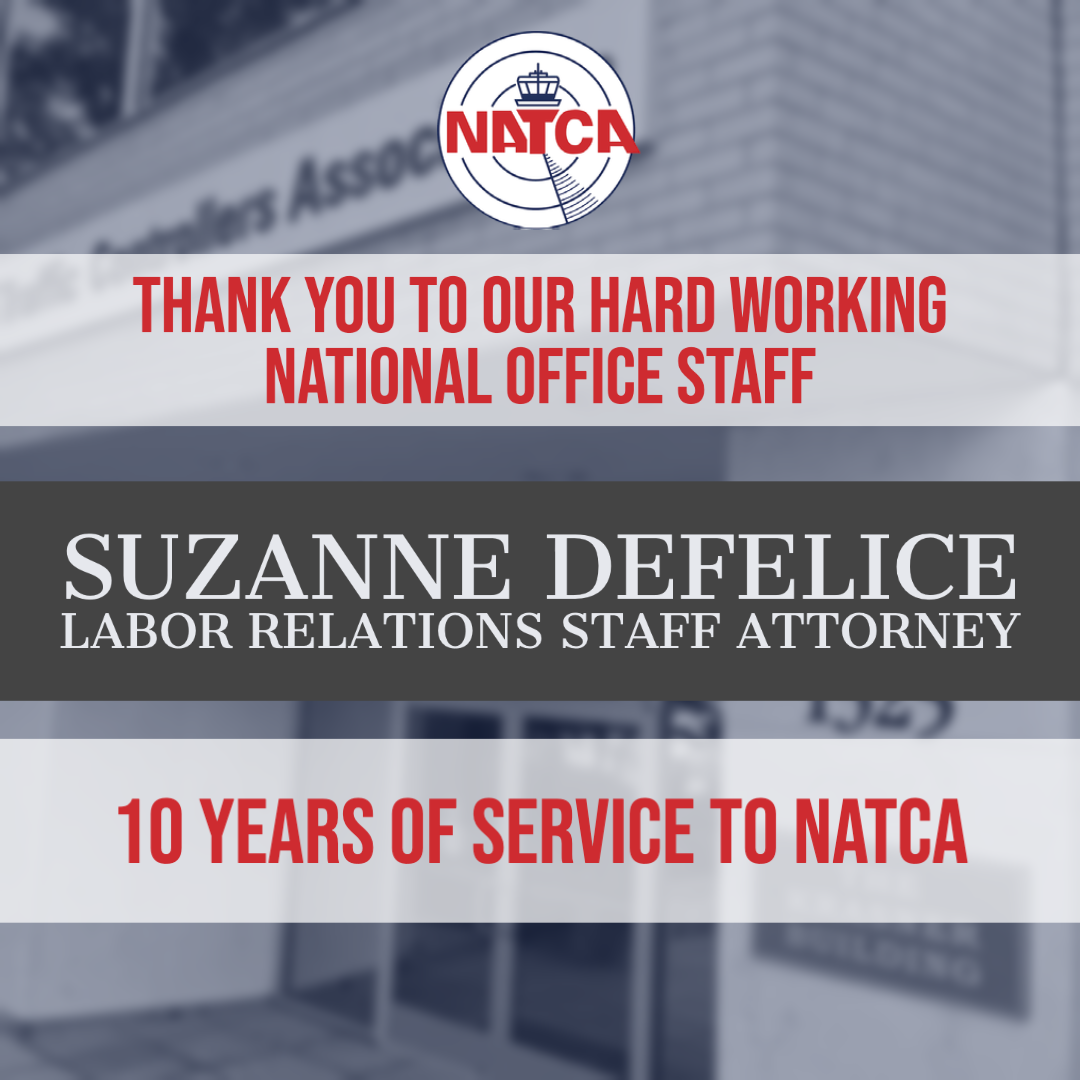 National Office Staff Employee Spotlight: Suzanne DeFelice, Labor Relations Staff Attorney
We have an amazing National Office staff that our membership can be very proud of. They come to work each day – and currently are working remotely – committed to providing our members with the very best service and representation in organized labor. Today we feature Labor Relations Staff Attorney Suzanne DeFelice, who achieved 10 years of service to NATCA last month. Thank you Suzanne!
Where are you from, or what places have you lived?
DeFelice: I'm from Rochester, N.Y. I lived in France after undergrad, and have been in D.C. since I came for grad school in 2008. 
Where did you go to school, or what other education do you have?
DeFelice: I have a BA in Political Science, a Master's degree in Public and Political Communications, and a law degree. I've also both studied and taught English in France. 
How did you come to work at NATCA?
DeFelice: I was working for the American Federation of Teachers (AFT) in their government affairs department and applied for the opening at NATCA to work with Jose Ceballos in Government Affairs. At that time, I knew nothing about NATCA or aviation or air traffic control, and I've learned so much! 
Do you have family members who are involved in unions?
DeFelice: I come from a family of teachers, and my father was local union president, then a regional rep for NYSUT (New York State United Teachers), so I grew up hearing about grievances and contentious contract negotiations and the struggle of teachers to ensure that their expertise and voices were heard in day-to-day teaching and administration. I see that same fight as controllers and Region X members work with the FAA to ensure pre-decisional involvement. 
What's the most rewarding part of being a member of NATCA's staff? What's the most challenging?
DeFelice: I love being a part of the labor movement, especially when it means that I can advocate for change both for NATCA members, and for our staff — I am currently Vice President of our staff union, ONEU, and I believe everyone should be represented by a union as strong as NATCA. 
Do you have any hobbies or any other activities you enjoy outside of your work for NATCA?
DeFelice: Outside of work, I love cooking, and have especially loved taking advantage of farmers markets this year. It is one of the few bright spots in an otherwise challenging year.