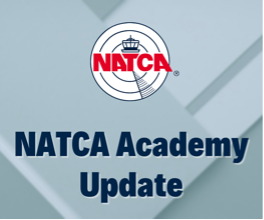 2022 NATCA Academy In-Person Schedule Now Available
The 2022 NATCA Academy in-person course schedule is now available. Multiple classes are available for Representative Training, Safety Advocacy Training, Secretary-Treasurer Training, Legislative Activism Training, Drug and Alcohol Training, and more.
Visit portal.natca.org to view all available classes and register. Once you have logged in, select "NATCA Academy" from the quick links. Then, select "2022 Courses." If you need any help with registration, contact the coordinator for your region. Registrants will be notified within 35 days from the course start date of their status for the course.
If you have any questions, please contact NATCA's Senior Training Administrator, Carolyn Kamara.
The 2022 schedule:
Representative Training 1 (RT-1)
Las Vegas
Feb. 14-18 | March 7-11 | April 11-15 | May 16-20 | July 18-22 | Aug. 15-19 | Oct. 17-21
Legislative Activism Training (LAT)
Las Vegas
Feb. 8-9 | April 13-14 | Nov. 8-9
Advanced Legislative Activism Training (ALAT)
Washington, D.C.
March 1-3 | Oct. 12-14 | Dec. 6-8
Occupational Safety and Health and (OSHA)
Las Vegas
April 11-12 | Oct. 20-21
Drug and Alcohol (DAC)
Las Vegas
Nov. 7-8
Secretary/Treasurer Training (STT)
Las Vegas
April 12-13 | May 10-11 | Sept. 7-8 | Dec. 5-6
Federal Contract Tower Training (FCT)
Las Vegas
Sept. 20-21
Safety Advocacy Training (SAT)
Las Vegas
March 9-10 | Nov. 8-9
Training Review Board (TRB)
Site TBD (9 a.m. – 4 p.m.)
March 22-24 | April 19-21 |May 17-19 | June 21-23 | July 19-21 | Aug. 16-18 | Sept. 20-22