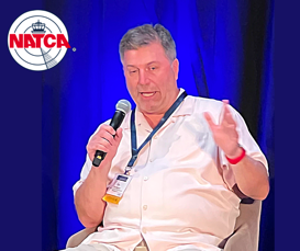 Adcock Represents NATCA on Panels Covering AAM, UAS, Integration of New Entrants, and the Aviation Workforce of Tomorrow
NATCA's Director of Safety and Technology Tom Adcock participated in two panels last week at the 36th Annual Aviation Issues Conference hosted by the American Association of Airport Executives (AAAE).

The first panel, "Advanced Air Mobility (AAM), Unmanned Aircraft Systems (UAS), and the Integration of New Entrants into the National Airspace System (NAS)" focused on the largest obstacles to new entrants from a regulatory, technology, and societal standpoint.
"I emphasized the importance of establishing the regulatory requirements for Beyond Visual Line of Sight (BVLOS) and making sure we are able to have that finalized so that we can begin the integration of UAS into the NAS," Adcock said. "We also discussed how to ensure that the FAA continues to develop a viable concept of operations for UAS and AAM."
The second panel, entitled, "The Aviation Workforce of Tomorrow: How are We Preparing as an Industry?" focused on diversity, equity, and inclusion, and especially how to increase the percentages of women and minorities in the field of aviation. Panelists discussed what the FAA, companies, and airports are doing to advance toward that goal.
"I spoke about the outreach efforts NATCA has at numerous aviation events around the country, raising the level of awareness about the ATC profession, with the goal of inspiring young people to pursue aviation careers," Adcock said.
He also talked about air traffic controller staffing and how low FAA Academy numbers due to the effects of the COVID-19 pandemic are going to impact staffing levels in coming years. The gap could continue to widen, Adcock said, if Academy throughput numbers are outpaced by continuing retirements of veteran controllers. Read more about the AAAE Aviation Issues Conference here.