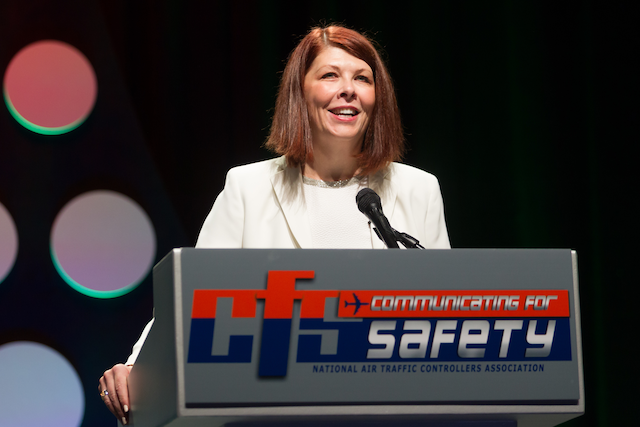 Aviation Week: Head Of U.S. Air Traffic Control System To Retire
By Bill Carey
Teri Bristol, the top federal executive responsible for running the U.S. air traffic control (ATC) system, will retire at the end of February, FAA Administrator Steve Dickson announced.
Bristol since 2014 has served as chief operating officer of the FAA's Air Traffic Organization (ATO), which employs 30,000 people, including 14,200 air traffic controllers as well as air traffic supervisors, engineers and maintenance technicians. The ATO is the FAA's largest line of business; its $8.5 billion budget represents the lion's share of the agency's $11.4 billion operations account.
In a Jan. 12, 2022, posting on Twitter, Dickson said he had just announced to the FAA's workforce that Bristol will retire at the end of February after nearly 30 years of government service.
"As COO, she oversaw more than 30,000 employees who ensured safe, efficient and secure air traffic services for approximately 45,000 aircraft operating over nearly 30 million square miles every day," Dickson wrote. "As the first woman to serve in this position, she broke barriers and paved the way for more women to pursue careers in aviation safety."
Under legislation that then-President Bill Clinton signed into law, the FAA established the ATO in 2001 as a performance-based organization and named former American Airlines executive Russell Chew as the first COO in 2003. Bristol became the first woman to lead the ATO in 2014, having previously served as deputy COO from 2012-13. She started her government career in 1992 after being recruited through the U.S. Transportation Department's acquisition management training program.
Bristol has led the ATO during a time when the FAA stepped up deployment of new systems under the multiyear, $36 billion NextGen ATC modernization program and integrated drones and commercial space vehicles into the national airspace system. Her tenure has spanned the 35-day partial U.S. government shutdown that started on Dec. 22, 2018, closing the FAA's controller academy in Oklahoma City; congressional debate over spinning off the ATO as an independent entity; and the ongoing COVID-19 pandemic.
In March 2020, the FAA announced that multiple technicians had tested positive for the coronavirus that causes COVID-19 at the Chicago Midway International Airport tower, the first such facility affected. As infections spread across the ATC system, the agency activated contingency plans to shift air traffic services to adjacent facilities while affected towers, terminal radar approach-control and en route centers were deep cleaned. Some facilities were reduced to "ATC Zero" status, for a time providing no service within their assigned airspace.
Controllers started wearing face masks and segregated into work crews that stayed together during the duty week to prevent randomly spreading the virus.
"We've had situations where, with one positive case, we've taken out as many as 15 or more controllers in an operational facility for a period of time to quarantine," Bristol told the virtual annual meeting of the Air Traffic Control Association in December 2020. "We're seeing cases in our facilities, but by and large we've been able to regroup and we've got enough folks to support the operations."
The FAA did not immediately announce a succession plan for the ATO leadership.
"Teri has always respected aviation safety professionals working at all levels of the ATO and the unions that represent them," National Air Traffic Controllers Association President Rich Santa said in a statement. 
"The success of our collaborative relationship with the FAA over the last dozen years is a shining model for the federal government and has been built on trust and integrity," Santa added. "Teri demonstrated those positive traits and many more. We are proud of the incredible work we accomplished together for the benefit of the safety of the National Airspace System and the employees who safeguard it. We thank her for her leadership. We will miss working with her, and we wish her the very best."