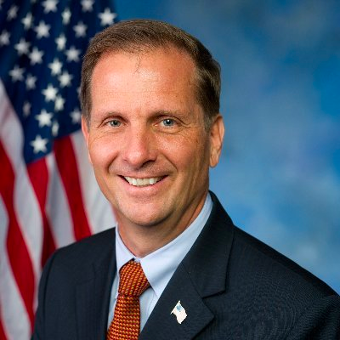 ZLC Members Meet with Utah Congressman and Pilot Chris Stewart
Salt Lake Center (ZLC) Legislative Representative Tyler Ellis and National Legislative Committee Alternate Northwest Mountain Region Representative Caryn Morrison (ZLC) recently attended an event with Utah Rep. Chris Stewart where they were able to continue to build a relationship and discuss the concerns of NATCA's members and our legislative priorities.
"The event was an exhilarating experience that let us talk to the congressman and connect on both a personal level and professionally as air traffic controllers," said Ellis. "The congressman shared stories, laughs, and the question we love to hear: 'What can I do for NATCA?'"
Stewart is a pilot, and he respects the safety, expedition, and love aviation safety professionals put in, Ellis said. Morrison and Ellis discussed stable funding for the National Airspace System. They also spoke with Florida Rep. Mario Díaz-Balart and Oklahoma Rep. Tom Cole who were also in attendance.
"They were both eager to shake our hands and let us know how much, especially, ZLC NATCA local meant to them, with controllers doing the job day-in and day-out," Ellis said.