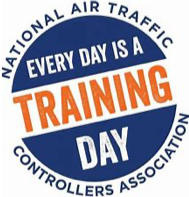 Training Class Prepares Academy Instructors
With the return of in-person NATCA Academy training courses this year and the influx of many new FacReps and other local e-board members, members of the National Training Committee (NTC) conducted a class last week in Las Vegas to prepare a group of member instructors. The attendees focused primarily on the Representative Training 1 (RT-1) course that emphasizes the daily roles and responsibilities of all NATCA representatives. Also in attendance were members of the National Executive Board to review the course and provide feedback.
The class was facilitated by National Training Representative Jamaal Haltom, Southwest Regional (NSW) Vice President (RVP) Nick Daniels, and NTC member Aaron Katz (Phoenix TRACON, P50). Working with NEB members, the participants' goal was to find ways to give new and existing instructors tools and techniques to create the most effective learning experience possible for students. It was also a chance for them to reacclimate to the RT-1 material itself after the long hiatus. Learn more about upcoming classes on the NATCA Academy webpage.