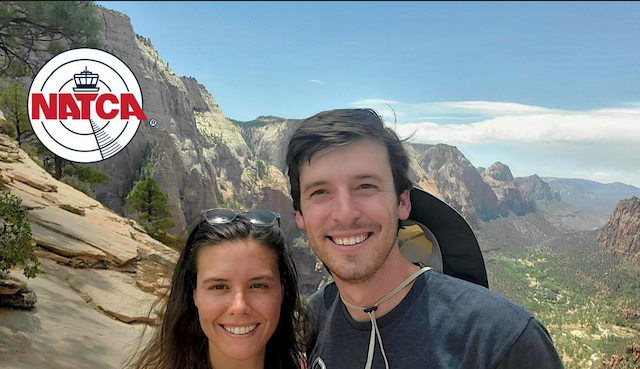 NATCA Staff Spotlight: Senior Political and Legislative Representative Sean Maxwell
NATCA's Senior Political and Legislative Representative Sean Maxwell joined the Government Affairs Department at the National Office in July 2021, making him one of the newest members of NATCA's staff of dedicated and professional employees. A graduate of the University of North Carolina at Chapel Hill, Maxwell has 10 years of experience as a staffer on Capitol Hill and most recently served as the deputy chief of staff to North Carolina Congressman David Price.
Where are you from, or what places have you lived?
I grew up in Winston-Salem, N.C., and moved to Washington, D.C., shortly after graduating from college.
Where did you go to school, or what other education do you have?
I attended the University of North Carolina at Chapel Hill, where I earned my bachelor's in political science.
How did you come to work at NATCA?
I was working on Capitol Hill, in Rep. David Price's office for nearly 10 years. I started as a staff assistant, and then transitioned to be a staff member of the policy team, primarily working on transportation and appropriations issues. This is when I first got to know NATCA — both the National Office staff and some top-notch local member activists from North Carolina who gave me a behind-the-scenes tour of the Raleigh-Durham ATCT (RDU) and TRACON and educated me on issues of importance to NATCA.
After serving on the policy team as a legislative assistant and senior legislative assistant for five years, I was elevated to Price's legislative director and deputy chief of staff. During this time, Price served as both the ranking member and then the chairman of the House Appropriations Transportation, Housing and Urban Development subcommittee, which has jurisdiction over the Department of Transportation (DOT) and FAA budget. Working for an appropriations subcommittee chair was an exciting and incredibly rewarding experience, and we collaborated closely with NATCA and other aviation stakeholders. One of the highlights was when Price spoke at the 2019 end-the-shutdown rally with NATCA.
After 10 years as a congressional staffer, I heard through the grapevine that NATCA's Government Affairs Department was looking for someone with Hill experience and a background in transportation policy, and as they say, the rest is history! I started at NATCA in July, and I am grateful to have this opportunity to join a great team and advocate for NATCA's policy priorities in Washington.
Do you have family members who are involved in unions?
My father-in-law worked in corrections in Essex County, N.J. He eventually became the local union president and helped negotiate a contract that gave members better health care and pay. He credits the union with ensuring that he and his colleagues — many of whom came from disadvantaged backgrounds — could advance in their careers, raise families, send their kids to college, take sick time when they needed it, and more. This gave me a much more personal appreciation of the labor movement and the positive impact it has for workers and their families.
What's the most rewarding part of being a member of NATCA's staff? What's the most challenging?
The most rewarding part of working for NATCA is that the Union's reputation on Capitol Hill, at the FAA, and with other aviation and labor groups is one of high respect. People actively seek out NATCA's positions and priorities and are eager to hear NATCA's perspectives on the issues. The most challenging aspect is the sheer number of engagements and relationship-building that must continually occur to ensure NATCA remains proactive, and not reactive, to the ever-evolving developments in Washington.
GA's job would be much more difficult without the sustained engagement of our local members across the country. When I meet with members of Congress and say, "I'm with NATCA," they almost always mention one or two names of local members who appeared at their events, meet regularly with them and their staff, or perhaps gave them a memorable facility tour. This is the type of presence and advocacy that other unions and organizations often cannot replicate, and it makes a big difference.
Do you have any hobbies or any other activities you enjoy outside of your work for NATCA?
I am a bit of bookworm (non-fiction, history, biographies) and I like to go for jogs when the weather isn't freezing.
Has there been a favorite moment for you while at NATCA?
My favorite "moment" at NATCA in the short time I've been on staff has been representing the Union at political events and meeting a wide range of members of Congress and their senior staff from both sides of the aisle.
My specialty meal to cook is: "Love Lasagna," which is a Maxwell family Valentine's Day tradition.
My favorite book I could read over and over is: Master of the Senate by Robert Caro — a detailed account of Lyndon B. Johnson's time as Senate Majority Leader.
My favorite type of aircraft is: The Airbus A380.
My favorite sports team that I live and breathe is: University of North Carolina Tar Heels.
Dogs or cats: Dogs! Although I'll admit that I've met some cool cats from time to time.