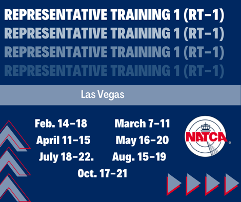 NATCA Academy Spotlight: Representative Training (RT1) Course
The 4 1/2-day Representative Training 1 (RT-1) course offered by the NATCA Academy focuses on developing and enhancing effective methods of advocacy grounded in understanding and upholding our rights under the law and the Collective Bargaining Agreements. Members who attend the course learn how to apply collaborative and traditional labor principles to real-life situations and about NATCA's expectations of local leaders. The goal is for attendees to return to their locals with an understanding of NATCA's history and core principles and better prepared for their daily roles and responsibilities. Learn more and obtain sign-up information on the NATCA Academy webpage here.
NATCA encourages any NATCA member or representative to sign up for RT-1. Participants embark on an investment in our Union's future, individually and collectively.