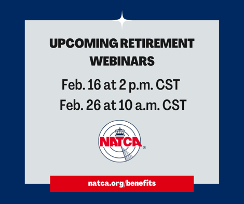 NATCA Advantage: Upcoming Retirement Briefing Webinars
Whether you're building for your future in retirement, or ready to put your retirement plan into action, NATCA offers a valuable benefit to members via online retirement briefings. These briefings are a valuable resource that explains the features of the federal benefits program, including choices that can be made at retirement and the impact of those choices on the retirees, their spouses, and potential survivor spouses. Spouses are encouraged to attend. There are two briefings this month, Feb. 16 at 2 p.m. CST and Feb. 26 at 10 a.m. CST. For a full schedule and more information, please click here.
Register at portal.natca.org. Further virtual and in-person seminars are being discussed and developed for 2022.