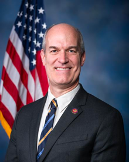 Santa Meets with House Aviation Subcommittee Chairman Larsen
President Rich Santa met recently with House Aviation Subcommittee Chairman Rick Larsen, D-Wash., in his congressional office. During the meeting, Santa thanked Larsen for his longtime support and working relationship with NATCA. They discussed the NATCA workforce and how our Union's members have successfully navigated the many challenges related to COVID-19. Congressman Larsen asked how he can continue to be helpful to ensure NATCA members' working conditions are as safe as possible.
Santa also thanked Congressman Larsen for his support on the bipartisan infrastructure bill and specifically his leadership in supporting $5 billion in ATC facility upgrades. They also discussed collaboration related to the 5G issue that is necessary to ensure a safe and efficient airspace and what Congress is doing around 5G deployment and aviation safety. Congressman Larsen wants NATCA to continue to be engaged as important aviation issues like 5G are considered.