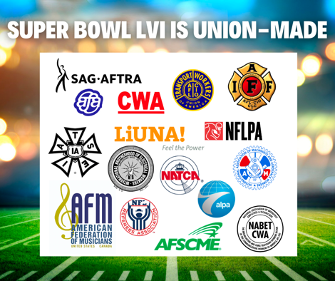 Super Bowl LVI Brought to You by Your Union Sisters and Brothers
Super Bowl LVI this Sunday is brought to you by union brothers and sisters from over a dozen U.S. labor unions. The lineup of labor at SoFi Stadium in Los Angeles includes union workers from the transportation, sports, broadcasters, entertainment, food service, public safety, and hospitality sectors.
To start, the developer who built SoFi Stadium committed to a 100% union job site, ensuring safe and fair working conditions and benefits for the working people who constructed the facilities that will house Sunday's game.
Fans attending the game will enjoy food, beverage, and logistical services — including janitors, security, ushers, ticket takers, and more — provided by members of the Service Employees International Union (SEIU United Service Workers West).
The announcers, camera operators, technicians, field workers and other hard working folks bringing the game to your screens include members of the Screen Actors Guild – American Federation of Television and Radio Artists (SAG-AFTRA), Broadcast Employees and Technicians-CWA (NABET-CWA), Electrical Workers (IBEW), and Laborers (LIUNA).
The halftime show and other entertainment aspects of the game include sisters and brothers of the International Alliance of Theatrical Stage Employees (IATSE) and the American Federation of Musicians of the United States and Canada (AFM).
Public service workers ensuring a safe event for the public include firefighters, emergency medical personnel, and police who are members of the Fire Fighters (IAFF) and American Federation of State, County and Municipal Employees (AFSCME).
The referees will include members of the NFL Referees Association (NFLRA). Last, but certainly not least, the players on the Los Angeles Rams and Cincinnati Bengals, while they'll be going head to head during the game, remain part of the same union family under representation by the National Football League Players Association (NFLPA).
And, of course, outside the stadium, all the out-of-town fans and players will arrive in Southern California and then return home safely thanks to the aviation safety professionals of NATCA, Air Line Pilots Association, International (ALPA), Association of Flight Attendants-CWA (AFA-CWA), Transport Workers Union of America (TWU), and Machinists (IAM).