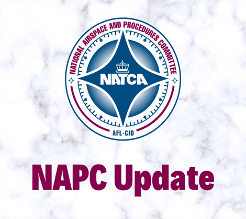 National Airspace and Procedures Committee Update
The joint Department of Defense (DoD)/FAA effort to optimize the scheduling and activation/deactivation of special activity airspace (SAA) began earlier this month. The core team is co-led by a DoD and FAA representative from the Mission Support Airspace Rules & Regulations Team (AJV-P21). Over the next few months, the team will be meeting with four centers and several of its respective air traffic facilities to discuss the daily planning, coordination, and operations for SAA. Virtual and on-site visits this year have included Washington Center (ZDC), Potomac TRACON (PCT), Marine Corps Air Facility Quantico, Naval Air Station Patuxent River, and Fleet Area Control and Surveillance Facility Virginia Capes (FASFAC VACAPES).
The National Airspace and Procedures Committee (NAPC) serves as the Union's focal point regarding all aspects of airspace initiatives including development, amendment, and implementation of air traffic and instrument flight procedures and airspace within the National Airspace System.