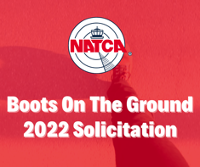 Boots On The Ground 2022 Solicitation
NATCA's Boots On The Ground (BOTG) program has been a successful part of our Union's political activity since the 2008 election and will continue for the 2022 election. NATCA is recruiting primarily retired members who would be willing to participate full-time in the program beginning in the late spring/early summer. Selected members will receive training on procedures and participation. They would then be assigned to a specific geographic area.
Participants will be paid as independent contractors — not as NATCA employees — and will receive a monthly stipend, plus appropriate approved expenses for travel and lodging. As such, participants will be responsible for their own income and payroll taxes. All expenses will require vouchers and receipts in accordance with the NATCA expense reimbursement policy. Selections will be made by NATCA's National Executive Board. If you are interested, please click here to complete the following application.
If you have any questions, please contact National Legislative Committee Chair Richard Kennington (richkennington.nlc@gmail.com / 360-909-1402) or Election 2022 Project Manager Tom Thompson (thomas.thompson@natca.net / 317-331-3423). The application period will end March 7.
If you are selected to participate, you will be contacted by Thompson with further instruction no later than May 31.