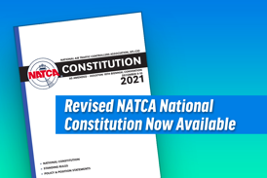 Second in a Series: National Constitution Committee Presents Updates to the NATCA Constitution
The NATCA Constitution was created to govern members in efforts to advance the status, professionalism, and working conditions of all aviation safety professionals through collective bargaining, political action, and other lawful concerted activity. During the 18th Biennial Convention in Houston last December, members discussed and approved changes to the NATCA Constitution, Standing Rules, and Policy & Position Statements. The National Constitution Committee (NCC) is continuing to provide the membership with some of the most notable updates. Read the second set of these updates here.
SRF-22 — Amended to add individual Alaskan Flight Service Stations to the locals qualifying for internet cost reimbursement and to raise the amount of reimbursement for all qualifying facilities from $50 to $80.
NATCA shall reimburse up to $80 per month for internet access to Locals covered by SRF-12 and individual Alaskan Flight Service Stations. Wireless cards, hot spots, and internet in the facility are reimbursable; home service is not.
SRH-17 — Added to incorporate the Professional Standards Committee into the NATCA Constitution.
The NATCA Professional Standards Committee will strive to provide a peer-to-peer program for all represented bargaining units to promote professionalism and address performance and/or conduct, through a voluntary, non-punitive program.
NATCA will seek to ensure that maintaining the collaboratively supported peer-to-peer Professional Standards Program remains a priority. NATCA supports expanding professionalism programs whenever appropriate. The NATCA Constitution is being mailed to all members. If you wish to view the online version of the document, please click here.
For questions or more information, email the Constitution Committee at NCC@NATCA.NET.