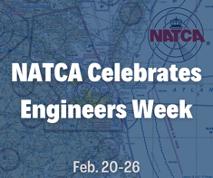 NATCA Celebrates Engineers Week
NATCA proudly celebrates the FAA engineers it represents and recognizes their many contributions to the workforce during National Engineers Week, Feb. 20-26. "We devote this week to honoring the outstanding work of our engineers," NATCA President Rich Santa said. "They are a critical component in the maintenance and advancement of the NAS, and they are committed to the safe and efficient operation of the NAS."
These professionals support every one of the 70,000 flights that safely take off and land each day in the National Airspace System (NAS). They design, construct, and upgrade air traffic control facilities. They integrate, analyze, improve, and upgrade the operation of information, surveillance, and communications systems.
Located in multiple bargaining units, NATCA-represented engineers perform a wide range of duties that are critical to ensure the nation's air traffic control system and standards are the safest and most efficient in the world. About 1,000 NATCA members belong to the largest unit, Engineers and Architects, and are assigned to the Air Traffic Organization's Air Traffic Facilities-Engineering Services and Mission Support groups. These engineers are responsible for the program management, design, construction, and upgrades of air traffic control facilities and equipment.
"NATCA-represented engineers provide essential services that the flying public doesn't usually consider when they travel," said NATCA Region X Vice President Brad Davidson.
The Engineers and Architects unit includes approximately 250 engineers employed in the Operations Support Group — responsible for maintaining the NAS equipment — and the Flight Inspection Services group, which is in charge of the maintenance and modernization for the fleet of the FAA's flight inspection aircraft. Approximately 500 additional engineers work in Aircraft Certification, where they ensure aircraft are properly designed and tested. This group also investigates aircraft incidents. A smaller number of engineer members are assigned to the Airports Division, accountable for the approval of airport improvements, the implementation of new programs and the oversight of development projects. There are also engineers located in EnRoute and Terminal Automation Support who provide software enhancements and maintenance for air traffic automation systems.
"NATCA-represented engineers are dedicated to ensuring the high-performance operation of the vast network of sophisticated air traffic control, navigation, surveillance, communication and automation equipment that makes up the NAS," NATCA Executive Vice President Andrew LeBovidge said. "We proudly celebrate this group and their profession this week." For more information about Engineers Week, visit the official website.
For more information about NATCA-represented engineers and each of our bargaining units, visit here.