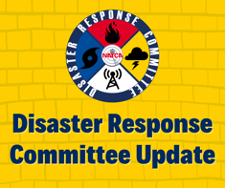 Donate to the Disaster Relief Fund
The Disaster Response Committee (DRC) is focusing on spring cleaning and reorganizing their inventory. The DRC now has supplies in three locations in the Southern Region and is making sure their inventory is up to date. The goal is to expand to other locations.
Please consider donating to the disaster relief fund. The fund aids NATCA members who have experienced catastrophic losses of property and helps provide a lifeline during those most desperate times. NATCA works directly with affected members to help them purchase food, gasoline, or any other supplies that might be required. Volunteers are ready to deliver supplies as soon as the need is known.
How to help: Sign up for automatic payroll deduction here.
PayPal your donation to natcarelief@natcadc.org.
Donate online here.
Mail personal checks, payable to "Disaster Relief Fund":
NATCA
Attn: Accounting Department
1325 Massachusetts Ave. NW
Washington, D.C., 20005