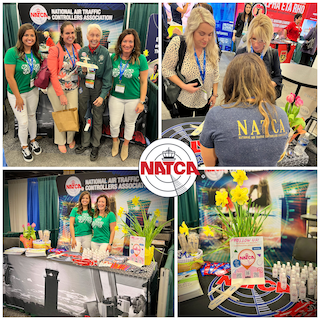 NATCA Members Inspire the Next Generation of Female Aviators
Women in Aviation International (WIA) held one of its largest annual gatherings during the 33rd Annual International Women in Aviation Conference at Gaylord Opryland Resort and Convention Center in Nashville, Tenn., March 17-19. More than 4,500 attendees, from more than 16 countries, were in attendance.
Cleveland Center (ZOB) members Jennifer Malloy and Mandy Jankulovich, and Manassas ATCT (HEF) member Natelie Chappell represented our Union at the conference, staffing the NATCA booth, and answering questions from conference attendees about aviation safety professions.
The conference featured speakers, a busy exhibit hall, an array of education sessions, and more than 100 scholarship awards. Malloy, Jankulovich, and Chappell shared educational materials with pilots, members of the aviation industry, and young adults looking to become controllers.
"We opened the communication lines between pilots and controllers at the conference," said Malloy. "We can't have full conversations during our operations and over the frequencies, so this face-to-face opportunity was truly valuable. Between our tower and radar backgrounds we were able to answer a lot of questions and learn more of what the voice on the other end of the headset is going through."
"This was my first time attending and representing controllers at the WIA conference," said Jankulovich. "I cannot say enough how inspiring it was to meet so many of these incredible women and I was fortunate enough to leave with some of them as new friends."
Chappell was a featured speaker on the WIA Girls in Aviation Day career panel as part of the conference.
"The girls were very intrigued and asked a lot of wonderful questions," said Chappell. "I'm grateful to, along with the amazing group of lady aviators and air traffic controllers, hopefully inspire our future generations."
Read more about the conference here.