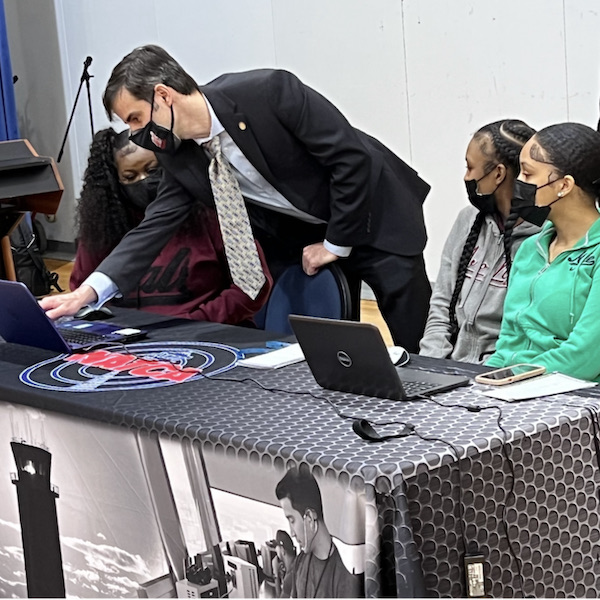 Santa Leads NATCA Team Working with STEM Students Using ATC Simulators   
NATCA continues its commitment to STEM (Science, Technology, Education, Math) education and sparking students' interest in the ATC profession when it provided an ATC simulator lab at two Philadelphia-area schools: the STEM Academy at Showalter and Chester High School in Chester, Pa.
President Rich Santa, former president Paul Rinaldi, Eastern Regional Vice President Brian Shallenberger, National Training Rep Jamaal Haltom, Reading ATCT (RDG) member LaKecia Shuron, and Atlanta Center (ZTL) member Christian Karns led the Union's participation in the events. They were joined by members from Philadelphia ATCT (PHL) and Wilmington, Del. ATCT (ILG), and representatives from UFA, Inc. (a NATCA corporate member) running the simulator equipment UFA provided. During each event, the group worked with more than 200 students in grades 10-12.
"I love doing these events," Santa said. "The students are very interested and eager to learn. They asked about our professions, and many of them are considering STEM fields as their careers after high school. The team we had also did a fantastic job working with the students and teaching them about the National Airspace System."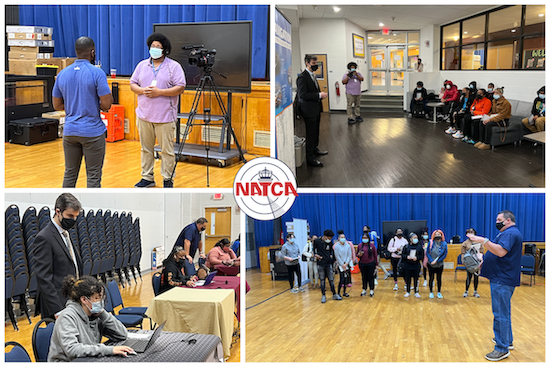 Members from PHL participating included FacRep Chris Perks, Aaron Leffard, John Bracken, Scott Nagy, Adrienne Abbott, Joe DiDonato, and Aaron Knapp. Members From ILG participating were FacRep Will Turner and Darrin Johnson.
The newest tower simulator enhancement from UFA, Inc. (a NATCA corporate member), called ATLIVE, was used to introduce the students to the ATC profession. Using an innovative, multi-touch interface, students were able to listen, control, and learn how to safely navigate aircraft as a controller.
Each group interaction began with a brief overview of air traffic control, what controllers do, and the profession. Then, NATCA volunteers assisted the students to try their hands at various simulators, highlighted by the UFA, Inc., table-top tower simulators. The rooms were split in two, radar and terminal, where the students spent chunks of time working with NATCA members on each ATC discipline. For the radar simulator, they used the NASA Smart Skies program where the students worked scenarios/problems from Oakland Center's (ZOA) Sector 33. Smart Skies is a tool NASA developed for instructors to teach math to students using something that is practical and realistic.