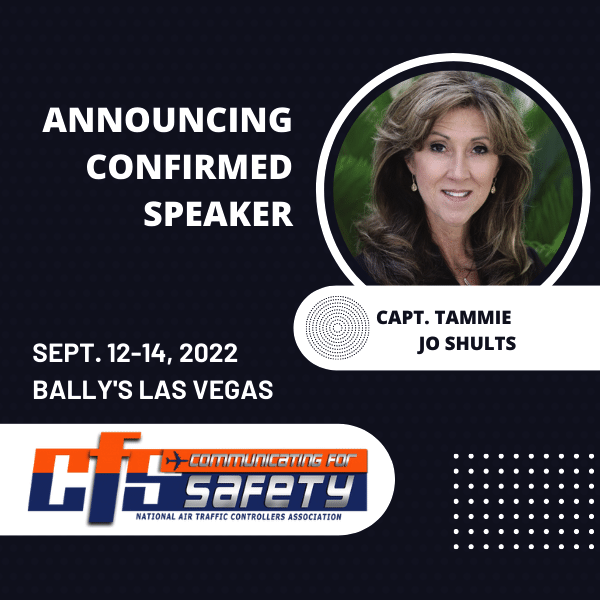 Capt. Tammie Jo Shults Confirmed to Speak at CFS 2022; Registration Now Open
NATCA is honored to announce that Capt. Tammie Jo Shults has been confirmed to speak at Communicating For Safety (CFS) 2022, which will be held Sept. 12-14 at Bally's Las Vegas.
Capt. Shults is a retired Southwest Airlines captain, author, and former naval aviator who received wide acclaim when, on April 17, 2018, she and her crew successfully landed a Boeing 737 after catastrophic engine failure and rapid decompression, saving the lives of 148 people.
Shults has spent her entire life loving the skies. Though the odds were against her, she became one of the first female F/A-18 Hornet pilots in the United States Navy. At the conclusion of her Navy career in 1994, Shults went to work for Southwest Airlines.
Shults's book, Nerves of Steel, is the captivating true story of her remarkable life – from growing up the daughter of a humble rancher, to breaking through gender barriers in the Navy, to safely landing the severely crippled Southwest Airlines Flight 1380. Her incredible talent and notable history have made her an inspiration to many.
Registration for CFS 2022 is now open. The link to register, along with all other information about the event, can be found on our CFS 2022 webpage.