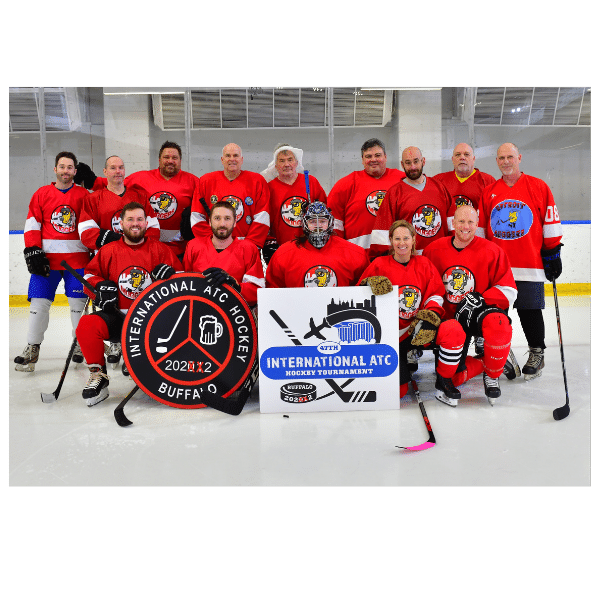 Controllers From Around the World Gather in Buffalo for ATC Hockey Tournament
More than 300 air traffic controllers from around the world, including the U.S., Canada, Austria, Germany, and the Czech Republic gathered on April 5-8, at LECOM Harborcenter in Buffalo, N.Y., for the 47th International Air Traffic Control Hockey Tournament. NATCA sponsored this year's tournament, and NATCA Albany ATCT (ALB) member Stephanie Stanislowsky helped organize it. "We were lucky enough to have a retired Canadian controller play this year who helped plan and play in the very first tournament in 1972," Stanislowsky said. NATCA Charitable Foundation (NCF) Director Elisa Muise also joined to represent and promote NCF.
This was the first time since 2019 that this international gathering – known for its camaraderie – was possible. The Detroit Muggers were the overall winners this year. The 2023 tournament will be held in Charlotte, N.C.
See more about the tournament and player rosters here.
PHOTO CAPTION: The winning team, the Detroit Muggers, included these NATCA member players:
Mike Alexander (Detroit TRACON, D21)
Larry Connors (BUF)
Kevin Fregosi (Retired)
Deidre Hatchard (Retired)
Kenny Hyer (BUF)
Andy Lewis (Retired)
Tim Michalak (D21)