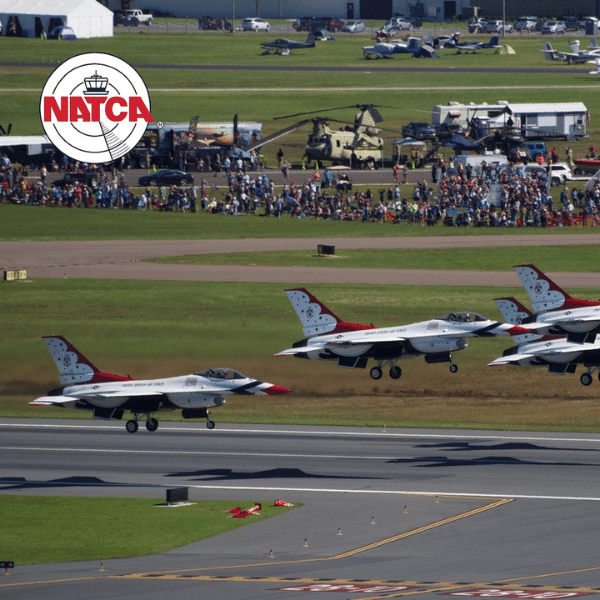 NATCA Members Work at Sun 'n Fun Aerospace Expo
More than 225,000 aviation enthusiasts attended the six days of events last month at Sun 'n Fun Aerospace Expo in Lakeland, Fla., Florida's largest annual convention of any kind. As the second-largest air show in the world, Sun 'n Fun amplifies the need for participation by NATCA members and other aviation safety professionals for safety oversight and education.
"Participating in an event like Sun 'n Fun is a tremendous privilege, but it is also a lot of fun," said Safety Management Systems National Representative Micah Maziar (Toledo ATCT, TOL). "The rules are completely different from typical ATC, and the list of waivers is a page long. When applied as written, the rules allow for the safe movement of a large volume of mostly VFR traffic."
The fly-in event is not only an airshow, but a key opportunity for aviation safety professionals to provide valuable services to the public. These services are one of the top ways NATCA and the FAA promote safety and reduce general aviation accident rates in the National Airspace System (NAS). Sun 'n Fun features technology exhibits, forums, workshops, career fairs, and aerial displays by some of the best airshow performers in the world.
Bargaining unit employees are typically placed onto five member teams that consist of a team lead, a veteran, a limited, a rookie, and a supervisor. Team members rotate through all operating positions (Tower, Lake Parker, Departure, and Flyby) during the event.
"My favorite part of events like Sun 'n Fun and Oshkosh is the camaraderie," Maziar said. "Everyone wants to be at the event and work the traffic. Many of us have become life-long friends.
"We need more people to bid these special events and join us in order to replace the members that are retiring in the next few years. For these events to be successful in the future, we need to grow the number of experienced controllers now."