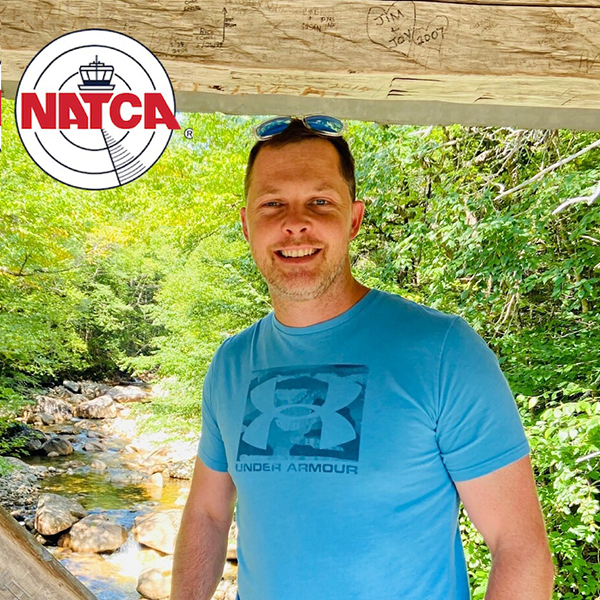 2021 Archie League Award Spotlight: Casey Allan, Boston Center (ZBW)
It was late on a Sunday afternoon, Sunday, March 21, 2021, and 15-year veteran Boston Center (ZBW) controller Casey Allan was conducting on-the-job training for fellow ZBW member Nick Schuler. With COVID-19 still gripping the nation and dragging down traffic volume and complexity, the facility took advantage of an opportunity to start training back up.
Schuler began working a Socata TBM-850 single-turboprop aircraft which was a familiar sight in their airspace, flying north-south routes. On this day, the pilot was headed north to Burlington, Vt.
"It was a pretty normal flight, headed northbound, and Nick decided it was time to start descending the aircraft, because there was a departure coming and he wanted to get it below (into Burlington)," said Allan, a native New Englander who grew up in South Berwick, Maine, just over an hour away from his current home in Nashua, N.H. But after approximately one minute, the pilot still had not started his descent. Both Schuler and Allan noticed that the aircraft appeared to be climbing instead.
Allan immediately thought back to when he was a trainee. "My trainer always quizzed me on ceiling altitude and speeds, so the second I saw it climbing at 31,000 feet, I knew the aircraft was already at its service ceiling. We knew right away that something wasn't right."
Schuler gave the pilot a descend and maintain instruction. But the response was hard to understand aside from the words "lost my pressure." Allan immediately took over the sector and Schuler assumed the D side position.
"I believe he got up to 33,000 feet. He climbed pretty rapidly for an aircraft like the TBM, and it started a right-hand turn," Allan said. "Once we saw the indication of a turn, my first thought was, 'it's going to go into a spin.'"
The aircraft was now turned around and headed south. It was only a few miles from the adjacent New York Center (ZNY) sector from where it had flown from, into ZBW airspace. "At that point, I just tried to keep talking to the pilot and tried to get him to stay awake as best I could," Allan said.
Three separate times, Allan tried to get the aircraft to fly a specific heading and a specific altitude. But the pilot continued to descend lower than he was cleared. A rapid descent was underway and it alarmed Allan.
The pilot stated, "Eight Hotel Romeo is descending, I've lost my cabin pressure."
Allan gave him instructions to descend to 10,000 feet, which would be the safest place to be to allow the pilot to regain enough oxygen to escape hypoxia conditions. It would also get him nearer the base of Allan's airspace or at least get him to slow down his rate of descent.
At 14,000 feet, the pilot still sounded unintelligible. Allan tried to keep the conversation upbeat and normal. "In my opinion, I don't even think the pilot knew what was happening on the way down, for the most part," he said.
When the aircraft descended through 10,000 feet, Allan gave an instruction to descend to 6,000 feet, the base of his ZBW airspace sector. "He read that back and started to sound better," Allan said. The pilot requested vectors for nearby airports. He was directly over Poughkeepsie (POU) at that point. But Stewart International Airport (SWF) was just 15 miles to the west. With its 12,000-foot runway, that was the preferred option.
The aircraft leveled off at 4,700 feet, in New York TRACON (N90) airspace, and was flying straight and level. Controller-in-charge Scott Elms led the coordination taking place to ensure the safe conclusion to the incident. Allan switched the aircraft over to N90, where controllers were able to guide the pilot to SWF. He landed without incident.
"We all worked really well together. It happened very fast," said Allan. "It was probably no more than 10 minutes overall. But it felt faster than that."
Allan said being honored with the Archie League Medal of Safety Award is a "strange, bittersweet feeling."
"People have told me congratulations, but it's a strange feeling because I don't want to be congratulated for having this experience," he said. "It's just a strange emotion. Getting the award, I'm glad there's recognition. It makes me feel proud and happy that I was able to do my job. You don't want to be in that situation, but at the same time, knowing you can handle it makes me feel glad that I was there because it worked out for everybody."
Allan is the 11th ZBW member to receive the Archie League Medal of Safety Award, joining Bruce Clough, Stephen Roebuck, John Therrien, and Bill Wood in 2009, Stephen Schmalz in 2007, Chris Henchey and Ryan Workman in 2012, and Jeffrey Aulbach, Neil Cóspito, and Michael Jacobson in 2019.
2022 Archie League Medal of Safety Awards Reminder: NATCA members – We are looking for the best saves that have occurred at your facilities between April 17, 2021, and May 1, 2022. The deadline to submit a nomination is May 15, 2022. A member may nominate another member for an Archie League Medal of Safety Award. Our 18th annual banquet celebration of the Archie League Medal of Safety Award winners will be held on the evening of Wednesday, Sept. 14, 2022, at NATCA Communicating For Safety 2022 at Bally's Las Vegas. Click here for the nomination form.