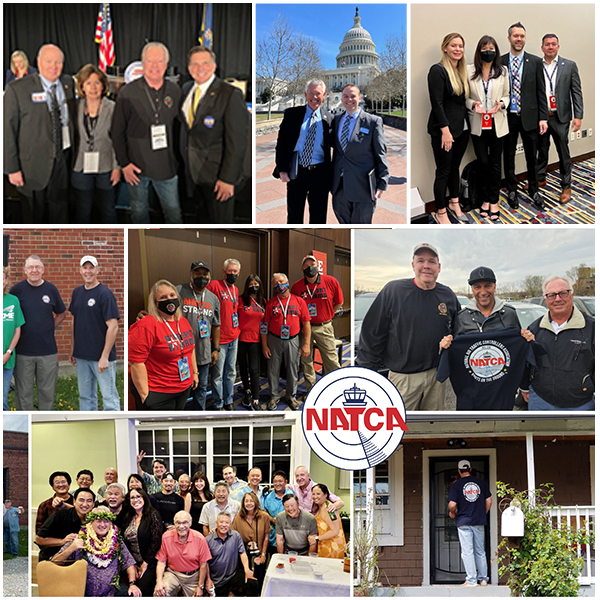 RNAV Committee Update: Busy Period Highlighted With Union Activism, Boots On The Ground Activity in Multiple States
Retired NATCA Active Volunteers (RNAV) Committee Chair Tom Thompson reports that it has been a busy period for the committee and the BOTG program. Total RNAV membership has grown to 3,185, and several RNAV members were recently honored for their dedication to NATCA and the labor movement.
A recent highlight of participating in the program for Thompson and RNAV/Boots On The Ground (BOTG) member Craig Smith was attending a special Workers Memorial Day ceremony April 28 in Marseilles, Ill., for a union historical marker plaque dedication honoring the 1932 birth of Laborers' Local Union 393. At this event, they had the opportunity to meet and watch a performance by legendary guitarist, union activist, and honorary NATCA member Tom Morello. View a video clip on the RNAV Facebook page of Morello performing "This Land is Your Land," during the ceremony, which was held in Morello's mother, Mary's hometown of Marseilles, Ill. 
In North Carolina, RNAV/BOTG member Margaret Summers attended Workers Memorial Day ceremonies with the state AFL-CIO in Raleigh, N.C. "Union members held signs with the names of the 189 workers who were killed in North Carolina since 2020," she said. "A bell was rung 189 times in memory of each worker."
In Indiana, Thompson was joined by RNAV/BOTG members Robert Zabel, and Chris Trudeau. The members assisted with volunteer recruitment and other event elements, as well as going door-to-door to educate other union members about a pro-union candidate for state office. "There were over 50 volunteers, which I believe was a record turnout leading into a primary election day," Thompson said.
In other RNAV/BOTG highlights:
NATCA President Emeritus and RNAV/BOTG member John Carr attended a Northern Virginia Labor Federation virtual labor meet and greet with Virginia Rep. Jennifer Wexton.
Of RNAV 3,185 members, 1,048 participate in the social media discussion on the RNAV Facebook page.
RNAV members have participated in several recent meetings and events, including a solidarity event in Indianapolis, recent Great Lakes, Western Pacific, and Southern Region member/rep meetings. 
Members also attended NATCA in Washington in March – just three months after volunteering at the 18th Biennial Convention in Houston – and volunteered their time and efforts with both congressional office visits and the NATCA Charitable Foundation. Thompson was given time to address NiW attendees and was also presented with the 2020 Trish Gilbert Legislative Activism Award for his many contributions, including BOTG. RNAV/BOTG member Rosa Serai received the Western Pacific Legislative Activism Award.
BOTG Bob and Valerie Butterworth were presented with the "Has Our Back" award in March at the Pennsylvania AFL-CIO convention in Pittsburgh. The Butterworths were among six union leaders honored to commemorate their "impressive quality, passion, and commitment to the Pennsylvania Labor Program beginning in 2008 and continuing every election cycle through 2020," said Pennsylvania AFL-CIO Secretary-Treasurer Frank Snyder.
For more RNAV information, including contact information and meeting minutes, please go here.