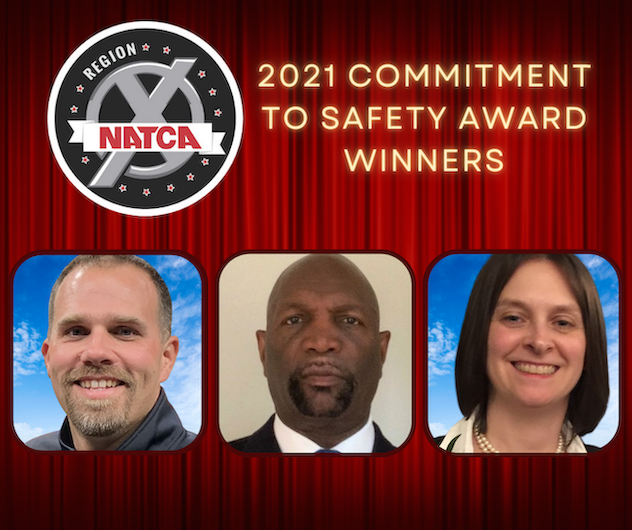 2021 Region X Commitment to Safety Award Spotlight: Barry Hammer (ENE), Cindy Hirsch (ENM), Terry Washington (ESO)     
The 2021 recipients of the Region X Commitment to Safety Award are Barry Hammer (Engineers New England, ENE, pictured far left), Cindy Hirsch (Engineers/Northwest Mountain, ENM), and Terry Washington (Engineers Southern Region, ESO, pictured center). They are the NATCA members who are the leads for their respective FAA regions for the Runway Incursion Mitigation (RIM) safety-related program from the FAA Office of Airports (ARP). They are managing the RIM program on behalf of their regions, working in concert with regional and national FAA staff to execute it.
Reducing runway incursions at the over 500 towered airports in the National Airspace System (NAS) is a top priority for the FAA. Runway incursions occur when an aircraft, vehicle, or person enters the protected area of an airport designated for aircraft landings and takeoffs. The FAA Office of Airports (ARP) initiated the RIM program in fiscal year (FY) 2015 to improve safety at locations with history of incursions based upon research that showed a relationship between certain runway, taxiway, and apron configurations and the likelihood of runway incursions. The result is a risk-based, data-driven program that works to reduce runway incursions by helping airport sponsors identify and address risks at specific on-airport locations that have a history of runway incursions.
In FY 2012, ARP initiated a research study to examine the relationship between taxiway layout and safety risk. This effort involved developing a Geographic Information System (GIS) database with these problematic taxiway geometry (PTG) locations, pilot deviation and vehicle/pedestrian deviation runway incursions (including wrong runway events and surface incidents), and hot spots all shown graphically on an image of the airport layout. As a result, the RIM program was launched in FY 2015 in an effort to mitigate the non-standard geometry factors present at these locations, with the intention to reduce the number of runway incursions.
Examples of problematic taxiway layouts include direct taxiing access from ramps to the runway and wide expanses of taxi pavements along the runway.
To be designated a RIM location, the area either experienced three or more runway incursions in a single calendar year (CY), or its cumulative incursion counts averaged one or more incursion(s) per year of data analyzed. The incursion data is examined annually. Since the 2019 database update, cumulative incursion analyses are limited to the previous 10 CYs of available RI data.
According to the "RIM Program Mitigation Analysis Fiscal Year 2021" report, at the end of FY 2021, there were 129 RIM locations in various stages of mitigation. Mitigation strategies include changes or enhancements to signage, markings, or lighting; closures of runways or taxiways; new construction; changes to airfield operational procedures; and outreach and education to airport users to enhance situational awareness. The lead times for mitigations can be very long, as many of the locations are examined in the context of an overall master plan for the airport.
According to the same report, as of September 2021, the RIM program mitigated 74 runway/taxiway locations since its inception.
Airport Sponsors work with FAA Airports Division staff members, other FAA lines of business, and industry to plan and implement projects. Projects may be funded all or in part by programs executed by the FAA Office of Airports including Airport Improvement Program (AIP) grants, other Federal grants such as those resulting from the Bipartisan Infrastructure Law, and Passenger Facilities Charges (PFCs).
Airports Division RIM Program leads in each region work to educate the various parties on the types of problematic layouts, help to review and validate the concerns at each location, encourage that progress be made with mitigations, and assist with mitigation solutions.
The post-mitigation runway incursion rates are formally tracked, analyzed, and reported out on an annual basis following project completion. This analysis allows the team to identify successful outcomes or know when more work needs to be done.
Learn more about the Region X Commitment to Safety Award here.