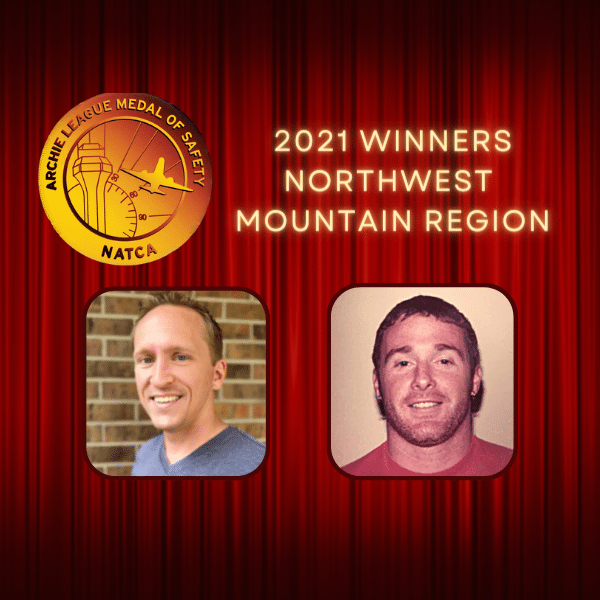 2021 Archie League Medal of Safety Award Spotlight: Kevin Cleavland, Chris Keddie, and Adam Schulte, Denver TRACON (D01)
Feb. 20, 2021 had been a routine Saturday winter afternoon in the Denver area, with cold temperatures and all aircraft reporting at least moderate turbulence in the climb and descent over the front range of Colorado.
Denver TRACON (D01) member Chris Keddie (at left in photo) was working the West Departure position when United Airlines Flight 328 (UAL328) checked on. The Boeing 777 was en route from Denver to Honolulu. Keddie climbed the aircraft to flight level 230 and advised the crew of the moderate turbulence. Shortly after, he gave fellow D01 member Kevin Cleavland (at right in photo) a position relief briefing and then stepped aside to provide an overlap.
Cleavland had just started to set up the position with his preferences when the crew of UAL328 declared a MAYDAY and advised that they had just experienced an engine failure. Remaining calm and composed, Cleavland immediately solicited the crew's desires and gave them a descent clearance and left turn to head back to the airport.
Cleavland stopped all westbound departures and moved aircraft to give UAL328 a clear path. Meanwhile, Keddie and fellow D01 member Adam Schulte continued to assist in the extensive coordination and communication with Denver ATCT (DEN) to determine the best runway to use since they were in the middle of a flow change due to a wind shift.
Cleavland received a call from Broomfield ATCT (BJC) at Rocky Mountain Metropolitan Airport, located nine miles northwest of Denver. The BJC controller had received a call that an aircraft had gone down near them, so they asked Cleavland if he knew anything. He confirmed that he had not lost an aircraft but that he was working an emergency aircraft so that may have been what the call was about.
At that point, Cleavland couldn't have known that his emergency aircraft was the source of the calls from the public. The engine failure resulted in an in-flight engine fire, causing extensive damage to the engine nacelle (the streamlined enclosure for the engine), and minor damage to the fuselage. Parts departing from the engine cowling of the stricken aircraft resulted in a debris field at least one mile long over suburban residential areas of Broomfield, Colo. Debris fell through the roof of a private home and significantly damaged a parked vehicle.
Cleavland continued to work the aircraft and allow the crew to troubleshoot the problem. During instances like this, it is easy to forget that controllers still have other aircraft on frequency for whom they are responsible, and this situation was no different. Cleavland professionally provided services to all aircraft under his control.
Eventually UAL328 was ready to return to the airport and Kevin provided vectors for an ILS to runway 26 and a successful landing. There were no injuries as a result of this incident, an astounding fact given the severity of the emergency. This is due to the training and skill of the flight crew and other true professionals like Cleavland, Keddie, and Schulte.