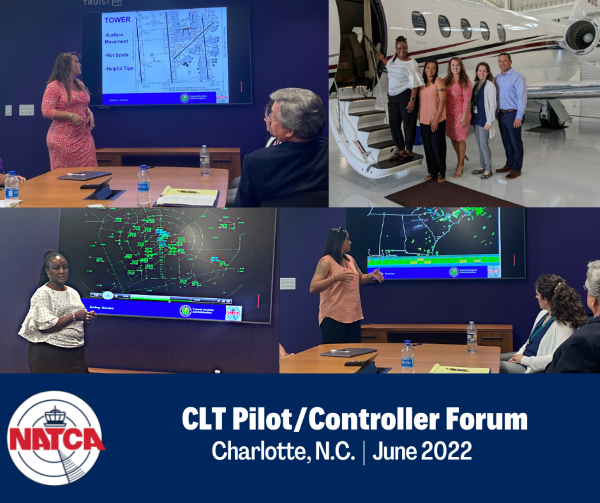 Charlotte ATCT (CLT) Hosts Pilot/Controller Forum
In mid June, Charlotte ATCT (CLT) members hosted a pilot/controller forum with local aviators for a new airport tenant. NATCA members provided a briefing on operations at CLT from an air traffic perspective and had pilots on hand to ask questions to air traffic subject matter experts.
Andrea Moore (CLT) discussed traffic management coordinator (TMC) responsibilities and what TMCs do for the operation. Lauren Sneve (CLT) served as the tower subject matter expert and covered issues pertaining to the surface restraints and the challenges CLT faces on the surface. LaTasha Ingram (CLT) was the TRACON subject matter expert and went over TRACON operations and gave a detailed explanation of what is going on from both arrival and departure perspectives.
At the conclusion of the presentations, CLT NATCA members took a tour of the Truist facility and hangar.
"I could not be more proud of our CLT NATCA Sisters," Schifano said. "They absolutely knocked it out of the park! They were all professional, articulate, and on point when speaking to their respective areas, delivering a powerful presentation on behalf of CLT NATCA."