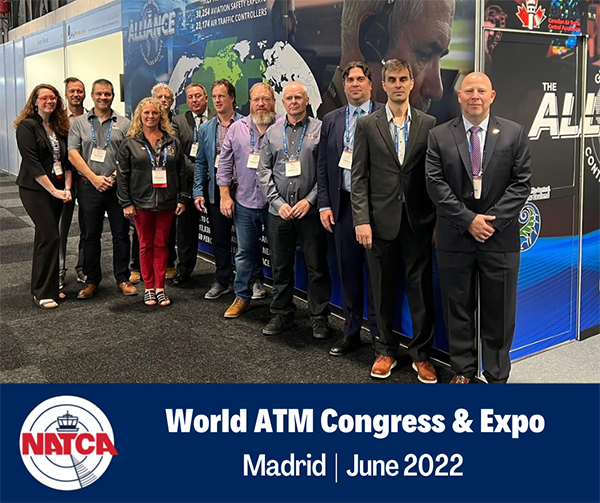 NATCA Leadership Represents Our Union at 2022 World ATM Congress
NATCA leaders and representatives attended last month's World ATM Congress in Madrid, the world's largest international air traffic management (ATM) exhibition and conference.
NATCA President Rich Santa and former NATCA President Paul Rinaldi led our Union's World ATM delegation, which included International Federation of Air Traffic Controllers' Association (IFATCA) Technical and Operations Committee (TOC) chair Jaymi Steinberg (Washington Center, ZDC), Professional & Legal Committee (PLC) member Michelle Trudeau (Indianapolis Center, ZID), and NATCA's Deputy Director of Public Affairs Kelly Richardson.
Exhibiting at the conference, the Global Air Traffic Controllers Alliance, "The Alliance" for short, hosted a booth to build relationships and discuss issues vital to the air traffic profession globally. The Alliance is a coalition of labor unions representing aviation safety professionals from Australia, Canada, New Zealand, Spain, the United Kingdom, and the United States to speak with a collective voice on a range of subjects that have a common effect on the profession and the professionals they represent.
"The representation of The Alliance gives labor a greater voice in Civil Air Navigation Services Organization (CANSO) initiatives and helps grow partnerships and alliances around the world to shape the future of global airspace and ensure our NATCA members and the professions we represent are heard," Santa said.
On behalf of The Alliance, Rinaldi moderated a panel titled "ATC and You: Integrating the Workforce into Tomorrow's Vision," discussing the role of the air traffic controller workforce making sure that future skies are efficient, clean and safe and can generate global economic prosperity and social welfare. Air traffic representatives from The Alliance and around the world spoke on the panel.