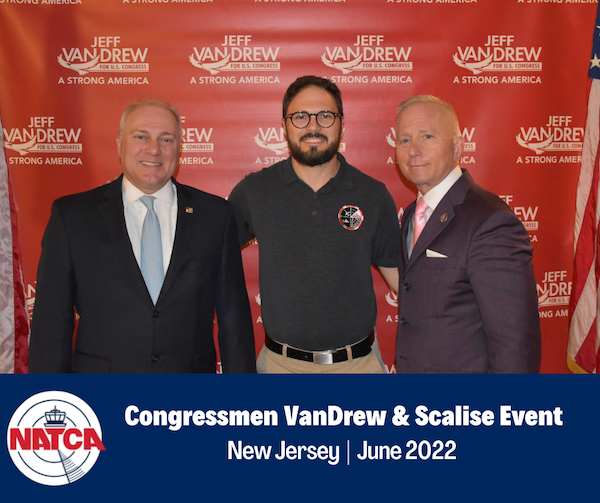 NATCA New Jersey Legislative Coordinator at Event with Reps. Van Drew & Scalise
NATCA New Jersey Legislative Coordinator TJ Woodyard (Atlantic City ATCT, ACY) attended an event with Congressman Jeff Van Drew (NJ-01) and Minority Whip Congressman Steve Scalise (LA-01) on June 27.
"At the event I had a few minutes to speak with Congressman Van Drew and discussed the staffing challenges we are facing at ACY as well as more broadly nationwide," Woodyard said. "We also spoke about the importance of stable and predictable funding, and the upcoming need for reauthorization for the FAA. I thanked him for all of his past support and he thanked us for our service to the flying public."
In speaking with Congressman Scalise, Woodyard said Scalise fondly recalled a trip he made to New Orleans Moisant ATCT (MSY). Woodyard also took the opportunity to invite both members to visit and tour any NATCA facilities either in their districts or near Washington.
PHOTO: (left to right) Rep Scalise (LA-01), TJ Woodyard (ACY), and Rep Van Drew (NJ-02)