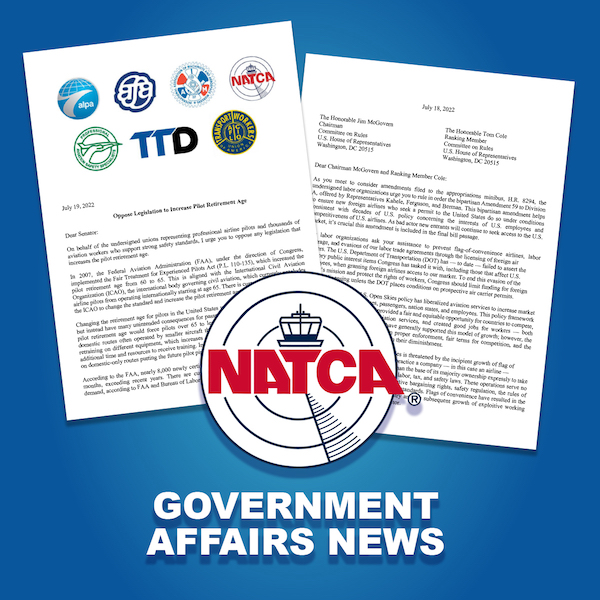 NATCA Signs On To Letters to Congress  in Solidarity with Aviation Unions
NATCA recently signed on to two letters that were sent to Congress in solidarity with other aviation labor unions.
The first letter, which was sent to all members of the U.S. House of Representatives and U.S. Senate, opposed increasing the mandatory pilot retirement age, stating that such a change would cause unintended consequences and that Congress must always prioritize the safety of passengers and aviation workers. Other labor organizations that signed the letter, along with NATCA, included the Air Line Pilots Association, Association of Flight Attendants, International Association of Machinists and Aerospace Workers, Professional Aviation Safety Specialists, Transport Workers Union of America, and the Transportation Trades Department (TTD) of the AFL-CIO.
NATCA also signed a letter, which was sent to U.S. House Rules Committee leadership, supporting a bipartisan amendment to ensure foreign airlines who seek a permit to operate in the United States do so under conditions consistent with our existing international agreements that require fair labor standards and fair competition. The letter asked Congress to prohibit any federal funding to approve new foreign air carrier permits unless the Department of Transportation demonstrates that the air carrier permit would meet these standards. Twenty-six labor unions and TTD affiliates signed on to the letter, and the amendment was approved by the U.S. House. NATCA will continue to support the amendment's inclusion in any final appropriations legislation enacted by Congress.