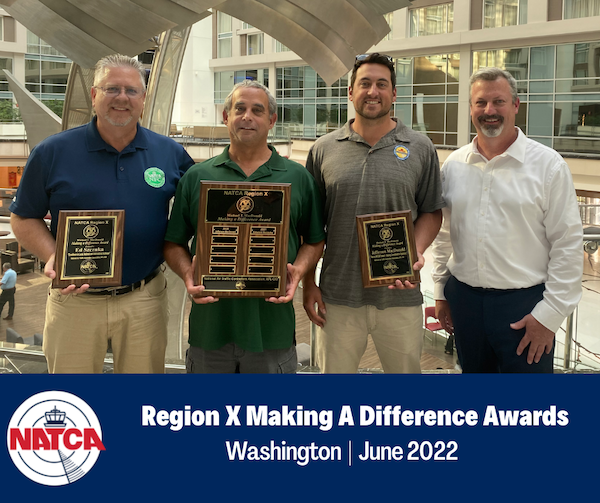 Announcing the First Two Winners of Region X's Michael T. MacDonald Making a Difference Award
NATCA's Region X members established an annual award named after one of our Union's most influential members and a dedicated Region X leader: the Michael T. MacDonald Making a Difference Award. During Region X's recent representatives meeting in June, the first two recipients of the award for 2020 and 2021, were recognized for their outstanding contributions to our Union.
The winner for 2020, Jefferson MacDonald, was recognized for his ongoing efforts and commitment to organizing. Jefferson was an instrumental leader during NATCA's last open season membership campaign and helped lead a significant increase in Region X membership during that effort. Jefferson also leads a team referred to as Project X — a Region X-dedicated recruiting suite of tools, support materials, tracking, communications, and strategies on how to educate and recruit future brothers and sisters of our Union.
The winner for 2021, Ed Szczuka, was recognized for his career-long excellence in local, national, and international activism. Szczuka has served on his local's e-board since 1998, and is an energetic local and national legislative activist, as well. He has served on the National Finance Committee (NFC), as Region X Alternate Regional Vice President (RVP), as a NATCA Academy Instructor, on Region X and National Grievance Review Teams, as a Collaboration Facilitator, as a Labor Relations Representative, on the Onboarding Committee, and as a Reloaded volunteer. Internationally, Szczuka has been NATCA and Region X's liaison to multiple groups including the United Kingdom National Air Traffic Services, the International Civil Aviation Organizations (ICAO), and the International Federation of Air Traffic Safety Electronics Associates (IFATSEA).
About the new awards, NATCA President Rich Santa stated, "Congratulations Mike, Jefferson, and Ed for these well-deserved honors. The greatest strength of our Union is our member activists who give so much of their time to protect our membership and advance the professions that NATCA represents."
"These members are NATCA thru and thru," Region X RVP Brad Davidson said. "What they do is never about the individual; it's all done for this Union and its members."
Pictured, left to right: Ed Szczuka, Michael MacDonald, Jefferson MacDonald, Brad Davidson.