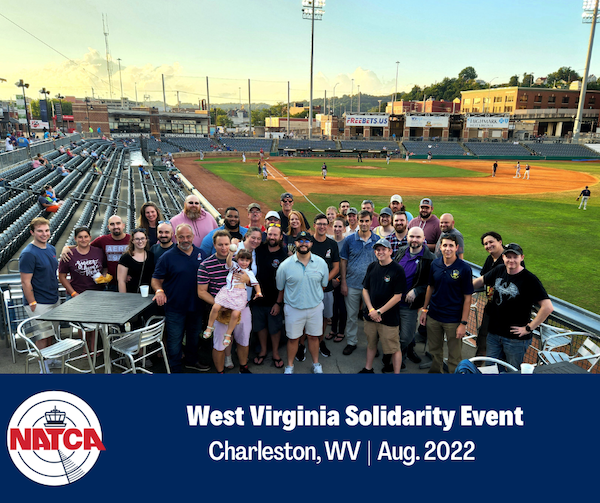 NATCA Leaders Tour West Virginia Facilities & Celebrate Solidarity
NATCA members from around West Virginia gathered at the Appalachian Power Park Stadium for a NATCA solidarity event and to meet with NATCA President Rich Santa, Eastern Regional Vice President Brian Shallenberger, and other members of the Eastern Region leadership team.
The event was planned by Charleston (WV) ATCT (CRW) FacRep Jason Kotzbauer with collaboration from Clarksburg ATCT (CKB) FacRep Jordan Scott and Huntington ATCT (HTS) FacRep Quintarius "Q" Searcy. About 40 NATCA members and family attended.
"Thank you to all the West Virginia NATCA members and their families that came out to the solidarity event," Shallenberger said. "Getting our members together and discussing important issues that face our Union and our profession is the key to our success. This event was held just a few days prior to Labor Day, and it's clear to see the passion and activism our members in West Virginia have for their Union."
In addition to the NATCA solidarity event, Santa, Shallenberger, and the leadership team toured all three facilities (CRW, CKB, and HTS) the next day and were able to continue conversations with members about facility-specific issues.
The location of the event was an hour north of the location of the Battle of Blair Mountain – one of the largest labor uprisings in American history. Read more about the story about sacrifices that were made for labor rights. https://www.smithsonianmag.com/history/battle-blair-mountain-largest-labor-uprising-american-history-180978520/