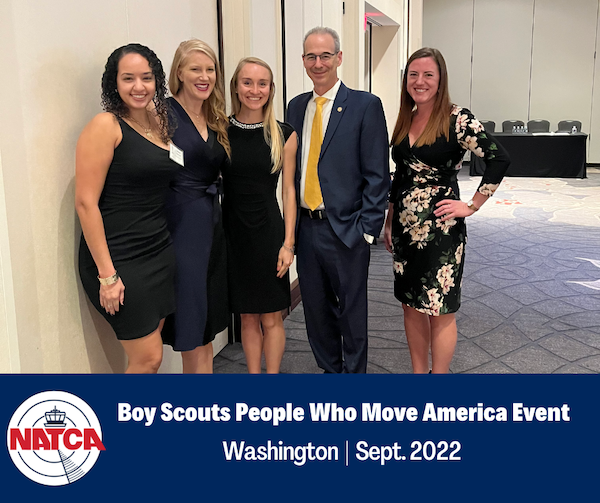 NATCA Supports Capital-area Boy Scouts' Honorees & Community Service
NATCA leaders joined the National Capital Area Council of the Boy Scouts of America and transportation community members in celebrating the honorees of the Council's People Who Move America Good Scout Award. The award honors outstanding leaders in the trade and transportation industry who exemplify the ideals of the Scout Oath and Law in their daily lives.
NATCA was a sponsor of the awards event, in support of the Boy Scouts commitment and contributions to the Capital area. The award ceremony highlighted the Boy Scouts' work on behalf of the community over the last year, including education and charitable work. The 2022 honorees were House Aviation Subcommittee Chairman Rick Larsen, D-Wash.; American Trucking Associations President and CEO Chris Spear; and National Stone, Sand and Gravel Association President and CEO Michael Johnson.
Representing NATCA at the event (pictured left to right) were Washington Center (ZDC) members Lillian Izquierdo and Raine Ralston, Political and Legislative Representative Annika Olson, Executive Vice President Andrew LeBovidge, and Senior Social Media Representative Meagan Roper.