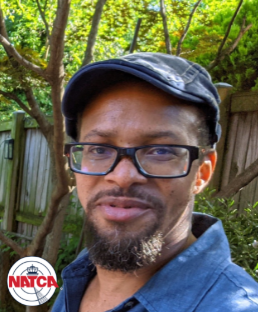 NATCA Staff Spotlight: Website Administrator Julian Weaver
We have an amazing National Office staff that our membership can be very proud of. They work hard every day and are committed to providing our members with the very best service and representation in organized labor. Today, we feature one of our newest employees: NATCA's Website Administrator Julian Weaver who joined NATCA in June 2022.
Where are you from, or what places have you lived?
I was born and raised right here in Washington's Brookland neighborhood. Natives do exist!
Where did you go to school, or what other education do you have?
I went to college at North Carolina Central University where I received a Bachelor's in Art. In addition, I have a Web Design certificate from George Washington University's Center for Professional Development. I also have a welding certificate but that's a long story. (I really like planes and aircraft.)
How did you come to work at NATCA?
I have several friends that work in labor unions who told me for years to try to find work with a union. I finally listened!
What's the most rewarding part of being a member of NATCA's staff? What's the most challenging?
I really appreciate the friendly, welcoming environment at NATCA's national office. I spent most of my career as a government contractor, and I have had some great workplaces, as well as some where I did not feel valued at all. The most challenging? I would say learning all about this new union world and the work of the aviation safety professionals NATCA represents.
Do you have any hobbies or any other activities you enjoy outside of your work for NATCA?
I recently started surfing last year. I also make art and music in my free time.
Has there been a favorite moment for you while at NATCA?
Strange as it may sound, my interviews. It felt more like meeting new friends than interviewing for an important job. I can't remember the last time I was more excited than nervous on my first day at work.
My favorite band is: Prince
My favorite quote is: "Be the change you wish to see in the world." – Mahatma Gandhi
My specialty meal to cook is: Teriyaki salmon with asparagus
The best place I've ever traveled to was: Mountain Hot Springs Hotel in Japan
My parents always told me: You have to be a friend to have a friend.
POC: Julian Weaver
Instagram: @jlamarweaver