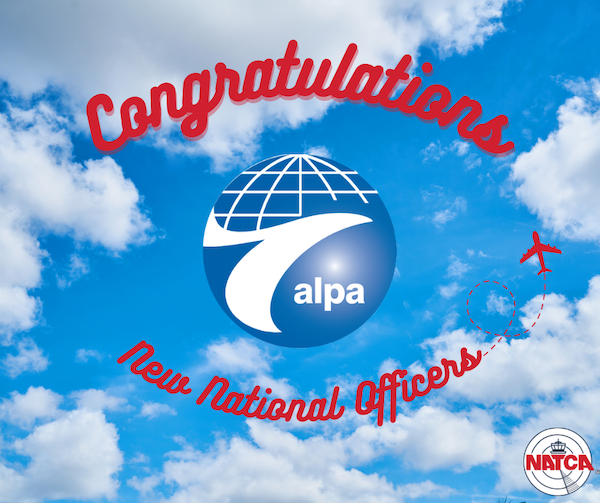 Congratulations to ALPA's New National Officer Team!
NATCA would like to congratulate Air Line Pilots Association International (ALPA)'s new national officers who were elected on Oct. 19, 2022 to serve four-year terms beginning on Jan. 1, 2023.
Capt. Jason Ambrosi was elected to serve as the union's 12th president, and Capt. Wendy Morse was elected to serve as the union's first vice president. Capt. Morse is also ALPA's first female national officer.
In addition, ALPA's board elected Capt. Tyler Hawkins to serve as ALPA's vice president–administration/secretary, and Capt. Wes Clapper for vice president–finance/treasurer.
ALPA's Board also elected a new roster of 10 executive vice presidents who, along with the four national officers and the ALPA Canada president, make up ALPA's Executive Council.
The new executive vice presidents are: Capt. Joe Youngerman, Capt. Bill Bartels, Capt. Bill Secord, Capt. Jim Bigham, Capt. Sean Creed, Capt. Bill Neveu, Capt. Jeffrey Hicks, Capt. Douglas Grant, Capt. Jade Schiewe, and Capt. Claude Buraglia.
Capt. Tim Perry was also reelected as ALPA Canada president and retains his seat on the Executive Council.
"Congratulations to ALPA's new national officers! NATCA looks forward to working with you to protect workers' rights in the aviation industry," said NATCA President Rich Santa. "Together we will fight to ensure the National Airspace remains the safest and most efficient airspace in the world."