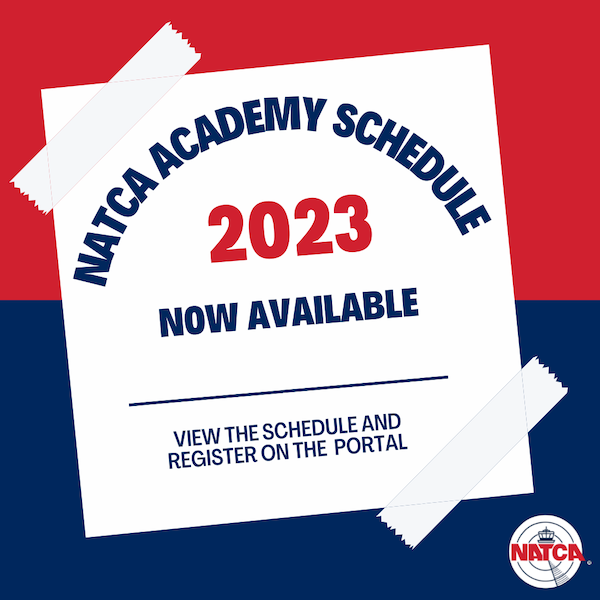 2023 NATCA Academy Training Class Schedule Now Available
The National Executive Board (NEB) recently approved the 2023 NATCA Academy Training Class schedule! Multiple classes are available for Representative Training, Safety Advocacy Training, Secretary-Treasurer Training, Legislative Activism Training, Drug and Alcohol Training, and more.
Visit portal.natca.org to view all available classes and register. Once you have logged in, select "NATCA Academy" from the quick links. Then, select "2023 Courses." If you need help with registration, visit natca.org/academy for assistance. Registrants will be notified within 35 days from the course start date of their status for the course.
As a reminder, class schedules are subject to change due to unforeseen circumstances.
2023 Schedule:
Representative Training 1 (RT-1)
Las Vegas
01/23/23-01/27/23
02/27/23-03/03/23
04/10/23-04/14/23
07/17/23-07/21/23
10/23/23-10/27/23
Legislative Activism Training (LAT)
Las Vegas
04/26/23-04/27/23
05/23/23-05/24/23
10/18/23-10/19/23
Advanced Legislative Activism Training (ALAT)
Washington, D.C.
04/05/23-04/07/23
05/16/23-05/18/23
10/04/23-10/06/23
Secretary/Treasurer Training (STT)
Las Vegas
02/08/23-02/09/23
04/11/23-04/12/23
08/08/23 08/09/23
Federal Contract Tower Training (FCT)
Las Vegas
10/03/23-10/04/23
Safety Advocacy Training (SAT)
Las Vegas
04/12/23-04/13/23  
10/24/23-10/25/23
Occupational Safety and Health Training (OSHA)
Las Vegas
03/14/23-03/15/23
10/10/23-10/11/23
Drug and Alcohol Training (DAC)
Las Vegas
02/28/23-03/01/23
10/25/23-10/26/23
Joint Training Review Board Training (TRB)
Dallas
01/24/23-01/26/23
Miami
03/21/23-03/23/23
Atlanta
04/25/23-04/27/23
Chicago
06/13/23-06/15/23
Seattle
08/22/23-08/24/23 (Tentative)
Anchorage
09/19/23-09/21/23 (Tentative)