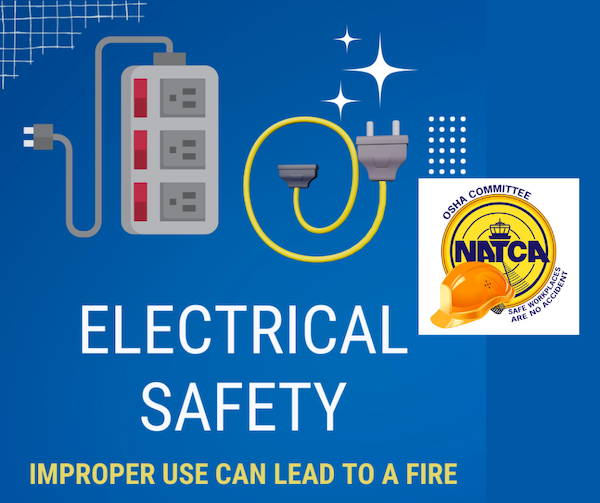 Electrical Safety: Safe Workplaces for Safety Professionals
The NATCA OSHA Committee welcomes one of its newest members, Elijah McDonald from Anchorage Center (ZAN). The job of a Regional OSHA Representative is working with other bargaining units and management at many levels to ensure the health and safety of all workers in NATCA-represented facilities.
During a recent inspection at a facility, Elijah noted a number of safety violations related to improper use of extension cords. Overloading the wattage of the power strip and plugging one extension cord into another extension cord have both been known to cause fires. You can help prevent fire and avoid for OSHA violation citations:
– Don't daisy chain (one extension cord into another extension cord).
– Anything that pulls larger amperage (i.e. pencil sharpeners, coffee pots, Keurig style coffee makers, microwaves, refrigerators) must be plugged directly into a wall socket.
– Extension cords are a temporary use item.
– Long cords should have trip protection.
It is on all of us to make sure our members — as safety professionals — work in safe working environments.