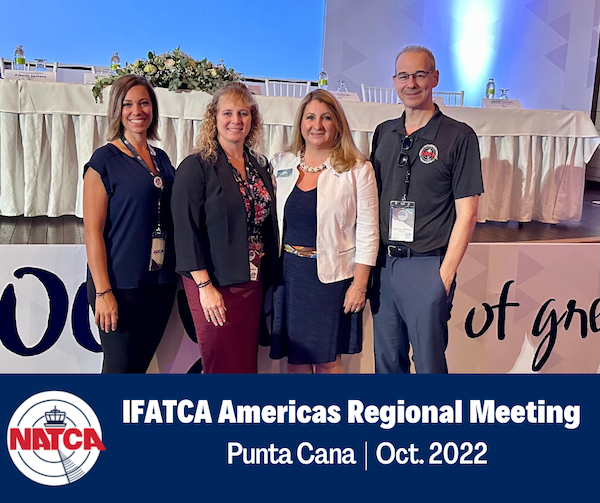 NATCA Representatives Present at IFATCA Americas Region Meeting
The International Federation of Air Traffic Controllers' Associations (IFATCA) Americas Region held its 38th regional meeting in Punta Cana in the Dominican Republic on Oct. 18-20, simultaneously with all the regions meeting around the globe to celebrate International Day of the Air Traffic Controller on Oct. 20 and the 100th anniversary of air traffic control. NATCA's Executive Vice President (EVP) Andrew LeBovidge, Technical and Operations Committee (TOC) Chair Jaymi Steinberg (Washington Center, ZDC), Professional & Legal Committee (PLC) member Michelle Trudeau (Indianapolis Center, ZID), Critical Incident Stress Management (CISM) Team Lead Sarah Grampp (Kansas City Center, ZKC), and CISM Team Instructor Tom Morin (Boston Center, ZBW, retired) participated in the meeting. IFATCA Americas EVP and former NATCA EVP Patricia Gilbert led the meeting.
LeBovidge said, "I was proud to see NATCA's representatives at this meeting facilitate such insightful conversations with our ATC peers from other countries in the Americas. It was good to meet with other controllers from other countries."
NATCA representatives facilitated several discussions at this meeting, including LeBovidge's address on voluntary safety reporting systems, such as the Air Traffic Safety Action Program (ATSAP). Steinberg, Trudeau, and Saint Lucia Air and Sea Ports Authority (SLASPA) member Kendell Peter presented as part of the IFATCA 2030 Task Force, which is focused on future-proofing the Federation. Trudeau also presented a white paper on air traffic control staffing. Grampp and Morin presented to attendees the CISM program and its benefits, so that other IFATCA Americas countries can implement similar programs.
"Having a peer-to-peer support program like CISM for the workforce is critical for the controllers who work airplanes day in and day out," Grampp said. "I was so honored to be able to share that information with the IFATCA Americas countries that are hoping to start their own programs."
"It is with great pride that I saw this week the regions of our Federation once again able to meet face-to-face, for the first time in three years," IFATCA President Duncan Auld said. "It has been a difficult time for all of us, but we have made it through together."
PHOTO: (left to right) Grampp, Trudeau, Gilbert, LeBovidge