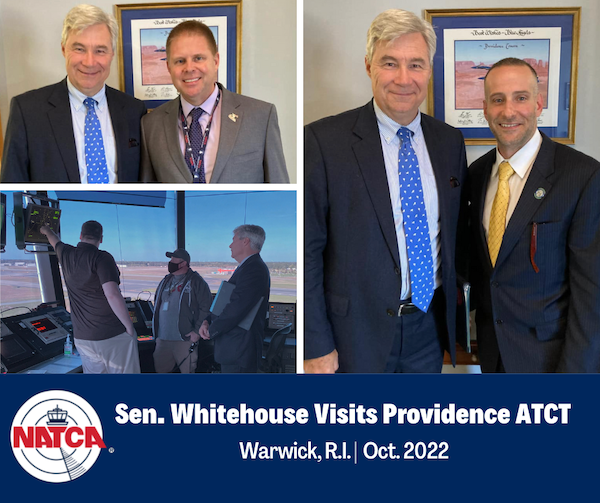 U.S. Sen. Whitehouse Visits Providence ATCT
On October 6, 2022, U.S. Senator for Rhode Island Sheldon Whitehouse visited Providence ATCT alongside his Projects Director, Karen Bradbury.
Sen. Whitehouse was welcomed by numerous PVD employees, including the FacRep Nicholas Cassano, New England Region Legislative Committee Chair Jamie Green, and Kurtis Fotheringham. They provided a facility tour where they discussed local operations, airport layout, radar configurations, and the struggles of maintaining safe operations during the COVID-19 pandemic.
Sen. Whitehouse asked what he could do to help NATCA. Green highlighted NATCA's concerns regarding staffing shortages throughout the NAS and the need for steady, predictable funding.
Sen. Whitehouse's knowledge of air traffic control was extensive considering this was only his second visit to PVD. The senator asked numerous complex questions regarding operations, staffing, and equipment, which the controllers were happy to answer.
Sen. Whitehouse left the facility tour impressed with the local operations and ready to help advance NATCA's priorities in Washington.
PHOTOS: clockwise from top left: Sen. Whitehouse and Curt Fischer (NNE Collaboration Facilitator, Boston TRACON). Sen. Whitehouse and Nicholas Cassano (PVD FacRep). Kurtis Fotheringham, Josh Gabriel, and Sen. Whitehouse.