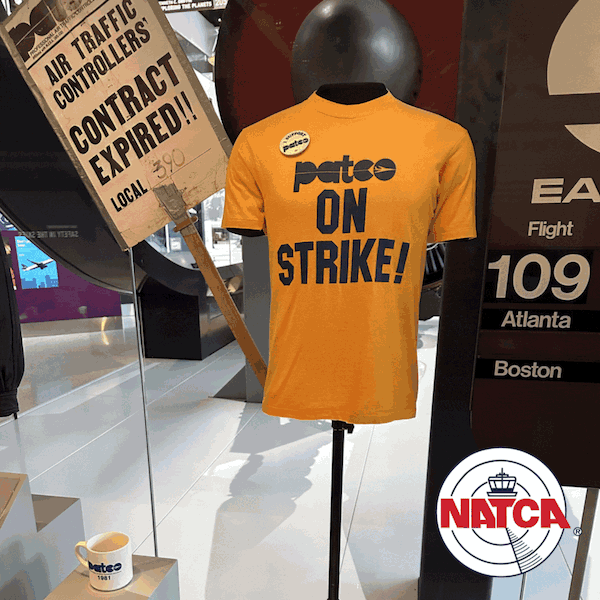 NATCA Member Featured in Newly-Opened Smithsonian ATC Exhibit
After four years of renovations, new galleries at the Smithsonian's National Air and Space Museum in Washington, D.C., have opened to the public, including an exciting new exhibit about our nation's air traffic control system. NATCA has been one of the supporters of the museum's transformation, and the air traffic control exhibit will inform museum visitors about U.S. aviation safety professionals and our proud history. The Air and Space Museum is one of the world's most popular museums with more than 4.5 million visitors in 2019.
Air traffic controllers are featured in the educational air traffic exhibit, which is part of the museum's America By Air gallery, including NATCA member Mylinka Brogdon from Atlanta Center (ZTL). Brogdon's image, taken by ZTL retired member Jay Tilles, is prominently displayed as part of the exhibit's video explainer of how air traffic control works.
"It is an absolute honor to be a representative of NATCA for the 'Safety in the Skies' exhibit in the Smithsonian's National Air and Space Museum," Brogdon said. "For my beloved profession to be seen by millions is astonishing. That honor is only surpassed by the fact that I get to work with an amazing group of individuals who work tirelessly to ensure the safety of the flying public and the National Airspace System (NAS)."
NATCA Executive Vice President Andrew LeBovidge, his wife Anna LeBovidge, and several NATCA staff members were invited to tour the newly opened museum, including the NATCA-sponsored air traffic control exhibit. About the exhibit, LeBovidge stated, "NATCA is proud to be a supporter of the Air and Space Museum and its new exhibit about air traffic control. The millions of visitors touring this museum every year will have the opportunity to learn more about the essential work we do. NATCA's support of the museum is a part of our shared mission to spark the imagination of the next generation to lead future innovation in air and space and to pursue aviation careers."