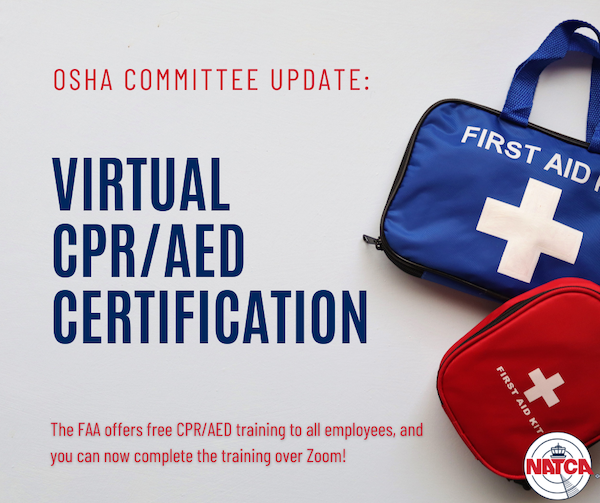 OSHA Committee Update: Virtual CPR Training is Now Available!
Sudden Cardiac Arrest (SCA), more commonly referred to as a "heart attack," can happen to anyone at any time. Without CPR and defibrillation, a person's chances of surviving a heart attack drop 7-10% for every minute that goes by.
The good news is that thanks to the FAA's CPR/AED program, in every case of SCA at work, the victim was resuscitated successfully.
The FAA offers free CPR/AED training to all employees. In the past, these have been in-person trainings, and controllers have struggled to get into the classes because it was difficult to get off the boards to attend the training.
The agency has teamed up with a new CPR/AED training contractor and employees can now complete the training virtually! They will send you a CPR mannequin straight to your home and you complete the class via Zoom. It only takes a few hours and by the end of the class you will know how to conduct CPR on an adult or child, perform defibrillation with an AED, assist a choking person, and perform basic first aid.
If you are interested in taking the CPR/AED Class either in-person or virtually, send an email to 9-faa-padprogram@faa.gov.
In addition, NATCA's OSHA Committee will honor the facility (with 15 or more employees) with the highest percentage of people trained in CPR & AED. In 2019, the last time we were able to give this award, the Helping Hearts award was given to Providence ATCT (PVD).